Rukson Packaging opts for Speedmaster CS 92
Navi-Mumbai based packaging specialist Rukson Packaging has installed a brand new Heidelberg Speedmaster CS 92 five-colour plus coater press at its 35,000-sqft facility in Rabale.
13 Dec 2020 | By Abhishek Muralidharan
The Heidelberg Speedmaster CS 92 is a 37-inch format press with the latest technology based on the extremely successful Speedmaster CD 102 platform, runs at a production speed of 15,000 sheets per hour, and can handle the entire range of paper and board right from 0.03mm to board.
According to Gobind Panjabi owner of Rukson, this special format size from Heidelberg enables the printing of nine A4 repeats on one sheet or as many as three A4 flyers with fold-outs for commercial printers and is very ideal for packaging and pharma jobs as well.
He said, "The Heidelberg CS 92 is a strong, sturdy and robust press. It combines smart technology with affordable cost per printed sheet. We zeroed in on this press as the price and performance of the machine seemed to be the perfect fit for our growing packaging business." Panjabi along with his father, Kishin, manages the plant.
The Speedmaster CS 92 employs an automatic sheet arrival control system backed by an air transfer control system which is unique and unrivalled in its size class. Its print free area is completely used and a combination of freely positionable sheet brakes and Venturi sheet guidance ensures rapid work and-turn printing.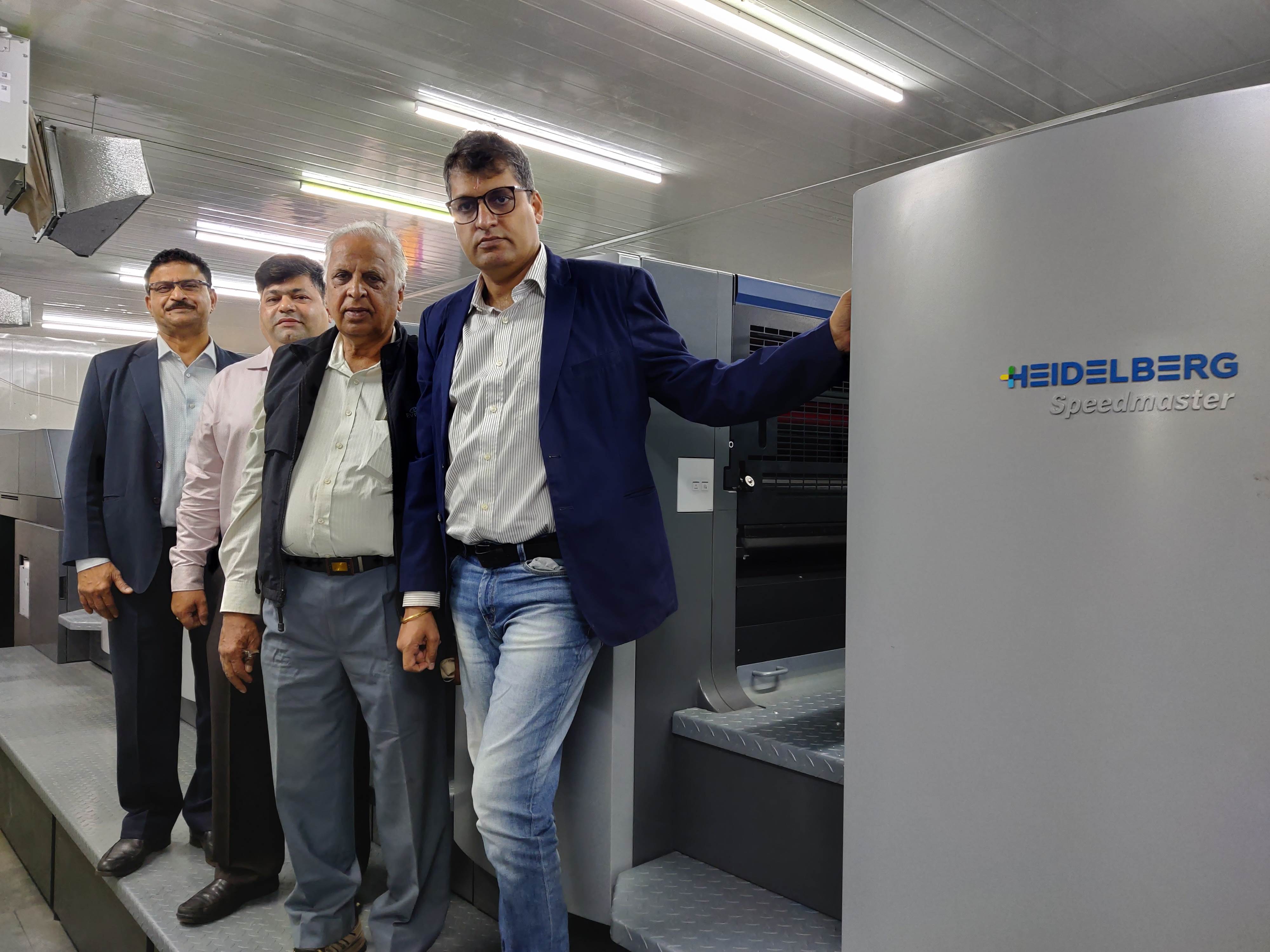 Team Heidelberg with Rukson's Gobind and Kishin Panjabi
The highlight of this new press at Ruksons is that even during the lockdown, the company was able to employ the press to run at full capacity (15,000 sheets per hour), thanks to the Heidelberg India team which worked round-the-clock during the initial lockdown period. "We were able to house the press at our plant in August 2020 and went into production right away." As of today, the company's portfolio includes 80% of jobs catering to the pharma industry; FMCG accounts for 15% and the remaining 5% is cosmetics. The surge in demand for the pharma and FMCG products during the pandemic boosted the quantum of jobs at Rukson.
Panjabi claimed that his Rabale plant was the first facility to be up and running in Navi Mumbai during the lockdown period. "We have been converting close to 300 tonnes of paper per month and aim to scale up to 500 tonnes by next year with the new Heidelberg press."
The company recently received an order of 20-lakh cartons from a leading FMCG brand, which Panjabi was able to deliver in the desired time frames. With an array of such jobs, Panjabi is bullish about the packaging sector's growth. "The pandemic has been a turning point for our packaging business and I expect substantial growth in the coming years," he concluded.