India in spotlight as Fespa announces winners
India stands tall at the Fespa awards 2020 after clinching five Gold awards.
18 Sep 2020 | By Aultrin Vijay
Fespa has announced the winners – four Indian companies among them – of this year's Fespa Awards, its annual celebration of excellence in the global speciality print and visual communications community.
The Awards are open to print service providers (PSPs) and sign-makers looking to highlight outstanding projects. This year's programme received entries from 27 countries across the 18 categories. The winners were announced during an online ceremony hosted by Fespa's technical support manager, Graeme Richardson-Locke, in lieu of the live Gala Awards event, which would have taken place during this year's Global Print Expo in Madrid.
Signature Gift Box by Perfect Packaging was announced Gold winner in the Packaging On Paper & Board category. The presentation gift set was printed in seven-colour, including white, combi UV Heidelberg with Silver Metpet to the lid and velvet lamination to the lid and base. It has been finished with five UV varnish techniques, including ruff UV, spot UV, crystal UV, wrinkle and reflective UV onto gold laminated folding box board. Praising the job, Graeme – who was also one of the Fespa Awards judges, commented, "Perfect Packaging have demonstrated how to maximise the use of special effects to create tactile and engaging print."
The paper corrugated board train by Spectrum Scan was announced Silver winner in the Display and POP on Paper & Board category. The high impact 50x14 ft corrugated train, packed with detail and complexity, has been created for the Go Green Initiative and CAD cut using a Esko Kongsberg cutter having been 3D designed in-house. The structure features a display of the printers FSDU's in the carriage and provides seating in the cab for meetings.
Perfect Packaging's Gold Magic won Distinction in the Creative Special Effects - Paper, Board & Plastics category. The special effect presentation gift box was printed UV litho on a B1 press and was laminated with silver Met Pet and velvet lamination to the box lid. It has been UV embellished with ruff, reflective, crystal and wrinkle UV.
The True To Yourself entry by Elixir Unlimited was announced the Gold Winner in Special Effects on T-shirts, Garments & Other Textiles category. The 3D raised relief design, printed at 220 x 280 mm, has been achieved with two part mould and silicone, then overprinted in-line using plastisol ink. The centre letters have been filled with clear silicone with dispersed caviar beads. "The deep embossing raises this print to the next level and the caviar ink just tops it off," the judges said.
However, Elixir Unlimited also won the Bronze Award in the same category for its Dream Without Fear entry. The special effect T-shirt design was created using a concave-convex mould to create base embossing. It has been overprinted 30 times, with three spot colours, to create stacked ink build. The finished print size is 250 x 250 mm.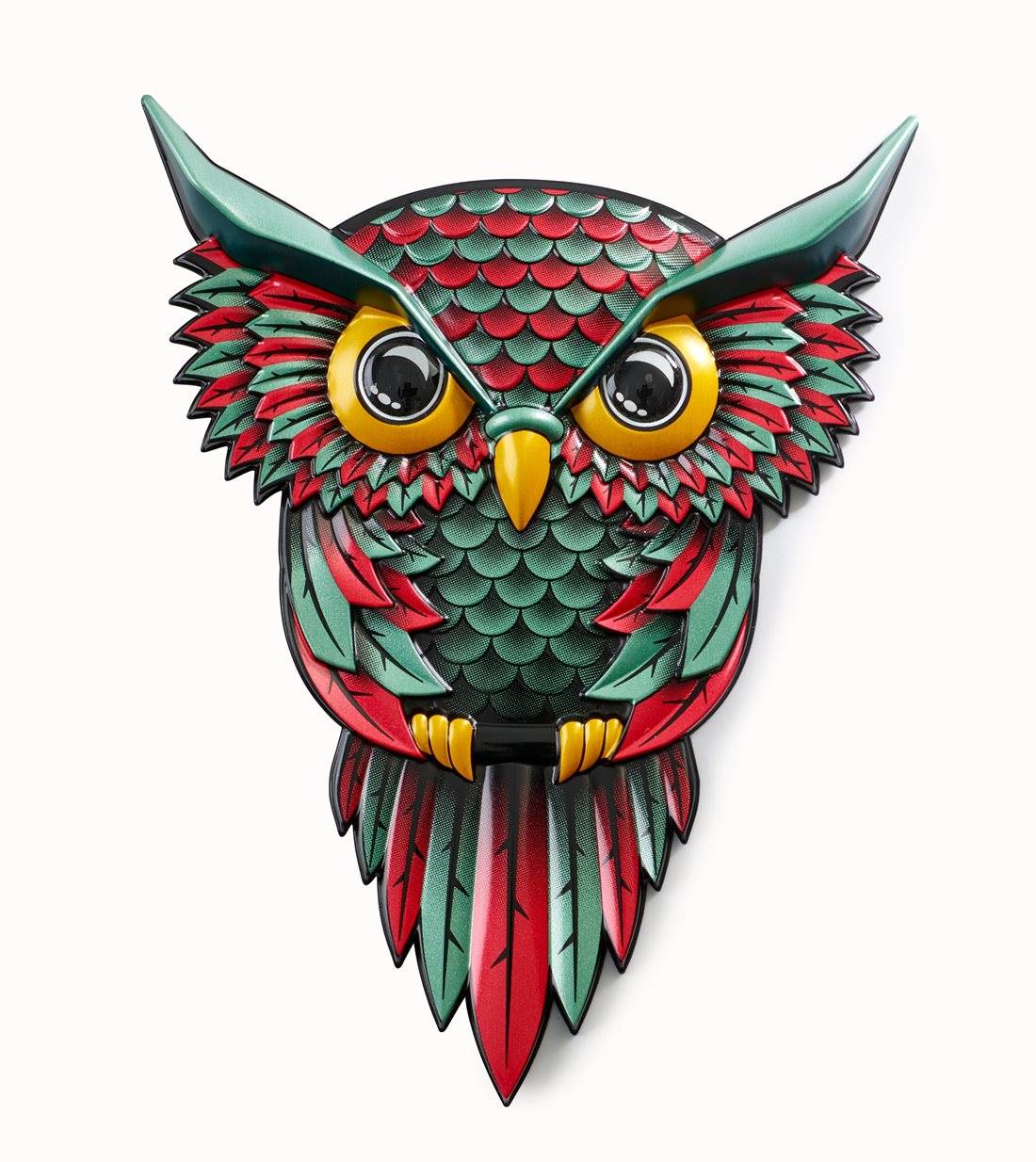 The Owl Emblem entry by Classic Stripes won Silver in the GLASS, Ceramic, Metal and Wood Products category. The owl vehicle emblem has been created using a combination of Rhino and Adobe Illustrator software. At a size of 15 x 12 cm, it has been printed using a semi automatic flat bed screen printer in six solvent-based inks, with a final top coat and vac formed using chrome aminated ABS.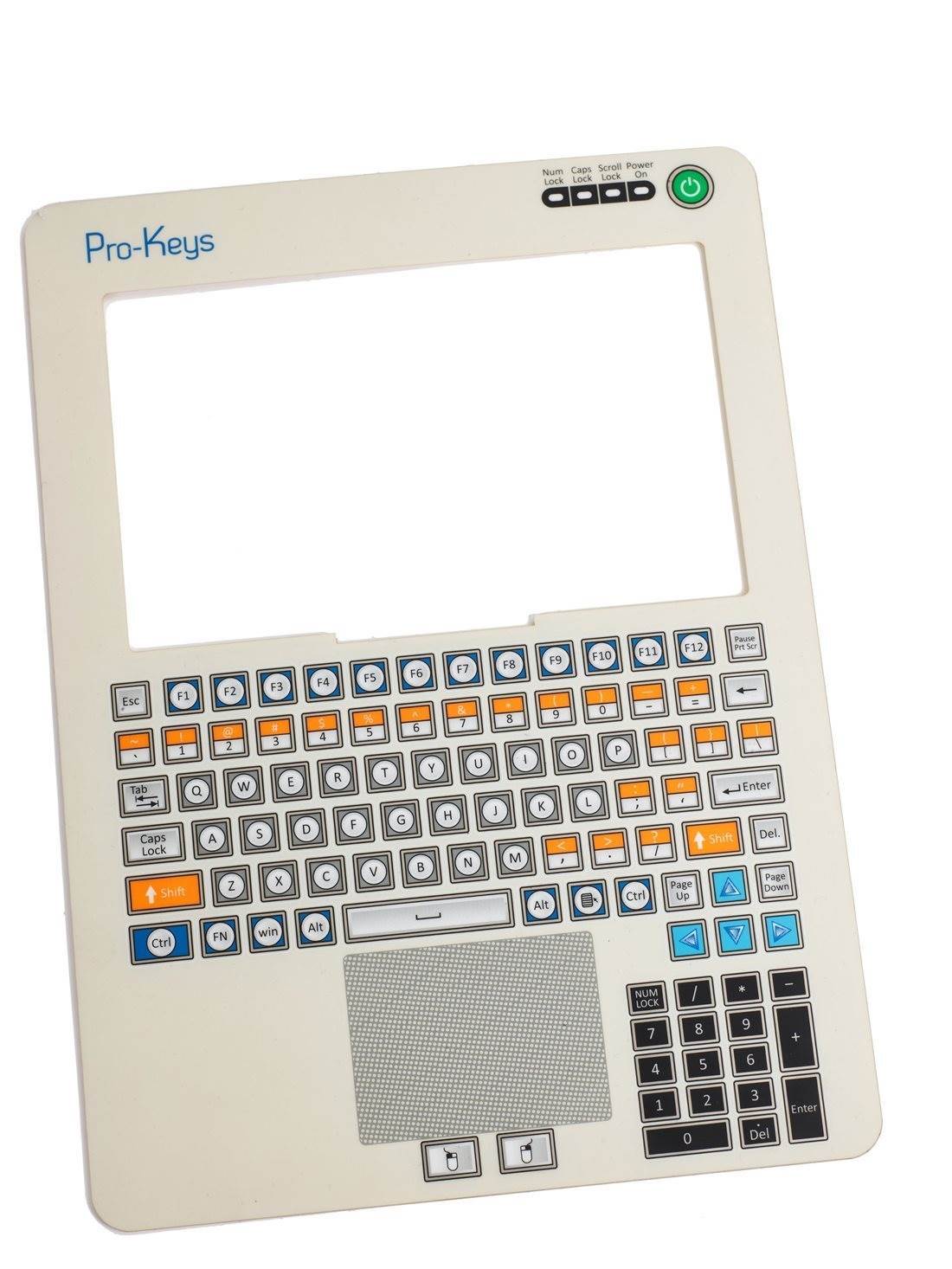 Membrane Switch Pro Keys 102 by Protolab Electrotechnologies won Gold in the Functional Printing category. The membrane switch keyboard is a fully programmable integrated device with a built in controller and touchpad and mounted to PCB. It has been screen printed on semi automatic press in 13 passes using UV inks with raised 3D UV to create an embossed appearance. It has been printed on clear polycarbonate with selective UV varnish on the top side with keys accented with liquid silver ink.
"Protolab have printed a perfect multicolour and multi-process switch panel clearly demonstrating their expertise," the judges opined.
Meanwhile, Pune-based Keetronics was announced both Silver and Distinction winner in the Functional Printing category. Its Illuminated Keyboard with Epoxy Foam Surface Tech entry was an illuminated membrane switch control panel, screen printed in ten special colours subsurface on clear polyester using both graphic and functional ink technologies. Special surface finish using epoxy foam technology presents a refined structural surface to some switches and tactile doming to others.
Keetronics' My Delicious Pizza Chat Box Keyboard entry secured the Distinction for its pizza box featuring an integral keyboard that has been digitally printed on corrugated cardboard with underlying functional electronic inks connected to smartphone and powered by USB. Functional electronics have been screen printed, with the surface print digitally printed UV.
Entries were also invited for the Young Star category, for junior print industry employees, trainees or students aged between 16 and 25. The 2020 Young Star winner is PVG's Maharashtra Institute of Printing Technology in Pune for their entry, "Save Tigers Before They are Silenced Forever".
"This student's work shows ambition in reproduction and design, using four colour processes and special effect varnishes," Graeme explained on why the entry was awarded Gold.
The four-colour process UV printing project has been printed using nano semi automatic print machine with additional UV special effect varnishes. Both high build varnish and textured varnish have been used to creatively accent surface detail. Printed substrates were self adhesive vinyl and matt duplex board.
The categories 'Packaging on Paper and Board', 'Packaging on Plastics', 'Wrapping' and 'Printeriors' were new to this year's Awards scheme, recognising four important growth applications for speciality print and signage businesses.
Among this year's entries, the judges selected two to receive Best in Show Awards for truly outstanding examples of print. These are Christian M Walter – Taller de Serigrafía - Edición from Spain, for the entry "New York de Sergio García Sánchez" in the Serigraphy and Fine Art category, and The Look Company from Qatar for its Roll-to-Roll Printed Textiles entry "Anoc World Beach Games".
Members of the Fespa community selected the People's Choice Award from the shortlisted entries, with Sakawa Printing Company from Japan taking this honour for its Japanese Fishes Calendar in the Creative Special Effect – Paper, Board and Plastics category.
New to the 2020 Awards is the Judges' Award for Innovation, which was handed to Haas Die Werbemanufaktur from Switzerland for its 3D Printed Beer Bottle Breaks Through Glass entry in the Direct Printing on Three-Dimensional Products category.
Graeme commented, "This entry was selected as winner of the Judges' Award for Innovation for being a brilliantly executed and creative concept using a combination of 3D printing, vinyl wrapping and detail fabrication".
Christian Duyckaerts, Fespa president said: "Championing print excellence and promoting the unique power of print is central to Fespa's mission. With the Fespa Awards, we want to inspire our global community to keep developing fresh ideas and using advances in technology and materials to add new dimensions to the work they produce for customers, as a foundation for continued growth. Judging this work is a privilege because it reminds us that print – in all its many forms and applications – is creative, beautiful and, above all, effective. We extend our congratulations to all our 2020 winners."
The Gold winners in the 17 application-specific categories

Forthcoming FESPA events
FESPA Global Print Expo, 9-12 March 2021, RAI, Amsterdam, Netherlands
European Sign Expo, 9-12 March 2021, RAI, Amsterdam, Netherlands
Sportswear Pro, 9-12 March 2021, RAI, Amsterdam, Netherlands