Gallus to debut its new ink set at Interpack 2023
Gallus Group, a subsidiary of Heidelberg Druckmaschinen, will use Interpack 2023 to present the Gallus UVF01 ink set, a new set of inks that can be folded without cracking. The labels and packaging equipment manufacturing specialist said that the Gallus UVF01 ink set is ideal for folding carton packaging applications and laminate tubes commonly used in cosmetics, representing an important new and profitable revenue stream for converters.
18 Apr 2023 | By Noel D'Cunha
Designed for use on the company's hybrid press, the Gallus Labelfire 340, the Gallus UVF01 ink set enables converters to offer all the benefits of digital print – including short-runs, versioning and personalisation, reduced waste and storage – for packaging and cosmetic applications.

India's first Gallus Labelfire 340 has landed at Ahmedabad-based Letra Graphix, a leading label solutions provider, and is in the final stages of installation. Samir Patkar, president, Heidelberg India informed PrintWeek/WhatPackaging that the Gallus Labelfire 340 is India's first, but the configuration is a special one and unique in Asia. "The Gallus Labelfire is a hybrid press based on the end-to-end logical operating concept that integrates digital printing with conventional printing and further processing." He added, "Labels are produced inline in a single production operation from the unprinted roll to the matrix-stripped end product."

Gallus' attendance at Interpack 2023 underlines the importance of the label market for the Heidelberg Group.

Thomas Schweizer, head of business management, Gallus Group, said: "We're excited to bring the Gallus UVF01 ink set to Interpack 2023. The inks were designed to meet the requirements of tube manufacturers, providing a cost-effective, high-quality UV ink set with a wide colour gamut and the durability to support foldable packaging and tube laminates. Not only does this support business growth for converters, but it also unlocks huge opportunities for brands to explore new packaging designs, and tactics to engage the consumer better and increase sales."

Gallus will also show samples from its recently launched digital press, the Gallus One. The new addition to the company's conventional and hybrid portfolio of label presses, the Gallus One, a 340-mm wide roll-to-roll UV inkjet digital inline labels press, is built on the Gallus Labelmaster press platform and can print at speeds of up to 70 meters per minute.

Dario Urbinati, CEO, Gallus Group, commented, "We look forward to welcoming visitors to our booth at Interpack 2023. We have the new UVF01 ink set and will also show some great samples from our amazing portfolio of label presses. But that's not all – together with Heidelberg, we've been very busy. Mapped to a very clear vision for how our industry can and will be successful in the future, we have some truly remarkable innovations coming up to discuss with customers and prospects. These solutions will help solve today's challenges while opening the door to significant future opportunities.

"In the year that we celebrate our 100 years of operation and open our new Gallus Experience Centre in St Gallen, we anticipate a busy show and an exciting 12 months ahead," he concluded.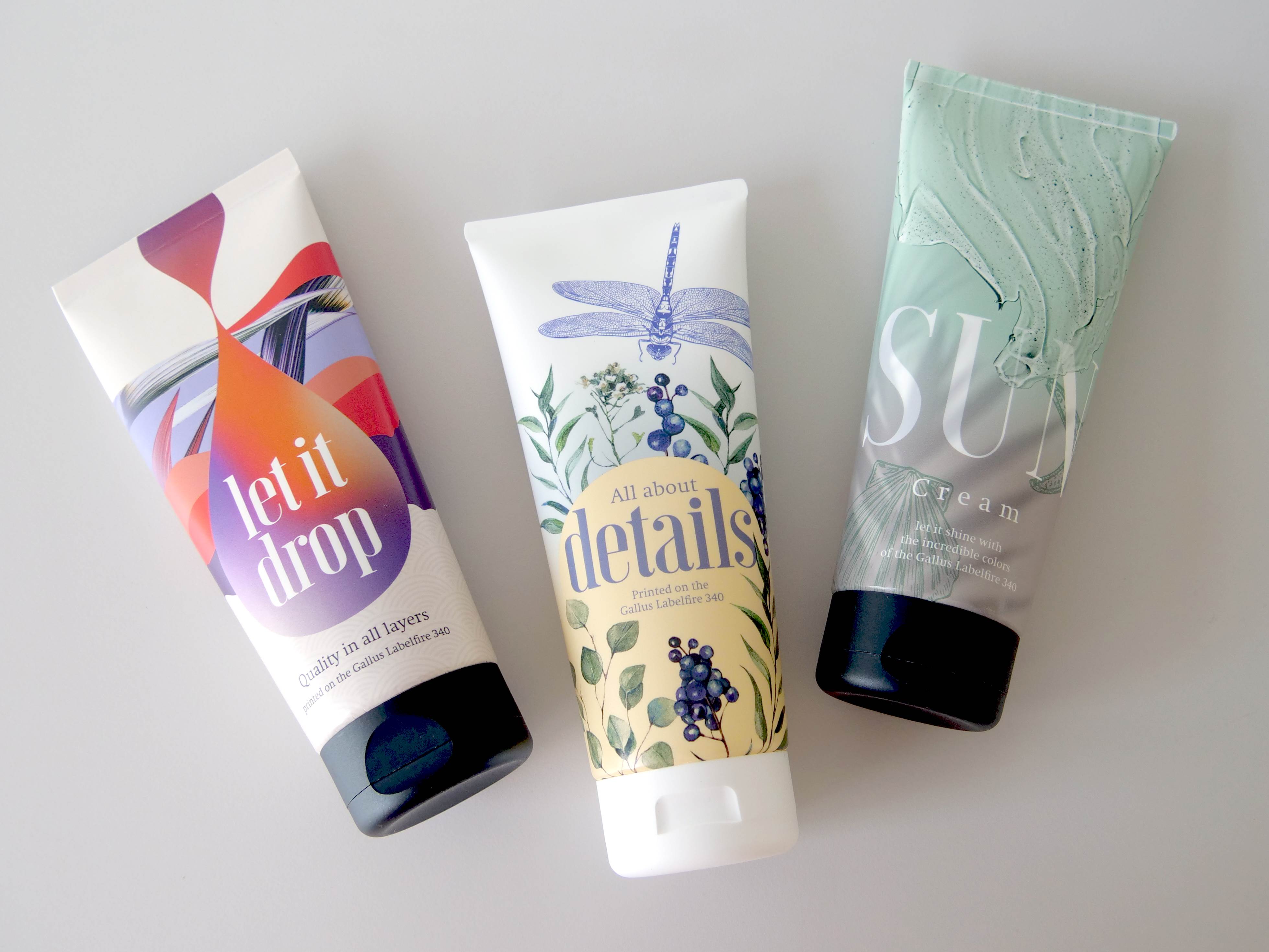 Samples printed on Gallus One digital label press
Gallus Labelfire 340 is a hybrid press integrating digital with conventional printing