The showstopper deals at PrintPack 2017
It was raining deals at PrintPack 2017, the third largest show in the world. With 428 exhibitors at the show, and 75,000 plus unique visitor registration, the show stayed true to its billing.

PrintPack effectively drove the point that tradeshow is an effective marketing tools. There were deals galore.

PrintWeek India brings a compilation of Top Deals that were announced during the course of the show.
11 Feb 2017 | By PrintWeek India
Canon sold all but one presses on the stand. The sales included: ImagePress C10000VP, the newly launched ImagePress C650, IR Advance 8585, IPF 671E and 771M and IPF Pro 540 and 560
Provin Technos' sales at PrintPack have broken the Rs 30-crore mark. The RMGT representative has sold eight presses: one RMGT 1050, two RMGT 760 and five RMGT 920 presses
The big news from the Bobst stand was the sale announcement of a Novacut 106 die-cutting machine to International Print-o-Pac (IPP). This will be IPP's fourth Bobst die-cutter
(r) Sambit Misra, chief operating officer at Ricoh informed that all the machines on display at the stand were booked, five of which were C9100 including one to Titu Print (in pic)
Autoprint announced deals valued at Rs 3.75-crore, including three Checkmate 50 with Rich Print, its first in North India with Any Graphics, as well as its offset and post-press machines. The company also informed that Parksons Packaging had signed up for its second Checkmate 50 for its plant in Assam
Hyderabad-based Techno Graphic Services (TGS) announced the sale of SBL die-cutter with stripping capability to Pragati Offset. This is Pragati's second SBL kit
New Delhi-based Galaxy Offset booked a Bobst VisionFold 110 A2 folder-gluer as part of its expansion in the packaging segment. Aman Gulati of Galaxy said, "The investment is part of Galaxy's expansion plan aiming to double its production capacity. We will also be able to produce large-sized boxes as well as complex cartons with this machine."
Japan Art Press has picked up a Komori Enthrone 429 (in pic). Amber Press too signed a deal of Komori Lithrone G 37 four-colour printing press
Caxton bought SBL's folder-gluer
FujiFilm sold two Eastcom CTCP platesetters to Mahendra Enterprises and Perfect Graphics. By the end of the show three more deals were under consideration. Besides the platesetters, FujiFilm also showcased Acuity EY and Acuity LED 1600 wide-format presses
Monotech signed 30 deals in the first two days, and rounded off the show with 35 deals valued at Rs 10-crore, which included Perfect Flexitech's third IntaGlios, gravure cylinder engraver
A Gujarat-based firm picked up four Line o Matic machines, two SHS 104 automatic reel-to-sheet super high speed ruling and two exercise book binding machines, Uno B104
Bobst announced the sale of its VisionFold to TCPL, which will be installed at the company's plant in Guwahati and also to Galaxy Offset
Ma Prints picked up six machines from 3S Graphic Solutions. These include 3D embossing machine with spot foiling (GC6040), semi-automatic grooving machine which can groove up to 6mm/ MDF (Z J1000), semi-automatic box wrapping and folding machine, halfmoon cutting machine and gluing machine with a conveyor belt
Apsom Infotex sold two flatbed printers, VL 2513 and Colorjet Verve LED UV, to Guwahati-based Printexpress and a Colorjet Verve Mini LED UV printer to Delhi-based Raman Display and Graphics
QIPC EAE has upped its presence in the book printing segment with a book printer and contract newspaper printer from Odhisa opting for its mRC-3D register control system. The system will be fitted in the client's web offset press, which will help the client achieve reduced start up wastage, reducing manpower, hassle free operation and consistent printing quality, said Vijay Pandya, managing director of QIPC (c)
Shiv Offset became the first customer to pick up Memory Repro Systems' offline inspection system, HX500- Antelope, manufactured by Beijing Sino MV Technologies
Zaware Creative Enterprises booked Param ERP software that will manage its brand new set-up in Pune
Chennai-based Suba Solutions announced three deals: the foldergluer, flute laminator and automatic die-cutter to Packaging India; a diecutter to Nemlaxmi and a repeat order of its Yii Lee Auto dry laminator from Galaxy Offset
Zund announced the sale of its digital cutting table S3 M-800 to Parksons Packaging and a second cutting table S3 L1200 to Sattik Exports (in pic)
New Delhi-based Grafik Machinery India sold a window patching and carton lining machine to Box Corrugated from MP and an automatic folder gluer for straight line and crash lock bottom cartons to Baddi-based Saroj Prints
Excel debuted its 28x40-inch diecutter with a stripping attachment, HS1020 and announced its sale to Bramha Printpack. Excel rounded off the show with three of its flagship die-cutter, Maxima Exb 35 deals (one to India Print - in pic), with seven more in the pipeline
Noida-based SnM Enterprises sold three intermittent label presses, 10 slitter rewinders, six kits for manual inspection and two platemaking equipment for letterpress plates. Pasricha owes this success to the company's strategy of having a right product at the right time and finding the right customer
Shenso, the joint venture between Daya and Sodhisons sold an automatic laminating machine, a carton inspection system, a rigid box making line and thermal lamination machine. Jaipurbased Miracle Group picked up the laminating machine
New Delhi-based Chaudhary Labels has bought the Esko Kongsberg XE10 along with ArtiosCAD software
Tirupati Group picked up the Huayin CD-108, an automatic die-cutting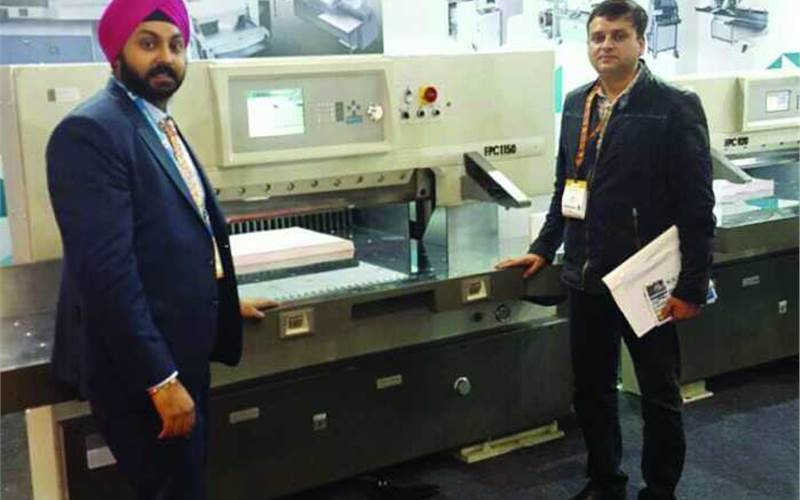 Amber Press picked up a programmable paper cutter, round corner machine, and the PrintPacklaunched die-cutting machine with hot foil stamping feature from Five Star Printing Machinery
Konica Minolta's big deal was Futura Digital signing up for the JetVarnish 3DS and Infiite Web 2 Print services. The company also signed multiple deals for Bizhub Pro C1100 and C1060, among others
Hi-Tech Systems has announced sale of its all seven products at PrintPack India and a total deal count of 30
Lucknow-based Amber Press has diversified into newspaper printing with two Ideal Printographics manufactured web offset printing presses
Chennai-based Print Generic Systems sold a Jwei digital cutting table to Rudra Graphics and a Yi Sheng laminating machine to Silver Prints, both Hyderabad-based print firms
Mumbai-based Malhotra Graphics sold out all the machines it displayed at PrintPack, including a range of post-press machines from UK-based manufacturers Morgana and Renz. Morgana's Digibook 200 PUR binder and BM 350 booklet maker made its debut at the show
Bengaluru-based Megabound booked 50 machines. At the show, the company launched five kits — fully automatic casemaker, twin case corner rounding, rigid box V grooving machine, automatic top gluing conveyer and wrapping machine and automatic book end pasting machine
By the end of 2017, Kerala's Malayala Manorama will deploy QuadTech automation on 42 towers on 11 presses, across 7 different locations. With installation already completed at the company's headquarters in Kottayam, the QuadTech solutions are expected to significantly reduce makeready times, minimise errors and reduce waste
TechNova had a super PrintPack sealing a number of deals – Esko Suite with Kalapi; Duplo 464 and five Konica Minolta Bizhub C1060 with Ma Prints; three Thermostar T9 CTP with Archies, Karan Laminators and Maurya Printers; and Amsky VLF thermal platesetter and G&J processor with MK Print Pack
Pune-based Pratham Technologies sold more than 10 folding machines and registered business worth Rs 1.5 crore
Surat's Gautam Paper books Alpna's offline UV coater
Redlands sold seven envelopemaking machines
Delhi-based manufacturer of foldergluer Vijaya Grafiks has announced the sale of two folder-gluers to Deharadunbased SS Industries and Haridwar-based Sai Ram Printers. The machine displayed at the show will be installed at SS Industries' Dehradun plant whereas the machine for Sai Ram Printers will be supplied subsequently