Snapshots from Print Summit 2017
The 11th edition of the Print Summit conference at Tata Theatre, NCPA on 24 January 2017 was a day filled with knowledge sharing by industry leaders. More than 980 delegates attended the flagship event that saw discussions on leadership, strategies and team building to help drive businesses.

In this picture gallery, PrintWeek India offers you a glimpse of what happened at the event.
24 Feb 2017 | By PrintWeek India
The 11th edition of the Print Summit at the Tata Theatre, NCPA in Mumbai lived up to its billing
Print Summit 2017 was inaugurated by industry stalwarts
Iqbal Kherodawala, CEO and chief mentor of Printline Reproductions kept the audience tuned in and busy with his anchoring at the Summit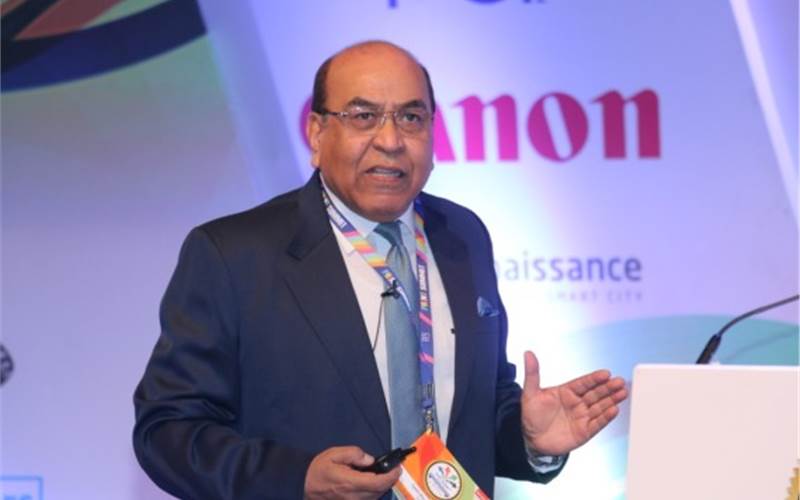 With the words – Print will rule the world – Lt Gen (Retd) Syed Ata Hasnain set the tone for Print Summit, which over the course of the day emphasised that print today is at a turning point, and though being disrupted in more ways than one, can be revolutionised with new business models and efficiency
At the Print Summit, spotted in the first row were Kamal Chopra, president of the All India Federation of Master Printers and his comrade Anand Limaye, the honorary general secretary were in attendance. One also spotted Pranav Parikh, chairman and managing director of TechNova
A total of 980-strong delegates attended the one-day Summit on 24 January 2017
Everything that can become "e" will become "e". Printing is no exception. This opening "tongue in cheek" slide by Faheem Agboatwala was apt. For one, it mimicked Benny Landa's "Everything that can become digital will become digital. Printing is no exception"
Agboatwala's one hour presentation in S-Curve at the Summit, was said was the highlight of the day-long conference at NCPA according to the print delegates present at the event
Agboatwala then focussed on three Mumbai-headquartered print firms who have had multiple S Curves: Akar, Printmann and Mudrika Labels
The learnings from Akar were: Pick and choose your clients – get invited by the client; get out of your press room, leave the smell of ink and noise of the machine and think like a business leader; and finally accept price rejection. Ashok Jain of Akar, said, "Our company prides itself in the fact we get only two out of every 10 orders we quote for, thereby we stick to price"
The learnings from Printman: Keep listening to your client, follow their path if you see they are successful and grow with them; never lose respect, printers have this huge respect deficit – we must work towards reducing that and reach a point when we are seen as partners and not just vendors. Tejas Tanna of Printmann (in picture)
The learnings from Mudrika: Visit your customers (out of your industry) exhibitions; participate in trade fairs - check and what your competitors are doing; have a dedicated R&D person/department to continuously develop new and innovative products; keep your eyes/ears open to understand what customers pain points are – every pain point is a huge opportunity for the printer/supplier. Manish Desai of Murdika Labels (in picture)
The session concluded with Ashok Jain of Akar, Tejas Tanna of Printmann and Manish Desai of Murdika Labels sharing their thoughts with the audience
One of the star presenters at Print Summit 2017 was Padma Bhushan Shekhar Gupta, a renowned Indian journalist who is currently working with Business Standard and pens a weekly column "National Interest" which appears every Saturday
Gupta began by assuring the audience, "I hear that print is dying. Let me assure you, it is not. We have a literate population that is growing"
Canon's director, marketing and sales, Puneet Datta, making a presentation at the Summit, said, technological innovations is transforming how businesses within print work. "It is being experienced on the print shopfloor," he said
"The time of embrace digital is now. The markets are in the process of transitioning from print-first to digital-first. Hence, the future of paper and print will be determined by how they reinvent themselves in the digital-first universe," said Datta
Sharing his insights on where is print going in the future and how Komori is providing solutions to resolve the challenges faced by the printers, Satoshi Mochida, President and COO of Komori Corporation Japan, said, "One key indicator is the increase in printed books. The book stores have increased by around 20% in the last five years, while eBooks continue with its market share of 20%"
Mochida presented Cimpress Group's case-study. "I believe that innovation can happen anywhere and so also in India," said Mochida
Sonam Wangchuk: Innovation, Motivation and Dedication - An educator is the foremost agent of change shared his experience of innovations and work he has done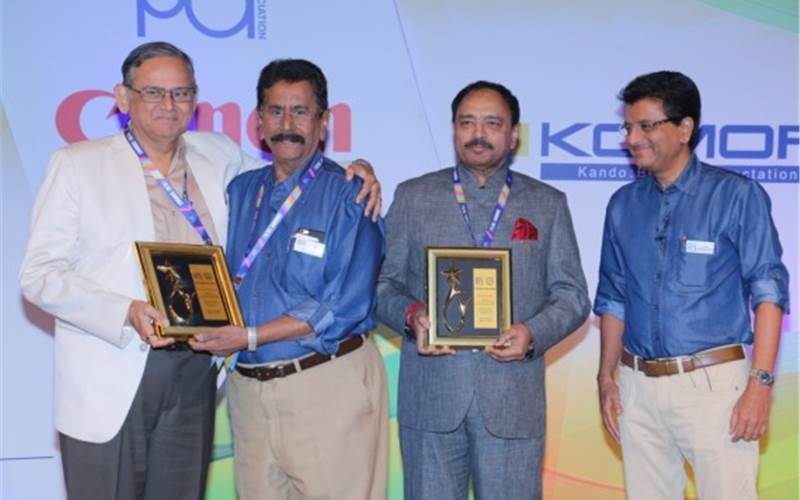 Anand Limaye, the honorary general secretary and Kamal Chopra, president of the All India Federation of Master Printers were felicitated at the Summit by BMPA team
Dr B M Hegde was one of the key motivational speakers at the Summit
In the absence of a robust succession plan, a majority of family-owned printing enterprises in India fail in a smooth transfer of leadership from one generation to the next. Autoprint managing director, CN Ashok addressed this issue in his presentation titled 'Will the next generation inherit?'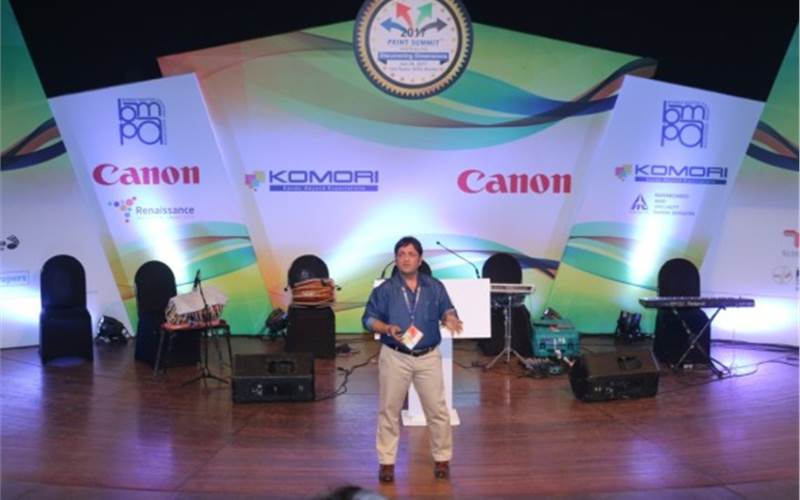 Mail Order Solutions founder and chairman, Mehul Desai explained how a print firm should go about strategising investments, sales and marketing, human resources and pricing. In his 30-minute presentation, Desai examined three print firms: Prodon Enterprises, Seshaasai Business Forms, and Vistaprint. Desai said, "The three printing companies are diverse in every aspect – size, infrastructure, client profile, geographical markets"
The team behind the eleventh BMPA Print Summit 2017