Latur and Nanded district: Planting the seeds for growth
Crops in India need a lot of care. But if you love to grow crops, you don't mind working on it, and waiting. Then in the proper season you will surely see it flourish.

It's the same with print.

The spotlight in Latur District has been on the Latur Pattern of study. One can see the confluence of education and print publishing market. Priya Raju reiterates PrintWeek India's commitment to the b-tier centres and investigates the print potential of the two cities.
31 Mar 2017 | By Priya Raju
Latur, a district which lies to the south-east of Maharashtra State on the border of Maharashtra and Karnataka is an agricultural economy. It is renowned for the Latur pattern of study which manufactures students who score a high 90% in board exams
Latur's city famous 'Ganjgolai chowk' is abuzz with activities from the shops and more importantly the students. The city boasts of high literacy rates.
Latur is the chief producer of soyabean, mango and grapes and is also known as the "Sugar belt of India". As per reports in the media, Latur is also the proposed site of Food Park on a 50 acre plot at Harangul.
Major print market includes educational books, publications, magazine, and other commercial jobs. Packaging sector is yet to take-off in these two regions.
Major industries in Latur and Nanded include agriculture mainly pulses, seed oil, and fertilizers. Agro-based industries, food processing and the oil mill/dal mill segments are to watch out for, since it is produced more in the region. There is a possibility of revenue generation for print firms in these segments.
Latur has seen an increase in the number of educational institutes as well as private coaching classes. There are as many as 1,284 primary schools run by government and 487 private schools affiliated to the Education department of Latur District Council.
Students in and around Maharashtra flock the city in the hope to succeed the entrance tests. According to the data available, the city has more than 31 registered coaching classes plus many unaccounted for. Every coaching classes have their own set of study books
Latur and Nanded's print sector is untapped. The packaging sector should get a boost once the airports are fully functional. Agro-based industries, food processing and the oil mill/dal mill segments are to watch out for, since it is produced more in the region. There is a possibility of revenue generation for print firms in these segments.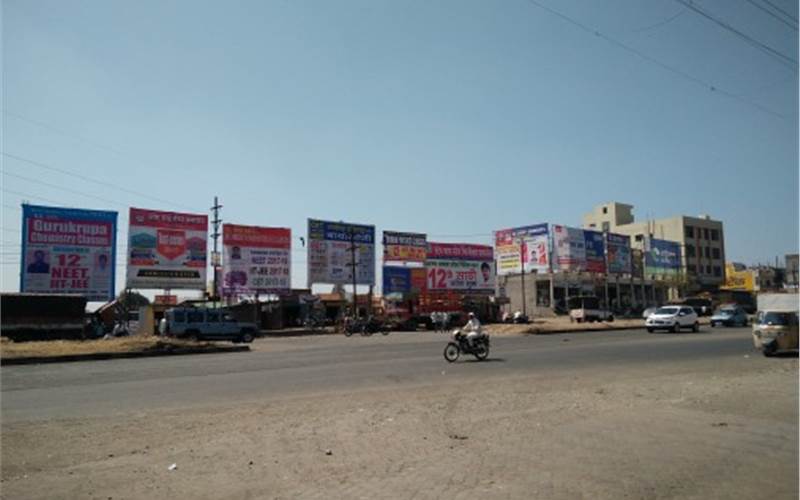 In Latur, out of the 300 print firms, only four print firms are equipped with a four-colour press. The rest depend on single-colour or two-colour presses by Swift, Autoprint and other wide-format solvent kit
The Maharashtra State Bureau of Textbook Production and Curriculum Research (MSBTPCR), popularly known as Balbharati is one of the important print job providers that nourish the city's firms.
Devang Book Binding works in Latur have started catering to local packaging jobs which include shoe boxes, consumer goods boxes, etc.
Vilas Pethe, owner of the firm says, "The volume of jobs is good, and during non-Balbharati season this acts as a constant cashflow"
Established in 1991, Arty Offset is a first generation commercial print firm owned by the siblings, Kishore and Kirti Gorkhe
The firm has many firsts to its credit. The most recent being a brand new four-colour Komori Enthrone 29 press to cater to the growing market demands in Latur. The machine was installed in June 2016 at its 40,000sq/ft shopfloor
According to Gorkhe, the Enthrone proved to be a perfect fit for their requirements. We are able to churn out 60-70 different jobs in a day. Our production has now increased two-fold. We are able to easily run the press at the speed of 13,000 impressions an hour
"On an average, we consume 500 plates and print 100+ varieties of jobs in a day," he informs
The Latur plant currently converts 40 tonnes of paper in a month and uses 600kg inks. The pre-press of Arty is equipped with Basysprint platesetter
The post-press at Arty has a raft of machines which includes two six-clamp perfect binders and a Diploma folding machine by Welbound plus two Shoei folding machine
Recently, the firm has invested in two creasing machines from Morgana, of which one machine will be installed at Nanded
As a part of its expansion strategy, Arty Offset has invested a second commercial printing plant in Nanded. The plant was inaugurated in December 2016 and is spread over 20,000sq/ft area
Kirti Gorkhe, owner of Arty Offset says, "If you see, Nanded is a much bigger city than Latur, and is well connected to adjoining districts as well. During our research before setting up the plant, we found that all the print jobs from the city are being outsourced to the print cluster in Hyderabad's Lakdikapool area. The plan is to tap this virgin market and capitalise on the first mover advantage"
From past few years, there has been talk about establishing a print cluster in Nanded. To-date it has not seen the light of the day. Plus there are almost no established print firms in the city
Currently, the Nanded plant employs 15 people and houses Heidelberg Trendsetter Creo platesetter, a Mistbushi four-color press, and a refurbished perfector press. The platesetter and the perfector machines have been brought to Nanded from their Latur plant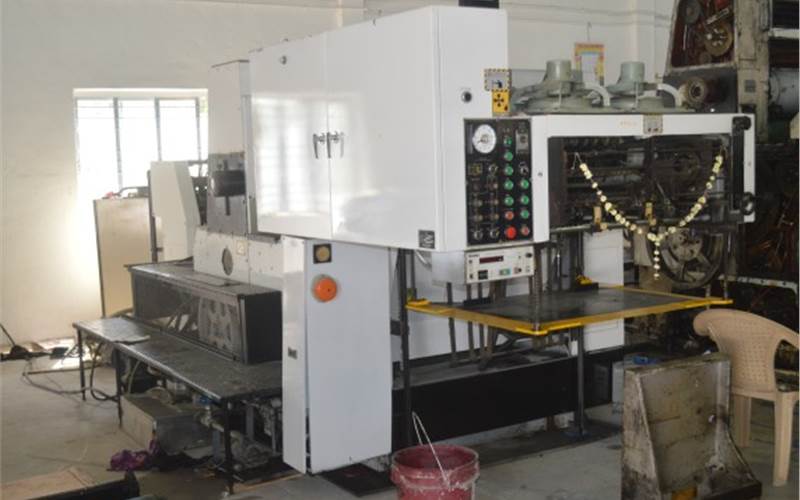 The firm has invested in a refurbished Mitsubishi Perfector, which will be deployed at the firm's Nanded plant
As the market requirement grows, we will continue to invest. The immediate investment we are looking at is in the post-press," says Gorkhe.