The Indian Drupa shopping basket
There's no better place than Drupa to get a sense of the business-pulse in our industry. As the Indian visitors loosened their purse strings, and invested in new kit during Drupa, happy days loomed large on the print horizon.

PrintWeek India presents the Indian Drupa through 25 pictures.
29 Jul 2016 | By PrintWeek India
KBA's Indian representative Indo Polygraph Mahcinery sold six machines at Drupa 2016. The packaging giant TCPL, which has put into service one KBA Rapida 106 press every year since 2012, has further consolidated its trust in KBA by sealing a big-ticket deal for three new KBA machines at the show. Of the three, a seven-colour plus double coater Rapida 106 combi UV press, which is planned for TCPL's Silvassa unit, will be shipped in October 2016
Heidelberg India have signed their biggest ever Drupa order with Parksons Packaging. The order consists of two Heidelberg CX 102 multicolour presses including all the innovations which were showcased at Drupa 2016. According to Peter Rego, Heidelberg India, "This order reaffirms Parksons Packaging's faith in Heidelberg's technology and service support. The newly signed machines will be the fourth and fifth brand new CX 102 presses to be installed at multiple locations in the last two years"
Mumbai-based Globe Print n Pack, which specialises in transparentpackaging like PP,PET and PVC cartons has opted for Bobst's Novacut withspecial configuration to die-cut plastics with Bobst Hot Plast system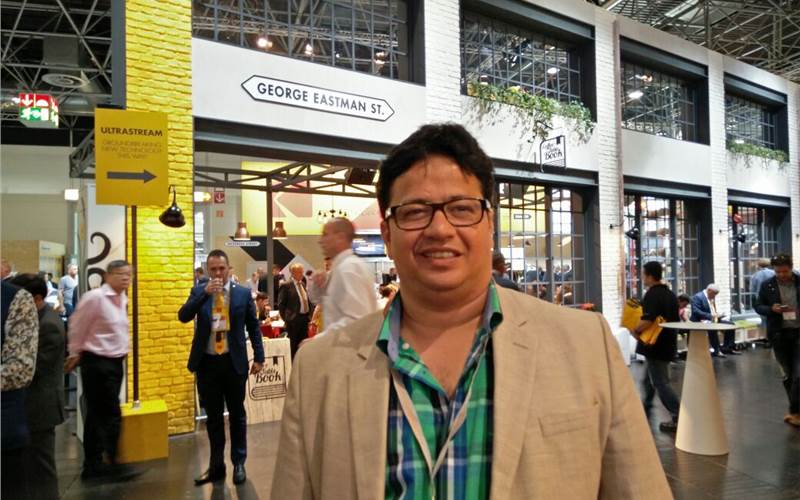 Chintamani Agashe of Mumbai-based Supriya Graphics signed for a Kodak Achieve 4-up CTP platesetter
Mumbai-based commercial print specialist, Indigo Press purchased Perfecta PremiumLine 92 cutting machine at the show
Kolkata-based CDC Printers has invested in a Cron CTCP UVP4648GI with a Shangzun TPD 1100 plate processor. CDC director Manu Choudhury said: "We are expecting at least a 20% growth with the book printing unit this year, and I am sure Cron would be sufficient to meet this growth." Mumbai-based Nippon Color facilitated CDC's Cron buy. Besides CDC, Nippon signed seven more deals – six Cron and a Kodak thermal CTP.
Manugraph has signed its first deal at Drupa. AGA Publications, Hyderabad in India will install a new CityLine Express press. AGA publishes the Telegu language newspaper, Vaartha. The Cityline Express is Manugraph's popular single-width H-type designed four-colour tower offset press equipped with brush dampening, pneumatic impression, and motorised registration control. The press to be delivered to AGA will consist of four four-colour printing towers, one F222 Jaw Folder, and four integrated autopasters. The delivery of the press is expected to take place before this year end
Creasing and folding specialist Morgana launched two new creasing and folding machines aimed at high-capacity needs, along with new booklet maker that can produce a perfect-bound looking book but saddle-stitched. Among other machines on display was the DigiBook 450 PUR perfect binder, which was picked up by Pune's Kadam Digital. The sales was facilitated by Malhotra Graphics, Morgana's India representative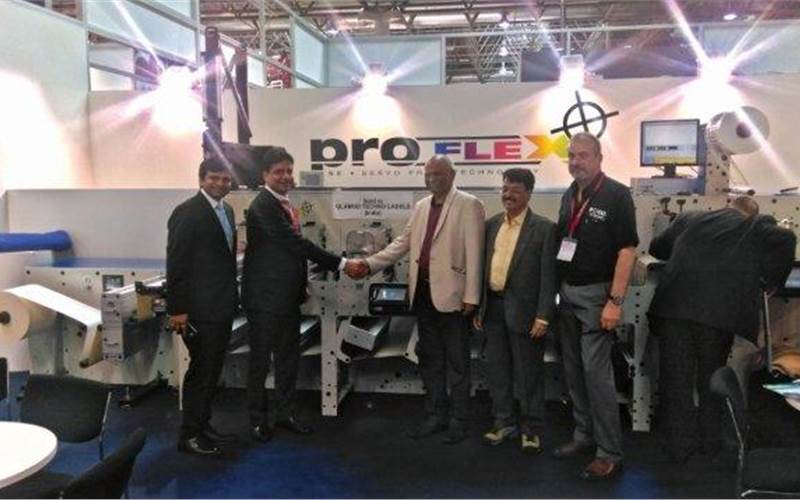 Mumbai-based Glamod Techno Labels has signed a deal for Focus Proflex E narrow web flexo printing press in Drupa, 2016. Monotech Systems represents Focus Machinery in India. Deepak R Bedi of Glamod Techno Labels, said, "Printing today requires the ability and confidence to serve a wide range of markets. The ability to produce small volumes balanced with high productivity, cost-efficient operation and versatility while maintaining key elements of quality are essential"
Mathrubhumi Printing & Publishing (MPP), which publishes one of the largest Malayalam language newspapers Mathrubhumi from Kerala, India, has signed for 20 Krause LS Performance 250 violet platesetters with BlueFin processors and Krause JetNet workflow at Drupa. This is the biggest single order in terms of number of machines for the manufacturer till date
Komori opened its India account of Impremia IS29, with Ludhiana's digital specialist, Dulari Digital confirming the deal at the show
Maharashtra's newspaper and commercial business group in India, Sakal, has invested in the newly launched Rapida 75 Pro, the six-colour plus coater UV press as well as a Bobst Novacut 106E and a Bobst Ambition A1 folder-gluer
Mumbai-based ACG Pharmapack has signed a deal with Atlas converting for the latest generation of the Titan SR800 slitter-rewinder. ACG Pharmapack is a manufacturer of a range of barrier packaging films for the pharmaceutical, medical device, personal care and food packaging sectors
Japanese press manufacturer Ryobi MHI Graphic Technology marked the inclusion of nine Indian printers into its sales book. Vinay Kaushal, director, Provin Technos, says, "We had a very good response for all the three product groups RMGT, Rotatek and DGM. We sold nine RMGT presses, one Rotatek and one DGM machine. In addition, immediately after Drupa, we have signed four RMGT orders. At this Drupa, customers were expecting something concrete in the digital segment but that also appears some distance at this moment. Indian market will continue to proceed in the direction where it is already moving. Value addition in finishing will come up in big way."
Chennai-based Monotech System have notched many a prestigious deal for Scodix in India. Monotech's TP Jain said to PrintWeek India, "Print embellishments provide an opportunity for print firms like Joystar and Nutech (Jatinder Shroff of Nutech in the picture with TP Jain and the Scodix and Montotech team) to add value to products. As average run lengths decrease, Scodix digital enhancement presses – with no tooling costs and next to no set-up – become an attractive option to replace analogue equipment." Nutech will use this machine in conjunction with its latest Heidelberg CD 102. "The E106 can do foiling with standard foils thereby overcome the challenge of using expensive foils for cold foiling," said Shroff
Maharashtra's newspaper and commercial business group Wikas Printing & Packaging (part of Sakal Group) invested Bobst Novacut 106E and a Bobst Ambition A1 folder-gluer and a Rapida 75 Pro, the six-colour plus coater UV press. In the picture (l-r): Bobst's Menon, Wikas Printing & Packaging's (part of Sakal Group) senior manager Ashish Shete, chief manager Sandeep Khutade, and chairman of Sakal Group Pratap Pawar
Pragati Offset has booked an automatic foil stamping machine SBL 1050 from Taiwan-based SBL Group, which started selling packaging finishing equipment under its brand name after the 10-year long cooperation with Heidelberg ended in 2015
Heidelberg India has announced that it has signed deals for 17 new offset printing machines at Drupa. Speaking exclusively to PrintWeek India, Peter Rego of Heidelberg India said," Drupa was an excellent show for Heidelberg, both globally as well as in India." At the show, Heidelberg unveiled its Push-to-Stop philosophy of autonomous machine operation wherein the processes which were actively started by the operator will be handled by the press, while the operator will only interrupt the autonomously running process chain if necessary.
Kanpur-based Senior Box Factory Ramji Press (SBFRP) has inked a deal to purchase two WP Speedliner rotary window patching and lining machines manufactured by Heiber + Schroeder. The machine handles paper and cardboard from 220 to 600 gsm, corrugated board up to five mm and film from 0.03 to 0.3 mm. Of the two Speedliners, one will be installed at the company's Kanpur facility and the other at Haridwar. The delivery is expected by September 2016
The flexible packaging converter based out of Kolkata, Creative Polypack has invested in a Comexi F2 MB flexo press at Drupa 2016
TCPL has invested in a Beijing Daheng carton inspection system from SLKCG. Beijing Dehang offers multiple models of its Star carton inspection machine in different sizes. There are over 1,000 machines installed worldwide
Insight closed Indian deal for Screen Truepress Jet 520 at Drupa. George Mathew, the director of Insight Communications said, "We are delighted to open our Drupa innings with the sale of a Screen Truepress Jet 520 press." With this, Insight debuts in high end digital web press sales, said Ajay Aggarwal from Insight. He added, "As 2016 is a digital Drupa, it was apt for us to start with the sale of digital press."
CP Paul of APL said, "It was a successful Drupa for APL. We grabbed 26 LED orders in 10 days." Paul added, this is a mixture of flexo and sheetfed customers." One of the biggest customer for APL is Labelco who booked an order for eight LED systems
Kundli-based Sodhisons Mechanical Works inked three deals for Zhengrun rigid box manufacturing machines in Drupa 2016. Sodhisons is the Indian representative for the Chinese manufacturer. Rakesh Sodhi of Sodhisons said, "Now our total count has reached up to 19. Our 16th machine is under installation at Azure Press, Bahadurgarh. Printers from Ahmedabad, Punjab and Haryana have booked RB 6040 and all three machines will be installed soon."
Vijayshri Paper Products signed an order for Kodak Trendsetter 800 Quantum with Nippon Color