Spectrum's POP Bazaar 'Wow's 13 designers
The POP and POS sector has evolved and moved far beyond its conventional definition. What was a few years ago limited to retail visibility through paper danglers and PVC foam board-based table-top dispensers, entails a lot more.

To explore the possibilities, the PrintWeek India team along with 13 designers from Wow Design, visited Spectrum Scan in Vasai and experienced how print is incidental and the focus has shifted to customer engagement at the point of sale with the use of a variety
28 Nov 2016 | By Rushikesh Aravkar
Spectrum has a unique experience lounge a 2,500 sq/ft 'Bazaar' of POP and POS items. It gives total experience of bazaar which includes kirana shops, paan kiosks, ice-cream parlours, and a supermarket at one go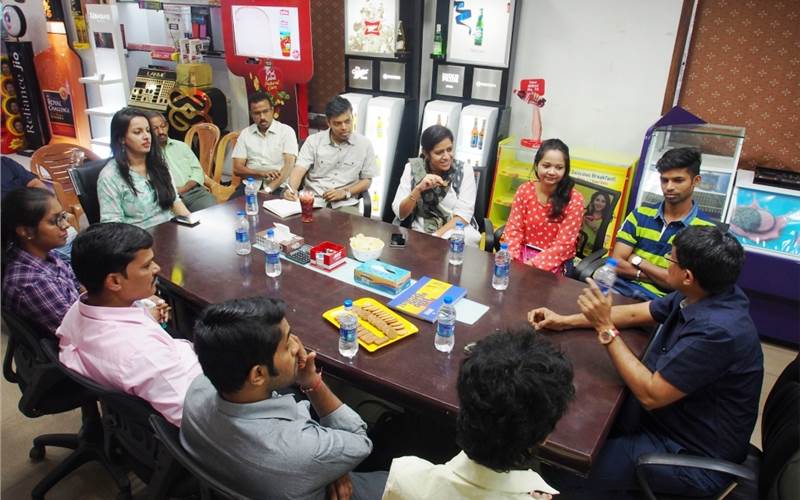 A print service provider by roots, Amit Shah (r) likes to introduce his company as a 'brand building specialist'. "Print is the final touchpoint but fabrication is the key," Shah said
Team Wow Design deals with packaging design. What they saw at Spectrum was an eye-openner, said Virendra Dalvi, senior studio executive at Wow Design
Shah explains the success of PP-based hanger produced for Paperboat. "This product garnered repeat orders, which is a rarity in retail"
With 20+ years at Spectrum, the general manager S Rajgopal (r), heads the tech team at Spectrum. Rajgopal tours the designers through the Spectrum Bazaar browsing through the numerous POP success stories
Rajgopal demonstrates a nine-colour lantern printed with a combination of screen and offset on PP substrate
Anil Mathai, marketing head, Spectrum showcases how the offset-printed POP can also be used as back-lit poster
The Anchor metallised poster is produced on a semi-automatic screen printing machine with CMYK and halftone white on metallised polyester sheet. The Wow team was impressed with the colour tonal balance and contrast
Spectrum is among the top ten screen printers in the world. While most of these deal with industrial applications such as printed electronics, automobile graphics etc, Spectrum has mastered the commercial and graphics space. It boasts of 90+ international awards
An eye-opener: wide–format screen printing with vignettes and halftones
Wow Design's Deepti Kshirsagar observes how print has remained incidental and how the focus has shifted to customer engagement at the point of sale with the use of variety of substrates and technologies
Spectrum's POP Bazaar 'Wow's 13 designers
The next big thing in its Phygital portfolio is gesture-controlled augmented reality
Rajgopal: "We are continually thinking outside the box when it comes to creating and designing POS solutions that entice and excite our customers." For this, the firm has a creative studio and a team of 3D designers and CAD artists who work closely with the production people
Spectrum's strength lies in its solid knowledge of screen printing and its mastery in thermoforming
Being able to work with complex artworks, printing them, and later form them into shapes without distortion is a skill that requires deep process and material behaviour knowledge
The skill of thermoforming: More than print, it is an engineering process where a plastic sheet is heated to a pliable forming temperature, formed to a specific shape in a mould, and trimmed to create a techno-commercial product
Over the years, Spectrum has built a set-up that is seamlessly integrated for fabrication of metal, wood and plastics and equipped with offset, digital as well as screen printing equipment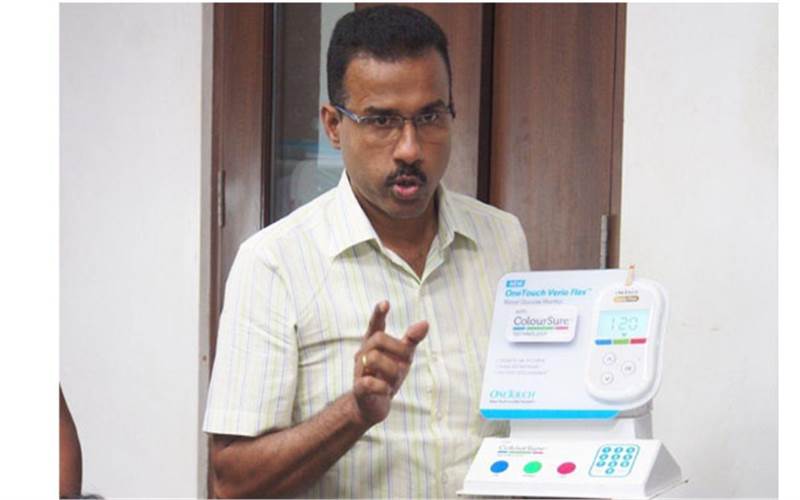 Embeding electronics: Mathai demonstrates a table-top POP for pharma company, which allows patient to input his blood pressure values and indicates if it is low, okay or high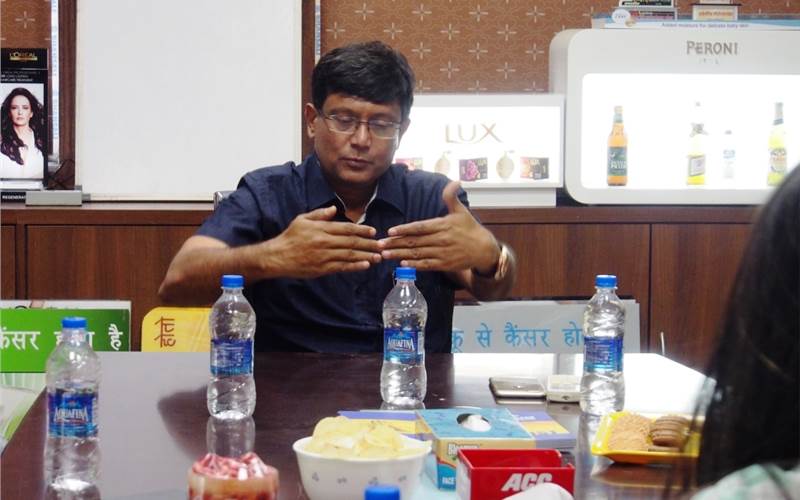 Addressing the Wow Design team, Shah adds, "As buyers, it is important for you to understand how to specify digital printing. Always ask for Latex printing – it's water-based technology. The resolution has to be 1,400x1,400 dpi and the substrate should be either LG or Avery or 3M. Once you do this, you are rest assured about the quality of print and the life of the signage."
Spectrum can provide a complete signage and POP solution, right from conceptualising to the final product. A wide variety of materials like PETG, HIPS, PP, PC, PVC, acrylic are deployed
Spectrum's recent investment in plastic extrusion machine is a backward integration masterstroke. It now allows the company to manufacture HIPS sheets of any shade and maintain the consistency batch after batch
A look at the Spectrum Scan Bazaar indicates a dazzling array of shapes and sizes of POP items, as well as applications
A POP for water-resistant paint: On press of a button water flows down the normal painted pane and the panel with water-resistant paint. The normal painted panel gets wet, while water slips off the other panel
Spectrum Bazaar reflects Shah's retail branding theory in the Indian context: durable, vibrant (including colours) and clutter-breaking