Best of 2016 in pictures: Part II
Despite the effects of demonetisation, 2016 was a landmark year for the industry. It was a Drupa year, so we saw a lot of investments in machines, equipment and software. Closer home, we had Labelexpo India, and host of other major exhibitions, besides numerous product launches, seminars and conferences.

In the second part of the gallery, we bring you the best of the pictures featured on the pages of PrintWeek India.
28 Dec 2016 | By PrintWeek India
Canon's Voyager B2+ inkjet press is still a prototype set to launch in 2018. The Voyager is based on "the latest inkjet technology" developed by Canon. It is a seven colour device with B2+ duplex capability and prints pigment inks at a speed of 3,000 sheets per hour. Canon's Puneet Datta says, "B2+ means that the final print size will be of B2 and the sheet size will be slightly bigger. The machine also features an inline gloss optimiser and is powered with the new Drupa-launch EFI Fiery XB Scalable Blade Server"
Heidelberg Prima - At Drupa 2016, Heidelberg showed a world premiere for industrial production of digital printing applications in 70x100cm format with the Primefire 106. The system is based on inkjet technology from Heidelberg's development partner, Fujifilm
At Drupa 2016, the Bobst digital printing press for corrugated applications uses Kodak Stream inkjet technology and aqueous based food compliant inks, to continuously deliver over 50 billion ink drops per second from its four CMYK print units. According to Bobst, the press can match a broad range of the Pantone gamut and print at speeds of up to 200 meters per minute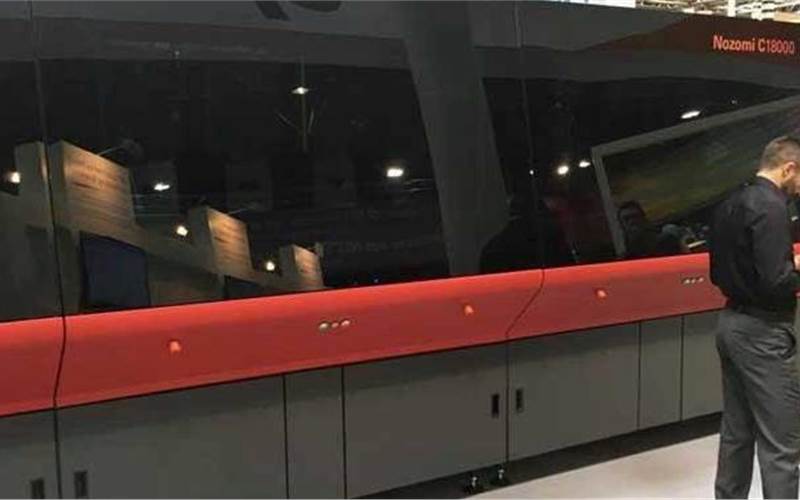 Electronics For Imaging (EFI) announced the new EFI Nozomi single-pass LED technology at Drupa 2016. The press is said to reach speeds up to 75 linear metres (246 linear feet) per minute
Launched as a prototype at Drupa 2008, and commercialised at Drupa 2012, the Fujifilm JetPress 720S garnered a good response at Drupa 2016 says Fujifilm's SM Ramprasad. He said, "There are more than 50 hot leads for the B2-plus format single-sided digital inkjet press, for sheets up to 750x532mm"
At Drupa 2016, Landa announced the launch of the Landa W10P Nanographic Printing Press. The metre-wide two-sided Landa web press has twin printing engines, each with 4-8 colours, and prints on virtually any coated or uncoated paper stock ranging in weight from 30gsm to cardstock
KBA and Xerox launched the concept of the KBA Varijet 106. It is a hybrid machine which can include any units from a standard Rapida 106 machine such as offset units, cold foil and coating, including double coating units, as well as die-cutting. The current speed of 4,500 sheets per hour will increase over the next few months, says KBA. It integrates Xerox Impika inkjet technology into the KBA Rapida 106 press platform
The Konica Minolta AccurioJet KM-1 is a sheetfed duplex B2-format digital inkjet press. Konica Minolta makes the print engine, inks and DFE, while Komori supplies the transport system
HP Indigo - HP unveiled Indigo 12000 at Drupa 2016. It features a maximum printing speed of up to 4,600 B2 colour sheets per hour and it can print monochrome in duplex at 4,600 sph
The iGen5 is a cut-sheet dry toner-based, third-generation xerographic print engine, supplementing traditional CMYK colours with an additional fifth colour station offering orange, green or blue. Xerox claims that this press will match over 90% of the Pantone plus coated library within 3dE Paper Format Standard Sheet Size
Kodak NexPress ZX3900 offers new packaging and retail application opportunities, and now supports thicker paper and thicker synthetic substrates without limiting the range of commercial jobs that can be produced
The Ricoh Pro VC60000 was showcased to a worldwide audience for the first time at Drupa 2016. It is a continuous feed inkjet printer that enables printers to print up to 150 metres per minute — nearly 100,000 A4 images per hour
Xeikon's Trillium One is capable of running at 60 metres per minute at 1,200dpi, with a print width of 500mm. It uses Trillium, Xeikon's liquid toner printing process, which was first presented at Drupa 2012. Trillium technology resulted in the small toner particle size of less than 2-micron used in the Xeikon-crafted high viscosity liquid toner. Shipping of the Trillium One will start from Q2 2017
The merger of Ryobi and Mitsubishi Heavy Industries' press operations was demonstrating DP7, its B2 format liquid toner press. Based on a Ryobi 750 offset press chassis fitted with Miyakoshi 1,200dpi heads and high viscosity liquid toner, it offers 6,000sph, with up to 8,000sph in potential. The Drupa configuration was four units, but five or more will be possible, including a 4/4 perfector
Komori's Impremia IS29 29-inch sheetfed UV inkjet digital printing system is jointly developed with Konica Minolta. The Impremia IS29 can print directly on a wide variety of stock with a maximum sheet size of 585x750mm
Domino showcased web-fed K630i that has a choice of web widths. This was originally called MonoCube by its developor Graph-Tech, which Domino acquired in 2012. At Drupa it was running inline with a Kern 130 rotary sheeter plus an Ibis Smart-binder saddle binding system
(r) Jeff Clarke, CEO of Kodak with Bhalchandra Nikumb, the managing director, India Cluster & West Asia Cluster; Channel Director, South East Asia
Mimaki launched its Tiger 1800B globally at Gartex 2016. It's a belt-type direct-to-textile inkjet high-speed model. The maximum speed is 390 sq/m
TechNova, the Indian partner of Agfa, highlighted the new generation Advantage N Essentials range of violet CTP systems, especially for the newspaper segment at Wan-Ifra India 2016
Epson showcased its SC-P7000/P9000 series of textile printing equipment at Gartex 2016
At Media Expo 2016, New Delhi, Chennai headquartered Monotech Systems had launched three wide-format printers – Pixeljet UV LED roll-to-roll printer with Ricoh generation five printheads; Pixeljet Satrfire Series with Spectra printheads, a solvent printer; and Pixeljet Jumbo Series with Konica 512i printheads
Newstech has recently sold two Mitsubishi web offset printing presses to Malayala Manorama
Wynn Las Vegas has been playing host to EFI Connect for the last 10 years. EFI Connect 2016 was held from 19 to 22 January, saw 10% surge in customer attendees compared to 2015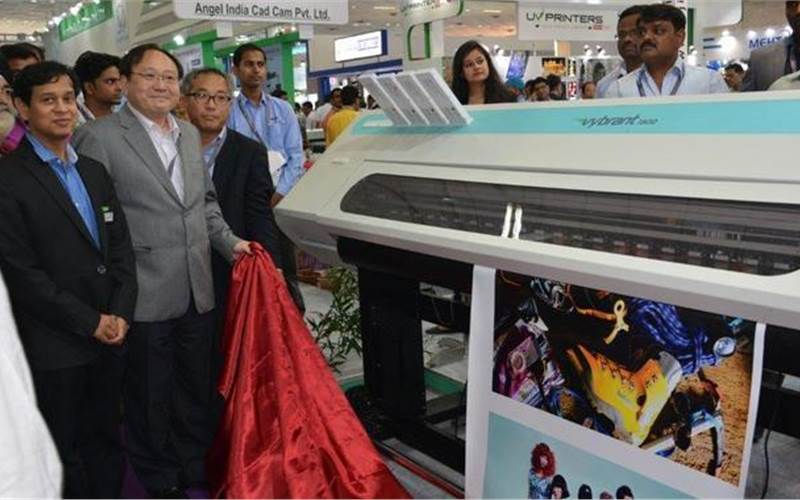 Fujifilm brought its newly launched Vybrant 1800 eco-solvent wide-format printers to Media Expo. The Vybrant 1800 is available for delivery from November 2016
Faridabad-based manufacturer of print enhancement equipment, APL Machinery, launched a digital UV coating and curing machine at Media Expo New Delhi and sold four
Esko unveiled Kongsberg X24 cutting table at IndiaCorr Expo 2016
Pune-based wide-format print equipment manufacturer Macart unveiled a new solvent printer with Konica Minolta 30 picoliter printhead, which can print at 1,200 sq/m per hour in two passes at a resolution of 360x760 dpi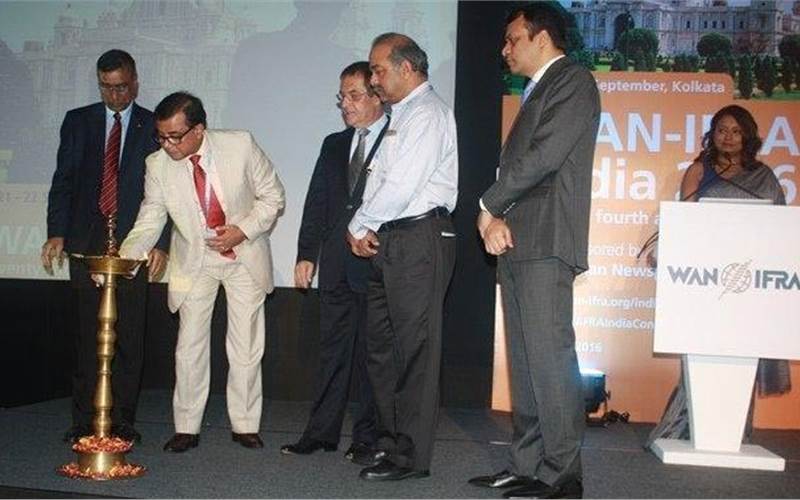 DD Purkayastha inaugurated the Wan-Ifra India 2016 Conference in Kolkata on 21 September
(From left) Smarth Bansal of Colorjet and Ravi Agarwal of Apsom Infortex. ColorJet India has an entry-level printer for the soft signage market, which it claims is ideal for "flag printing"
The Colorjet stall hosted more than 500 curious visitors enquiring about digital textile printing machines during the three days at Gartex
The two-day event saw more than 900 print industry stakeholders; a mix of influential marketers, digital innovators, creative leads and print specialists from across Asia Pacific and Japan in attendance at Dscoop Asia, themed "Winning Inspirations" held in Singapore from 17-18 November 2016