Vadodara's Concord men on a mission - The Noel D'Cunha Sunday Column
Concord Printings' partners Kayyum and Arshad Memon, may not have a diverse CV, but have certainly learned a thing or two about the importance of never forgetting the basic business principle – keep enough margin for profit. It's a lesson that has stood the duo in good stead and enabled them to grow their business. Read more...
19 Dec 2021 | By Noel D'Cunha
In an industry that has been seen as greying, succession planning has been an issue that printers have faced. That was not an issue with Kayyum Memon when he came into the scene in 1982 as a director of Concord Enterprise. Before 1982, he helped his father, late Majid Memon, manage Pravin Printing Press.
The Memon name on Vadodara's printing shingles goes back to a treadle press in the city's Ajwa Road industrial unit in the late 1960s. Since then, the company has progressed, letterpress then to single- and two-colour presses. The single-colour Roland 200 single-colour still runs on the company's print floor.
Memon, a print specialist from Pune Vidyarthi Gruh, established Concord Enterprise, a subsidiary of Pravin Printing Press, even as both the companies when through their early growth under his watchful eyes.
In 2005, the firm got its first four-colour press, a pre-owned Komori Lithrone 426. It added another five-colour Komori Lithrone 526 in 2007. Around the same time, his younger brother, Arshad, joined him in his business, even as his father gradually retired.
In 2010, Pravin Printing Press wrapped up the installation of its first brand new press - an SM74 four-colour plus coater. "That installation marked another example of our continued endeavour of upgrading our facility," Memon says. "It also marked a significant milestone in the progress of Pravin Printing Press' march towards providing the highest quality in print service for commercial and packaging sectors."
The company, till 2010, had been using secondhand machines with good effect, but the new machines not only helps improve quality but also increase uptime and improve productivity. "We definitely felt the upswing," says Memon.
Until 2015, the company specialised in printing brochures, catalogues, and books, and it also undertook security jobs and packaging.
Soon after, Memon invested in an RMGT six-colour plus coater press, a Kodak Trendsetter Q800 platesetter. In the converting section, Concord installed a Bobst Visionfold 110 in 2015 and a Bobst Novacut 106 in 2017.
"Till 2015, the ratio of our commercial to packaging jobs was 60:40. After our investment in the RMGT 926 UV press, we are now converting more in packaging, 85% against 15% of commercial jobs. So, in a sense, we are more a packaging converter than a commercial printing press now," says Memon.
The company even today has retained the Roland 200 single-colour press and post-press facility, which is equipped with a perfect binder, stitching, punching and laminating machines. "Our touch with commercial remains because we still print black and white - single colour jobs, particular books," informs Memon.
Why this love for black and white booking printing, I ask. "Legacy, you may say. Our dad started with book printing for school boards. He printed textbooks from standard one to ten whenever he got orders. We have retained the Roland 200, a single-colour press just for that purpose. If anyone wants to print single-colour books, I never say no, be it 100 copies, 1,000 or in lakhs."
The new plant, the staggered move
Pravin Printing Press and Concord continued to operate as individual companies until 2017. When the GST regime kicked in, in July 2017, Memon merged the two companies into one – Concord Printing.
It was also when Memon felt that his company's growth was severely hampered by the limited premises, a 22,000 sqft plant in the city. "We decided to expand and secured a plot in Halol Industrial area, about 20-km away from our city plant," says Memon. The blueprint of the 1.25-lakh sqft plant was readied, and in 2019, the construction activity began. Memon hoped to complete the construction work by mid-2020.
At the beginning of 2020, Concord Printing invested in a slew of corrugation machines, including Zongkhe India supplied machines - Wenhong 1050 SF automatic die-cutting and hot foil stamping machine, an LC-740 automatic corner-cutting and line pressing window patching machine, WH-1512 litho laminator, and a Yongshun YS-SR-108 dry high-speed lamination machine. The move to the new plant was to be accompanied by these new machines, as it got ready for operation.
March 2020 marked the beginning of the challenging months that followed for almost every industry. It halted the construction activity at Concord, but printing jobs saw a spurt back in the city unit. "It was crisis all around, but for us, our sales spurred. We received print orders from our clients, and even those who could not get their work done from other printing companies, some big names included," explains Arshad, who says, his production increased by 40% during Covid-19 months and after.
How did the Memons manage to up their production? "With a week, we sought all the permissions from the local municipal and state government authorities, as printing came under essential category. On 3 April 2020, we started operation, initially with 25% occupancy, running one printing machine, one punching machine and a folder-gluer, and subsequently ramping up production."
The company managed to install the new corrugation machines in the new Halol plant when it came in and start operation there too. It also invested in a new Bobst Expertfold 110 A2 with corrugation kit to boost its carton production, installed at the new plant. "Right now, we are part-operating the Halol plant, where we have the infrastructure for lamination and converting," says Arshad.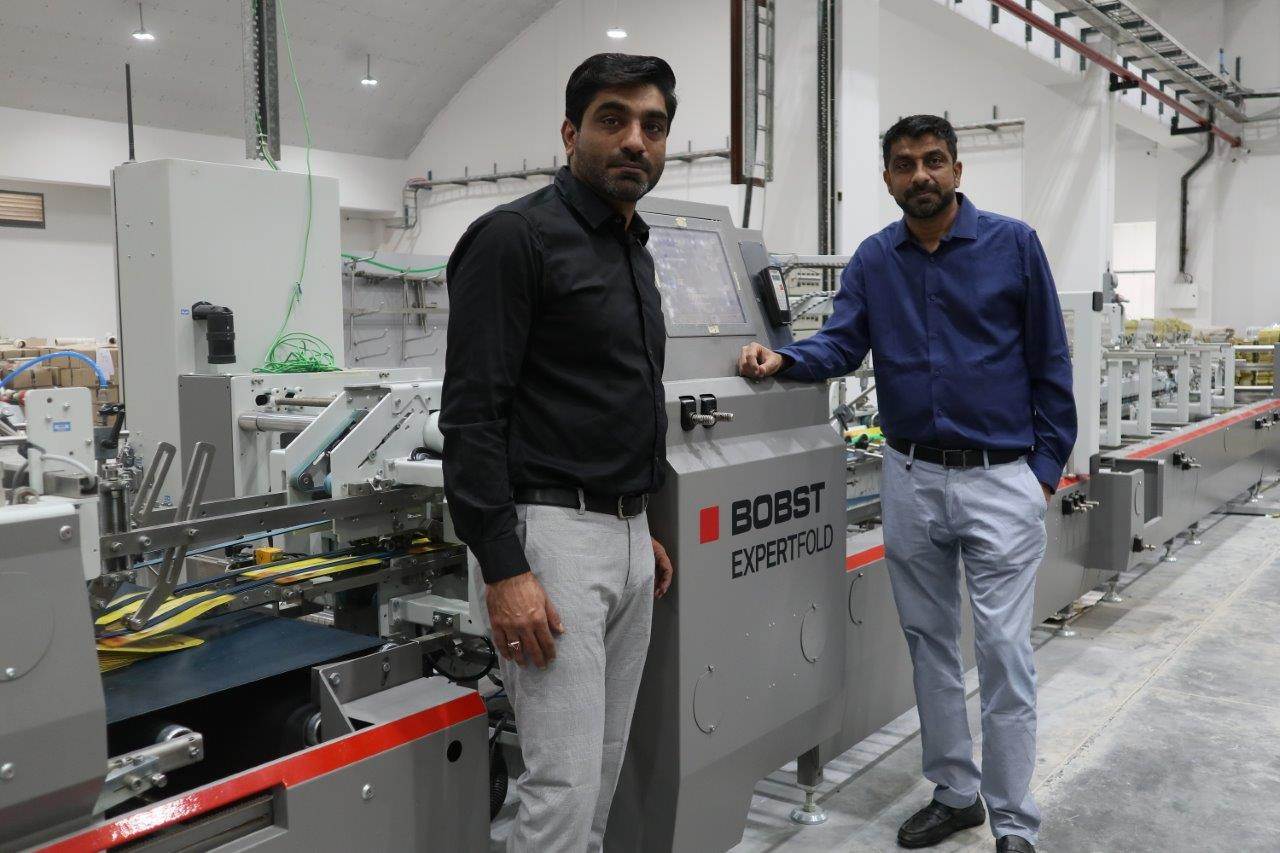 He explained, "We are in the process of moving the equipment to our new premises, but moving the heavier litho machinery and converting kit is taking some time," says Arshad.
According to Memon, relocating is a process, particularly when moving a 22,000 sqft plant. "It will be gradual. We do not want to disturb our production process during the transition. Hence we are planning to invest in a press. And the reason for an additional machine during the transit is: we need to safeguard our business even as we take care of our customers."
Memon adds, "We have not decided on the configuration or the type, new or pre-owned. That will depend on how soon we can get the delivery and finances. We have already invested quite a lot in our new plant."
Right now, only printing is done at the Vadodara unit, while the converting is done at the Halol plant. However, the new plant, when ready, will increase Concord's capacity by more than 50% to over 300 tonnes of paper and paperboard conversion per month.
Deciding on a kit
Like many other things, purchasing equipment for manufacturing is becoming more and more complex. To compete, one has to have a suitable machine. But that is not the end. Now looking beyond the machinery itself in the purchasing process to find every opportunity to gain a competitive advantage is the way to go. For example, according to the convention, every printing press should have two lines of converting equipment – to have the ability to convert the printed sheet (at 15,000sph) into packaging products and quick delivery. In other words, reduce the strain on bottlenecks.
"That's one of the things we analysed. We must have enough converting power to sync with the printing output, or there will be a bottleneck. Giving delivery from Vadodara to customers located more than 1,000 kilometres away means we need to be rightly equipped," says Memon.
So, what helps make the buying decision? "I call it reverse mechanism," says Arshad, explaining, "First we identify where the bottleneck is. Then we try to increase the hours on the existing cost centre. And even after this, if we find that there's a bottleneck of say, 35% to 40%, we believe it's time to add a new kit."
Once the decision to add a machine is made, what next?
"Confidence in the brand and the criticality of the operation," says Memon. He gives an example. "We were not very comfortable with other brands, particularly when buying critical equipment like folder-gluers or die-cutting machines. Hence we preferred Bobst. That said, we were comfortable buying a Chinese branded machine, Zongkhe India supplied Wenhong's flute-laminating machine because we knew they were one of the best in corrugation applications."
Arshad further stresses that the folder-gluer is the last in the conversion process, after which the product is sold. "It's a very critical operation. Your printing is of high quality, and your punching is of high quality. Therefore, you need a folder-gluer of the same high quality – accuracy and speed, plus the ability to do multiple types of the fold to cater to different requirements of the buyers."
Competitive advantage through software
|You wouldn't be in business if you couldn't claim some competitive advantage. What does it take to compete on quality, competing on price?
We have a Rogler ERP software that handles the complete workflow – from estimation to printing to logistics for delivery across India. The software has its application in CRM, calculation, planning, production and monitoring. It enables us to focus on process optimisation, production, personal digital assistant collections, material management, and logistics.
"Where do your most costly errors occur," asks Arshad, while answering the questions. It's in accounting, inventory management or on the shopfloor."
Concord took almost a year and a half to put the Rogler ERP in place. Both the plants are connected. "We know the cost of every mm that is printed on the sheet," says Arshad, who coordinated the software implementation at the plants. "The costing department will give the cost, based on set parameters – hour cost of the press, the raw material used, the electricity cost, the space cost, logistics as well as the packaging charges for the printed products, including the BOPP tapes we use, when the printed product is ready to be transported. All the costs incurred in operation are included."
What if the customer does not agree to Concord's salespersons' pitch? "We don't take the orders," says Memon. "Our logic is simple. We have told my nephew, Ahmed Darvesh, who manages the marketing department, this: There are 12-lakh activity companies and a population of 100-crore in India. All you have to do is, find 200 good customers, regardless of where the customer is – Jammu, Orissa, Assam or South India. We are okay with it."
And the reason for this is: its logistic department, which handles fulfilment. "Even that is incorporated in our cost," says Memon.
Customer-focused
Memon says that his company is a lot more dynamic today than it was years ago. "It's a lot more focused on customer solutions."
The focus on solution hinges on understanding the customer's business. The company provides packaging design solutions. For that, it has a Kongsberg sample-making machine and complementing Esko software too. "It's a tremendous strength when it comes to value addition. When a customer drops in, or there are any new projects, we make sure that we're making proper dummy sizes to get the most out of the sheet. It helps reduce cost, particularly in the packaging jobs where reducing even an mm in width can be a big saving, plus it gives the product inside the perfect fit," says Arshad. The dummies are prepared and approved by the customers.
The company's CTP is aligned with a colour management system, an Epson proofer, while the spectrophotodensitometers on the presses ensure the right colours on the sheets.
Most of Concord's customers are pan-India, 95%, while the rest 5% are from Vadodara. "We supply within a distance of 1,200 kms from Vadodara, and there are around 1,200 presses in between. The USP of our success is: Being transparent. Our prints are consistent, so is our service. We believe in honest dealings, using the best material and technology at our disposal. We inform our clients about it."
Memon says, for good quality, one needs to use good input material, be it chemical, inks, or rollers. For example, Concord is one of the successful users of Sonora plates. "It decreased steps in pre-press – it's one single step on the CTP and then directs to press. It means no processing is needed, eliminating the requirement of any additional workforce. It's cleaner, faster and economical," adding, "Being the latest in process-free technology, it offers a greener pre-press environment."
What next big thing in packaging?
It's going to be corrugation display cartons, says Memon. "I believe that mono-carton packaging will have its own space but will not grow."
Of Concord's 85% packaging jobs, 50% is mono cartons, and 35% is corrugation. "We feel that in the next couple of years, there will be a shift towards corrugation in our business. It will be 50% corrugation and 35% mono cartons," says Memon.
No wonder the last few investments made by the Memon brothers were in the corrugation manufacturing and converting kit.
Highlights of the new Concord plant at Halol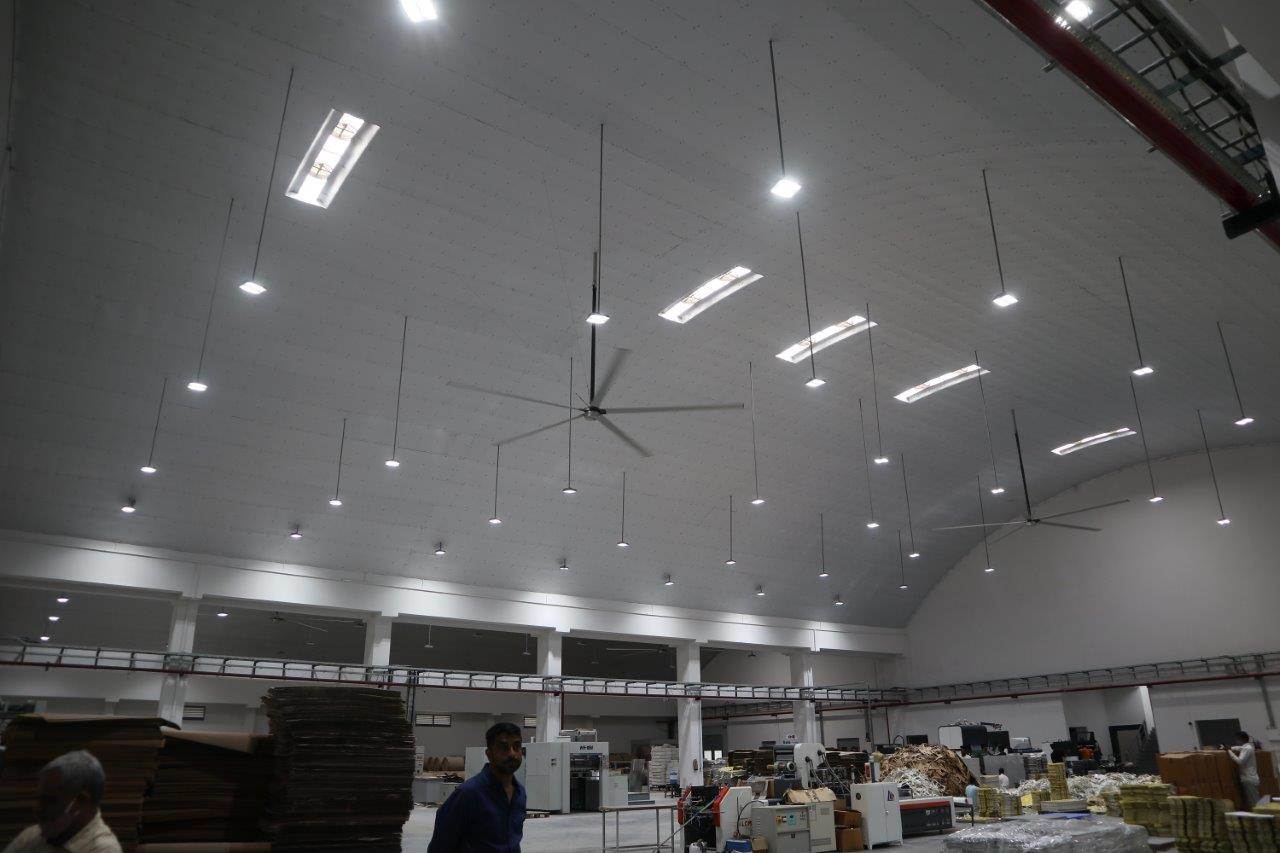 Arshad Memon says, the new facility with equated workflow is future-ready for certifications to enhance its quality levels.
People are an important part of Concord's operation. "During summer, Vadodara can be really warm. We need to protect our employees, keep the environment within the plant cool. Hence we have installed a 14mm insulation to the roofing of the entire plant as a result of which there is a seven-degree drop in ambient temperature. Three large fans further cool the plant," says Arshad. "The floor plan of the plant is defined and designed in such a way that the wastage of processed goods is minimal."