SIG: Tapping into India's 13 billion packs beverage carton market
Switzerland-based SIG Combibloc Group, specialists in aseptic packaging and beverage cartons, ventured into the Indian market, earlier this year as it partnered with Kandhari Beverage, a bottling partner of Coca-Cola Company India. At the helm of operations in India at SIG, country manager, Vandana Tandan reveals the company's India strategy in conversation with WhatPackaging? Team
25 Jul 2019 | By Rushikesh Aravkar
What is SIG's strategy for the Indian market?
India is a key strategic market for SIG and we are very optimistic about growing in this diverse and challenging market. We have already invested in setting up a team with technical, commercial and marketing resources, well ahead of the curve. We are looking to disproportionately invest in growth over the next few years to ensure that we gain our fair share of the market. We offer specific advantages to brands that value flexibility, differentiation, and holistic solutions; those are the customers we would aim to partner with.

SIG's competitor, Tetra Pak has been in India for the last 30 years. Do you think SIG's late entry in India is a lost opportunity?
Our market entry in India is a great opportunity and it requires the best strategy and focus. A half-hearted attempt to enter would have been meaningless. With our latest portfolio of products and solutions as well as customer service capabilities - from new food and beverage product development to physical and digital technical service - we believe that we are in the best position to enter the Indian market and bring the added value that it deserves.
While Tetra Pak and Uflex have manufacturing plants in India, SIG will import packaging material to cater to companies in India. In that case, how will it be beneficial for the Indian companies to partner with SIG?
We presently supply packaging material to our customers from our plant in Rayong, Thailand. India and Thailand have a Free Trade Agreement and therefore commercially there is no difference to our customers receiving material from our Thailand plant. We are already supplying to customers, matching their required timelines. We constantly look at how we can give the best cost and service to customers. We have a strong supply chain and robust customer service teams which work closely with customers to ensure seamless supply and prompt turnaround for them.
The beverage space in India is rapidly evolving. Consumers are moving from carbonated beverages to functional drinks. Thus, brands are looking for innovations. In such a scenario, what role does SIG aspire to play?
We have been closely watching the beverage trends over the last few years, as we planned our entry into India. We believe that the market is slowly coming of age with increased acceptance and adoption of packaged beverages both in the dairy and juice categories. In such a scenario, innovation is the key, both for establishing brands to keep growing and maintaining marketshare and for entrants who want to create new sub-segments and change the game. SIG partners with brands to bring in cost savings with our technology, guaranteeing low waste rates and high efficiency. Key price points like Rs 10 or Rs 20 are crucial and one of our biggest advantages is to help attain and maintain key price points by varying pack volumes.

For example, in the Mango drink segment in India where the Rs 10 price point is crucial, players can maintain price by selling 160 ml, 150 ml, 125 ml packs in different geographies or channels. This way, they can manage their value chains better. On the other hand, considering value-added and differentiated products, SIG gives brands the ability to produce products with particulates such as fruit bits, juicy pearls, jelly pieces, cereals, dry fruits, nuts, etc up to 6x6x6-mm in size. We believe that in India, consumers are looking for new product experiences and we look forward to partner with brands that are looking for such innovation and differentiation.
The first SIG product in India which is available in carton packs SIG is Maaza Refresh - 125 and 150 ml. What were the challenges and opportunities in this project? What benefits will Coca-Cola will use to derive from SIG's technology?
Maaza Refresh is Coca-Cola's brand which aims to build the iconic Maaza brand with mass consumers, specifically using the power price point of Rs 10. This price point is a crucial one and it affords the brand the opportunity to reach most Indian consumers across socio-economic classes and age groups. With the aseptic filling process and special composite structure of SIG carton packs, Maaza Refresh benefits from a shelf life of six months with no need for products to be refrigerated. The gentle aseptic process ensures the safe retention of vitamins, flavour, and overall high product quality, without the need for any preservatives.

The packs are also designed to help customers to keep a lid on shipping costs. They are transported to the customer's production plant as flat folded sleeves. Filled with their products they are easy to stack – and that's a bonus for retailers and consumers, too. The key challenge is to be able to attain and sustain the price point over time. This is where SIG brings in the specific benefit of volume flexibility. With our flexible, high-speed fillers, Coca-Cola can vary the pack sizes as per their requirement – with just a simple changeover, they can shift from 150 ml to 125 ml or any of seven other volume sizes. Our technology also offers the lowest waste rates, which in turn helps our customers lower their cost of production.

What are your plans to build up - based on the first success with Maaza?
This is just the beginning of SIG's journey in India – for us, this is a very important future market. Following our entry with Maaza, our line at ITC is in production and the B-Natural brand is also already on the shelves with seven variants. We are in ongoing discussions with some of the key beverage and dairy brands, and are looking to expand our footprint in the years to come.

How big is the market potential in India?
The aseptic market in India is over 13 billion packs and is still growing in double digits. We see huge potential for SIG to grow this pie and gain our rightful share in this market.
India is a price-sensitive market. However, aseptic packaging for food and beverage market is a capital and service-intensive business with food safety at its core. What are SIG's plans to address these market dynamics?
Aseptic carton packaging is certainly less capital-intensive than most of the packaging alternatives for food and beverage products. Nevertheless, capital expenditure is a relevant factor and that is why SIG filling technology makes a lot of sense for manufacturers as it allows them maximum flexibility. The ability to use the same filling line for multiple pack sizes helps manufacturers achieve high utilisation from the first day, ensuring higher ROI. This, in turn, helps customers to cut down their operational costs. Service is at the heart of what we do in India. We already have a local service team which has been set up to serve our customers.

We have the support of our regional hub in Thailand and the global team. Our endeavour has been to scale up our team ahead of the curve and ensure that we provide the best service support to our customers and get their lines running at maximum efficiency. Food safety is of paramount importance to us and we have stringent quality checks for both our filling machines and sleeves to ensure that we provide the highest performance to our customers. We are certified according to all standard food safety norms (ISO 9001, BRC Food Safety Certified, FDA certified).
SIG Combibloc cartons versus Tetra Pak cartons
The difference is primarily from a manufacturing perspective – SIG delivers flat, pre-fabricated sleeves, printed with the requested design and precisely marked with creasing lines to its customers. On the other hand Tetra Pak uses a roll-fed system. With its differentiated technology SIG is able to offer several distinct advantages including volume, decor, format and product flexibility. Customers can quickly change volume sizes and have the ability to fill premium products with particulates such as fruit or vegetable bits of up to 6x6x6 mm.

"On a standard CFA 1224 filling machine for combiblocXSlim can produce nine volume sizes between 80-200 ml on the same machine. With a premium juice, one can effectively run a production for two hours on 200 ml and do a simple changeover to 150 ml for a two-hour run for a special kid's promo and then again change to run the rest of production on 180 ml for a special modern trade pack. No time wasted, no product wasted – and no need for multiple machines for different volumes," says Vandana Tandan.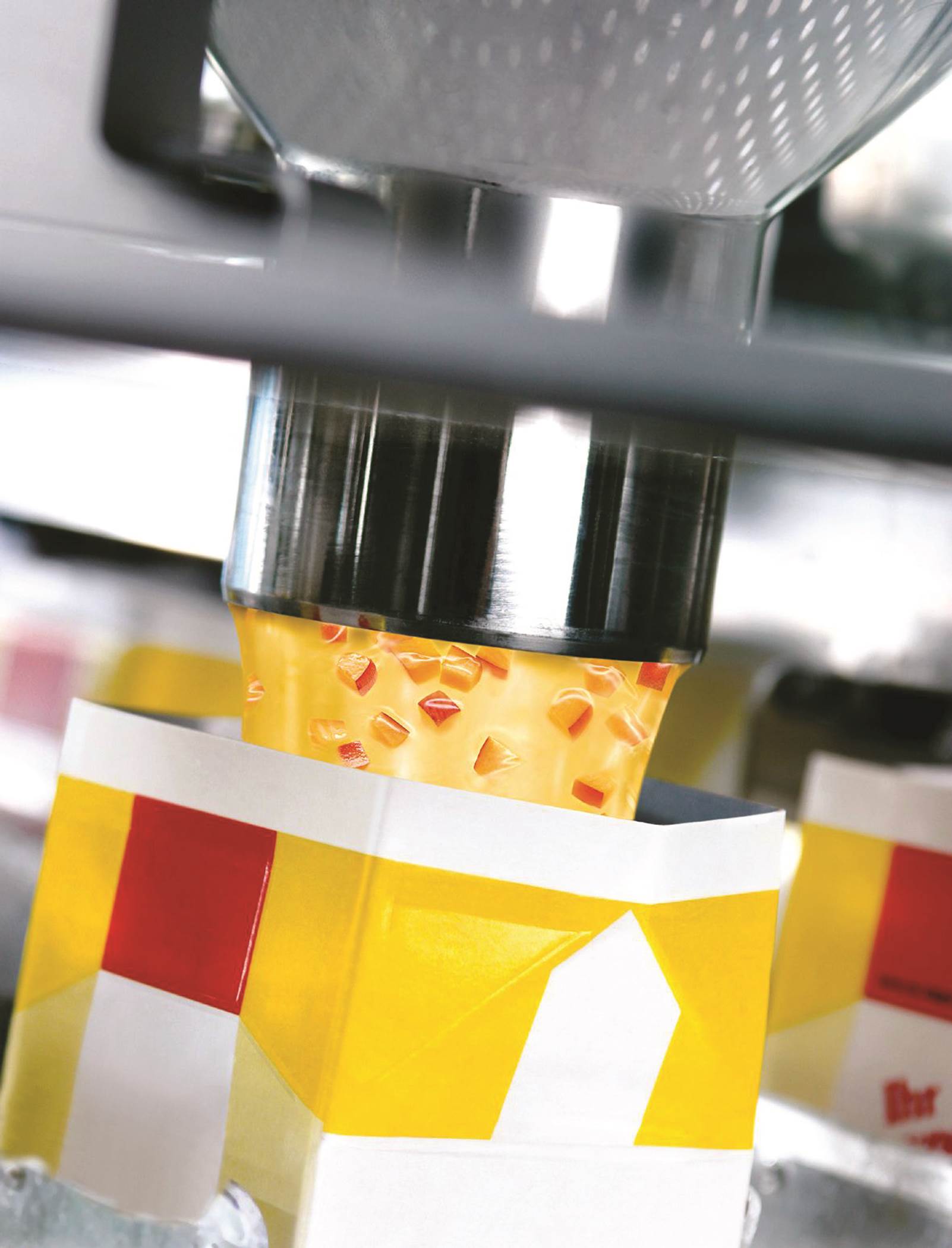 Add to that the benefit of being able to offer differentiated products like fruit smoothies with actual fruit bits, milk shakes with dry fruits, nuts and cereals – all in cost-effective carton packs which make it possible for brands to bring these innovations to consumers at compelling prices.

SIG's cartons are structurally similar (though not identical) to other existing aseptic carton packs available in India. The difference is in the printing process – SIG uses rotogravure printing and print on the outermost PE layer of the pack. The pack dimensions that SIG offers are also different from those commonly seen in the Indian market. "Our packs are slimmer and taller, offering brands great shelf appearance," adds Tandan.