Print History: Rochelle Pinto - Mapping print in Goa
Traversing the overlapping print worlds of Portuguese, Konkani and English, Rochelle Pinto has been studying how colonialism and its aftermath has shaped life in Goa and the larger Goan diaspora in Mumbai and beyond. In this interview with Murali Ranganathan, she looks back at her engagement with print history and its connection with politics and land
29 Jan 2021 | By Murali Ranganathan
At what point of time in your career did you realize that you had evolved into a book/print historian from a professor of English literature? How did the evolution happen?
A Master's degree at JNU opened up a world of different methodologies thanks to an extraordinary range of teachers who introduced us to nineteenth century writing in India and to theoretical questions about the history of literary studies both in England and in India. This led to questions about how the field of literature was shaped during colonial rule and after, and about the assumptions that underlay our use of the category literature. Among the methodologies that helped us respond to such questions was the field of print studies and book history.
I have to mention Ania Loomba and Meenakshi Mukherjee in the department of English and Majid Siddiqui and Neeladri Bhattacharya in history and Susan Viswanathan and Abhijit Pathak in Sociology who introduced us to various methodologies. Books such as Gauri Viswanathan's Masks of Conquest advanced questions that had been posed in the 70s by teachers in India about how gender, colonialism, and conceptions of culture driven by class and caste interests had framed literary syllabi. This moved literature away from a relationship that was exclusively between an author and the individual imagination.

What is the kind of print/book history work that is being undertaken or published in Goa/Konkani-speaking regions? Are there scholars who are working and primarily publishing in Portuguese and/or Konkani?
The answer to this question straddles the states of Goa, Maharashtra, Karnataka and potentially Kerala as well, where Konkani is published in the Malayalam script, though to a minor extent, in comparison to Karnataka, which has the largest reading public for Konkani. Linguistic limitations restrict our reading to one or two languages, but it should be mentioned that Konkani in the context of the region (rather than state) of Goa was often produced in a print realm that included Marathi, English and Portuguese. In the context of Karnataka, Konkani speakers and writers would probably have been able to speak and even write in at least one other language in the region. Nawayati, seen as an amalgam of languages spoken on the coast, is written in the Nastaliq script.

On the subcontinent, academic work is largely produced in English, though the late linguist Madhavi Sardessai used to edit the Konkani journal Jag and the Thomas Stephens' Konkani Kendr brings out the multi-lingual journal Sod. The former was more of a literary journal while the latter included questions related to language, and language politics. The Institute of Konkani at St. Aloysius College and the World Konkani Conference in the Mangalore region are two centres of Konkani literary production, but not necessarily print history. PhDs in print history that are available through the Shodhganga portal are often written in English, though there are theses in Konkani on poetry and on prominent writers.

Print history in Portuguese usually emerges from Portugal and Brazil. A recently completed project, Pensando Goa, housed at the Universidade de São Paulo, and directed by Hélder Garmes produced numerous publications that included print historians among its members. Another international project that focuses directly on print history in Goa is headed by Sandra Ataíde Lobo and is called Estudos da Imprensa Periódica Colonial do Império Português. The individual theses and publications of Sandra Ataíde, Joanna Passos and Daniela Spina come to mind, though the latter two focus more on questions of literature.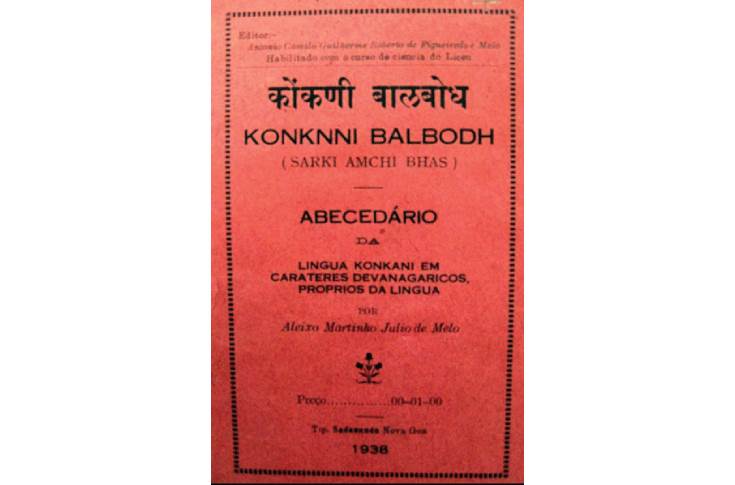 Konkani-Portuguese primer (Source: Goenkarancho Daiz)
Could you provide a brief overview of your publications?
I unfortunately haven't published widely, but my one book, Between Empires: Print and Politics in Goa was formative as it helped me articulate questions that were particular to the political experience of Portuguese colonialism. My recent work on questions of land has been gestating for a long while and I recently published an essay on a sixteenth century land revenue document, the Foral, and some of its implications for the history of the communidade system in Goa, 'The Foral in the history of the comunidades of Goa'.
I also simultaneously have an interest in the convergence of concepts of land, ethnography and narrative and have been trying to explore that in essays such as 'Settling the land – the village and the threat of capital in the novel in Goa', and 'Govinda Samanta, or eluding ethnography in the colonial novel'.

How has the vocation of print/book history changed over the decades? How do you see it evolving over the next few years/decades, especially in the Indian context?
The initial print histories laid the ground for focused work on specific regions, writers, languages and genres that have incorporated the methodological insights of prior work to generate new material. One of the benefits is that it is now difficult to represent the Indian context as a whole, as the cultural questions that have developed in relation to each region are different.
In fact, researching the literary cultures of different regions has revealed how they are embedded in, and shape historical and political discourses around them. We can now see new studies emerging: for example on individual publishing houses such as Rimi B.
Chatterjee's Empires of the Mind: A History of the Oxford University Press in India Under the Raj and Gita Press and the Making of Hindu India by Akshaya Mukul; on a language that was formerly relegated to the position of a dialect such as Mithilesh Kumar Jha's Language Politics and Public Sphere in North India: Making of the Maithili Movement; or on the links between territorial concepts and literary traditions. Print histories have thrown up some general patterns that are further developed and contradicted by studies that follow.
What is the role of serendipity in book/print history? What do you consider to be your important discoveries?
There have been many advances made in historical libraries and archives in India, but the fact remains that without digitized catalogues and more attention to conserving printed texts, serendipity continues to be a great ally. Aside from the question of the condition of libraries, however, historical work does depend on serendipitous finds and even what one happens to be reading at a particular time. Finding a book that I couldn't read in the British Library – a text in the Nastaliq or Arabic script that was said to be a translation into Konkani was an important find as even though I couldn't read it, the fact that it was printed in the nineteenth century, in Bombay, was a sign of a print sphere, a religious practice, a reading community that I had to factor in when I thought about Konkani print history.
Another such discovery was the Konkani novel Battcara which I also found in the British Library in London and which I enjoyed enormously. And my favourite print genre is nineteenth and early twentieth Konkani newsprint, the largest collection of which lies in the Central Library, Panjim, Goa. It was like being let into a vivid and garrulous conversation that I had to try and represent.

Has the phase of discovery ended in print/book history?
I think the phase of discovery hasn't ended – my own research has tended to follow arguments and questions as they suggest themselves to me, but much systematic work remains to be done and many discoveries await us about popular print in different parts of the region.

Who are the print/book historians whose work has impressed and influenced you most? With respect to global print history in general and South Asia in particular? Books/articles which you consider important?
This list has more to do with the way the field has been shaped at a particular time and with books that were pertinent to me, than as a general assessment of their value. Benedict Anderson and Bernard Cohn wrote seminal texts that altered the idea of literary studies and literary history while Partha Chatterjee's writing on nationalism anchored it to modern Indian history.
However, these links would not have been apparent to us were it not for teachers who pointed us in this direction. Rajeswari Sunder Rajan's, The Lie of the Land: English Literary Studies in India (1992), and the essay by Susie Tharu and K. Lalita, "Empire, Nation and the Literary Text," in Interrogating Modernity (1993), were very influential when I was a student as they expanded the scope of literary studies through questions that arose from the experience of framing syllabi, teaching and researching nineteenth-century writing from India.

Books that emerged at the time of my PhD and were of particular pertinence to my exploration of these questions in Goa were Veena Naregal and Prachi Deshpande's work on Marathi, Francesca Orsini on Hindi, Angel Rama and Roberto Schwarz on Latin America. More recently, Isabel Hof-meyr's The Portable Bunyan (2004), Isabel Lustosa's Insultos Impressos (2000), Carolyne Miller's essay, 'Genre as Social Action', Ananya Chakravarti's, The Empire of Apostles: Religion, Accom-modatio, and the Imagination of Empire in Early Modern Brazil and India (2018), and Bhavani Raman's Document Raj: Writing and Scribes in Early Colonial South India (2012) come to mind.

Who do you think are the notable historians among your contemporaries and the newer generation?
I am quite influenced by Prathama Bannerjee's Politics of Time, by Shahid Amin's Event, Memory, Metaphor, and by the work of Udaya Kumar, Ajay Skaria and Madhava Prasad. Recently, I have found work by Manjeet Baruah, Joy Pachuau and Bodhisattva Kar very suggestive in conceptualizing questions of language differently from mainstream India.

Has print history become an easier vocation to practice in the age of the Internet?
The internet has facilitated print history immensely particularly in those areas of the global south that have internet access, but don't have the kinds of budgets or librarians who can build research libraries. At the most minimal level, the fact that there are catalogues online gives a historian an idea of the books that exist even if they can't be accessed and that information alone alters ones writing.
I recall that when I did my PhD in the British Library, not even the catalogue was online, notes had to be taken with a pencil, and now the library has a number of photographs on flickr and encourages projects to preserve sections of the collection.

O Goana, Konkani newspaper from Mumbai (Source: Central Library, Panjim, Goa)
Is print/book history now less about print objects, but more about the people who create and consume them, and exploring the contextual practices which frame this creation and consumption?
Yes, from the mid-1980s on, thanks to the work of Benedict Anderson and others like him, mentioned earlier, print history is one way of doing a materialist history of literary production, where one considers not just the words on the page and the intent of an author, but the context of circulation, reading, syllabi formation or censorship, as processes that determine our response to texts.

How important is the Internet as a site for publication of print history? Which websites do you use most often? Or which are the ones which have impressed you?
I am only beginning to discover the wealth of material available on print history as my focus has shifted a little over the last few years to other kinds of research. I was most impressed by the School of Cultural Texts and Records at the Department of Comparative Literature, Jadavpur University, especially by projects that use the internet as a site for the production of print history as they republish books, annotate texts, preserve collections, among a range of other activities.

Have you undertaken any Internet projects?
I co-directed a two-year project, 'Archives and Access', with a former colleague Aparna Balachandran, to create a directory of archives in different parts of the country, funded by the Sir Dorabji Tata Trust, Bombay, from 2009-2011. As a component of the project we have a blog, www.publicarchives.wordpress.com, which encourages researchers to write a short account of the libraries and archives they have used, since information still unfortunately passes by word of mouth.
We also wrote, 'Archives and the State', an ethnographic account of the state of archives, for the Centre for Internet and Society, Bangalore, which extended substantial assistance to the project.

Any projects which never took off?
A joint catalogue that had been created with about thirteen historical libraries in India did not survive beyond a few years as it will involve a more comprehensive collaborative platform that can link small libraries in India.

What is on your plate now?
There is a collection of nineteenth-century Konkani texts in the British Library that should be digitized, and I hope that a grant comes along that can be used to make it accessible to students working on Konkani.
A new book, Translation, script and orality: Becoming a Language of State, an anthology on discourses around script and translation in Konkani which I have edited should be soon published.
I am currently interested in questions of land, particularly as they relate to the communidade system in Goa.
Rochelle Pinto, independent scholar
197: Born in Mumbai, India
1992: BA (English Literature), St. Xavier's College, Mumbai
1998: MA (English), Centre for Linguistics and English, Jawaharlal Nehru University, Delhi
2003: PhD, School of Oriental and African Studies, University of London
2004-05: Senior Fellow, Katha Academic Centre, SNDT Women's University, Bombay
2007: Published Between Empires: print and politics in Goa (Oxford University Press)
2007: Conceptualised, organized and documented an international conference, The Visibility of Cultures – identity, contact, and circulation in the Indian Ocean
2009: Awarded the Hira Lal Gupta Research Award by the Indian History Congress for the best book on Indian History by a woman author
2009-11: Directed a two-year project, 'Archive and Access', working with archives in different parts of India
2010-14: Assistant Professor, Department of English, Delhi University
2014-15: Visiting Fellow, Centre for the Study of Developing Societies, Delhi
2015: Published the essay 'At Home in Bombay: housing Konkani print' in Founts of Knowledge (edited by Abhijit Gupta and Swapan Chakravorty)
2015-17: Associate Research Fellow, Nehru Memorial Museum and Library, New Delhi
2019-20: Fellow, L'Institut d'Études Avancées (IEA), Nantes, France
2021: Member of the project Pensando Goa (Thinking Goa)