Parle Agro's drink business hits fresh high with B-Fizz
Nadia Chauhan of Parle Agro tells Aultrin Vijay how its latest fruit- and fizz-based drink is positioned to tap the carbonated soft drinks market and shares the company's sustainability initiatives
09 Jan 2021 | By WhatPackaging? Team
Parle Agro is set to disrupt the beverage category with its new drink, B-Fizz. The malt flavoured carbonated fruit juice-based drink is a new addition to the fruit-plus-fizz-based product portfolio from Parle Agro, which pioneered the category with the introduction of Appy Fizz in 2005. The company says it has adopted aggressive marketing, bold packaging and attractive price point to create waves in the carbonated soft drink (CSD) category. This is evident from the firm's Rs 40-crore investment for a mass media campaign across print, digital, television and outdoor for B-Fizz.

Currently, Parle Agro has deployed OOH for higher impact across 96 cities. With a brand turnover of Rs 6,500 crores and a whopping 90% market share in the fruit-plus-fizz category, the company is aiming to grab a larger market share in the overall CSD category to become the top beverage company in the country. In conversation with PrintWeek, Nadia Chauhan, joint managing director and chief marketing officer at Parle Agro tells us about the latest product launch – B-Fizz, its packaging design, the company's sustainability initiatives, and its future in the CSD segment.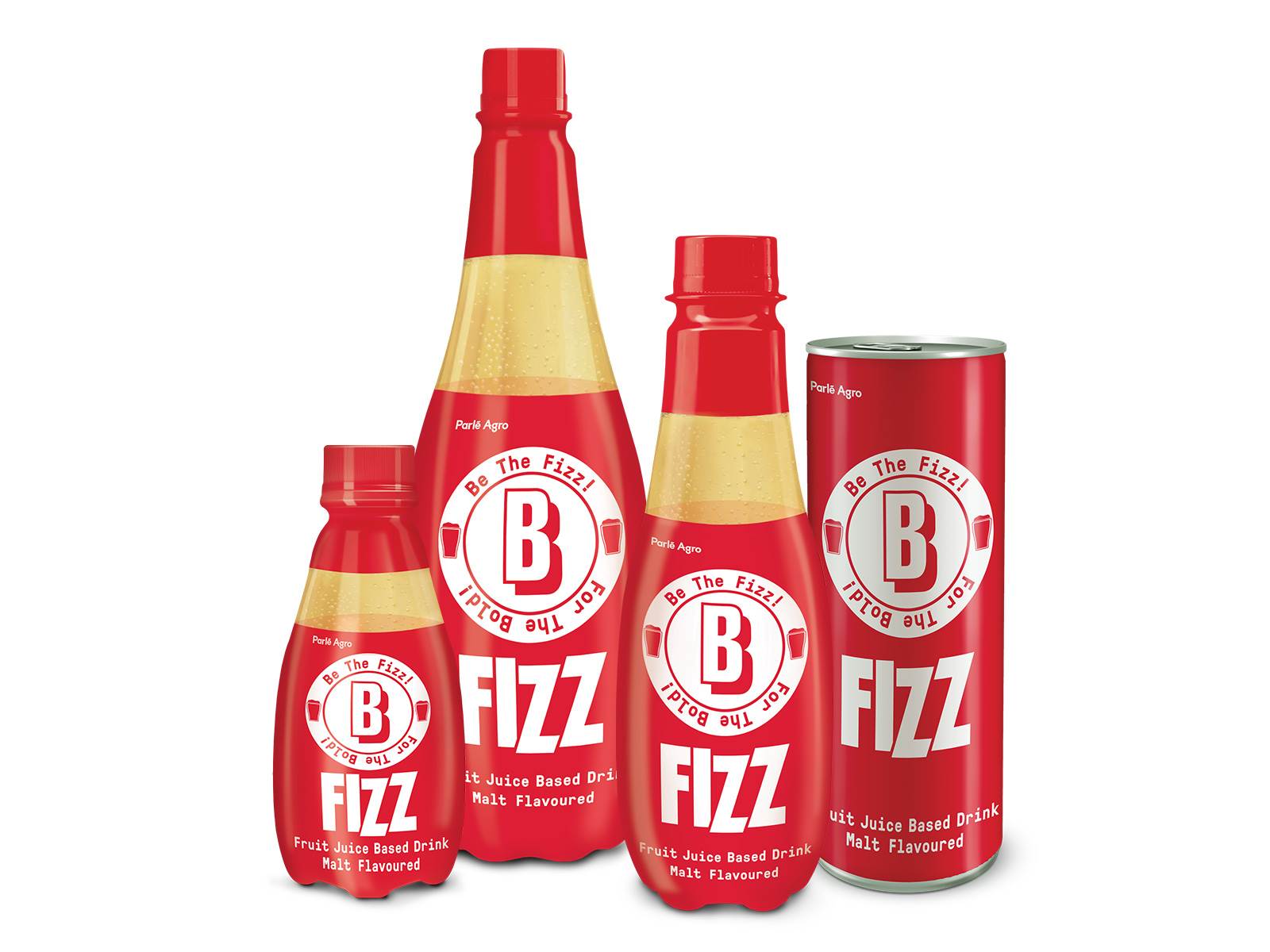 Chauhan: With the new B-Fizz, we aim to build the fruit-plus-fizz category in India to Rs 10,000 crores by 2030

New taste, bold design
According to Parle Agro, B-Fizz is a refreshing malt-flavoured carbonated beverage with apple juice content. The malt flavour mirrors the taste of beer while the apple juice adds a tinge of sweetness, "a taste that appeals to the palette of all age groups". Appy Fizz, which was the first offering within the fruit-plus-fizz category in India, is today, one of the fastest-growing carbonated drinks in India with over 90% market share in the segment. "With the new B-Fizz, we aim to build the fruit-plus-fizz category in India to Rs 10,000 crores by 2030," says Chauhan. In order to enhance the reach of B-Fizz, Parle Agro has adopted an aggressive marketing campaign. "We have two television commercials (TVC) on air, one featuring global icon Priyanka Chopra for national media, and the other featuring Jr NTR exclusively for southern markets.

The TVC cam-bubbling to the top is being supported by innovative print, mobile and digital activations and aggressively promoted across IPL on Hotstar and YouTube. B-Fizz will also be the sponsor to select marquee television properties," adds Chauhan. The B-Fizz comes in a striking red and bold design, which according to Chauhan, is "distinctive and ensures high shelf throw". The overall product went from concept to commercialisation in 30 days, without compromising on the design, identity and the naming process of the brand. "In less than 10 days we churned out the entire design for B-Fizz, right from the brand name to the brand identity," says Chauhan.

The product also retains the shape of Appy Fizz's iconic champagne shaped PET bottle. Chauhan explains: "B-Fizz is an extension of the Fizz brand portfolio and hence it has the same iconic shape of the bottle as Appy Fizz. While Appy Fizz is apple-based, 'B' in B-Fizz stands for the beer elements of the product which is malt flavoured. "Keeping the shape of B-Fizz bottle consistent to that of Appy Fizz was a strategic move considering the fact that we are looking to expand the entire Fizz portfolio over the next few years. We are looking to launch more offerings in the Fizz portfolio in different flavour formats with the same bottle design."

Chauhan further elaborates that the design of the bottle was created more than a decade ago when Appy Fizz was conceptualised and launched. "The sparkling fruit drink category did not exist in India back then; it was created when we introduced Appy Fizz into the market. The bottle was designed with its now iconic shape and classy fashion with the goal of positioning the brand as the champagne of all fruit drinks in the country," she adds.

'Copycats' sign of success
It is a no-brainer that successful brands and its designs are more often copied by bogus and in some cases rival firms in order to attract unsuspecting customers and grab a pie of the market share. Although this practice hurts the brand, Nadia Chauhan says, "Well, in a way, one can say it is a sign of success when you see your brand being copied and imitated by others in the market."

However, she adds, "While it is a nuisance, at the same time it's something that is bound to happen. In a very short span of time, B-Fizz has seen substantial success and we do expect to see more cases of rival firms copying its design." Apart from the bold designs, the company also ensures a high level of quality for its customers. The Tetra Paks go along with hygiene straws to ensure it remains sanitised to provide consumers with a safe drinking experience. Parle Agro also focuses on products that are not synthetic and have fruit content for the health-conscious consumer.

Parle Agro B-Fizz TVC featuring Jr NTR exclusively for southern markets
The post-consumer waste challenge
Parle Agro will be investing around Rs 50 crores over three years for a PET plastic waste management programme, which is already in action. Speaking about the company's Extended Producer Responsibility (EPR), Chauhan details: "We are committed to protecting and safeguarding the environment and have already implemented a number of actions towards EPR. "We are working with multiple Producer Responsibility Organisations such as the Indian Pollution Control Association (IPCA) and Nepra for collecting, processing and recycling of our PET bottles and channelling them to textiles and other non-allied industry segments."

Under this programme, Parle Agro will facilitate an annual collection of 310-crore PET bottles, recycling nearly 50,000 tonnes of PET waste. From its current 60% of collection and recycling of post-consumer PET waste, Parle Agro intends to get to 100% by 2025. However, talking about using PET alternatives, Chauhan feels that it is wait and watch for now, as it is yet to see any significant advancements.

"If one had to look at an alternative to PET bottles, the only option at this point of time would be glass bottles," says Chauhan. "It is a known fact that the process of making glass itself has a detrimental effect on the environment and that it is not necessarily the most environmentally friendly option." "Until the time we see great advancement in technology and innovate affordable and sustainable alternatives to plastic as a packaging format, we feel that shift in India will take some time to happen," she adds.
Rural markets and small-sized packs
According to Parle Agro, rural markets have always been a key focus for the firm as much as urban towns and metros. "Our product portfolio caters to a mass audience and thus we've always had a mass distribution strategy for our brands," says Chauhan. Currently, Parle Agro caters to almost two-million stores across rural and urban markets with the aim to keep growing its network by 15% to 20% every year. Plus, the com

Plus, the competitive price point of Rs 10 that the company offers for its products is a critical part of its strategy as well. Chauhan says this price point has "enabled us to scale up the reach and distribution for our brands and achieve high penetration into rural and urban markets". The 160 ml pack priced at Rs 10 is manufactured on a mass scale for Appy Fizz, the same has been applied for B-Fizz. Additionally, the Rs 10 price point has also disrupted the market, as a new launch at this price is extremely critical in the context of FMCG in India. Today, in a little over a month since the launch, B-Fizz is at almost 6,00,000 outlets across more than 4,000 towns. This feat was achieved thanks to the 84 manufacturing facilities across India and international locations Parle Agro has. Today, the company caters to over 1.9 million outlets in India driven through more than 5,000 channel partners.

A second Parle Agro B-Fizz TVC featured global icon Priyanka Chopra for national media
Opportunities from pandemic
"While the pandemic did bring misfortune, we've seen opportunities arise from it as well; not just in the products segment, but in distribution, too," observes Chauhan. "The eCommerce segment, which is a niche distribution channel for the beverage vertical, has risen as an outcome of the pandemic. Consumers adopted this channel in a large way for their grocery shopping, which accelerated the eCommerce category in a massive way." The company also on-boarded numerous eCommerce players and continues to add more to offer consumers direct access to its beverages. "Over the next few years, we have quite a few strategic initiatives in the pipeline in product categories that would be focused on health and better living," Chauhan reveals.
"Today, all our products are fruit-based, but we are looking at several new introductions in the near future as well." However, she remarks that though the contribution from the eCommerce channel is not as significant as retail for the FMCG industry, there has been an acceleration in the adoption of the eCommerce channel by consumers and brands alike. "Triggered by the pandemic, consumers who wouldn't normally adopt online platforms to buy groceries, suddenly started using them. We, at Parle Agro, offer a wide range of products that covers almost every sub-category of beverages other than dairy and can conveniently cater to almost every beverage need of the consumer. Going forward, we have plans to introduce special SKUs and brands for the segment to cater to distinctive consumer needs," adds Chauhan.

Pandemic's effect on FMCG
Describing how the pandemic and lockdowns affected businesses in the FMCG segment, Chauhan explains that the FMCG segment was immensely impacted during April and May, as distribution had come to a complete standstill. Segments within the FMCG distribution channels that were most impacted were on-premise as well as the travel segment. However, Chauhan is upbeat about Parle Agro's performance right now."We are happy to share that we are back to operating at 100% of our distribution base with sales not only showing healthy recovery but also on a growth path," she adds. However, Chauhan cautions that although many other FMCG segments will also be back at the base of their previous year, a few that might be dependent on the travel segment as well as the premise sector will not see major improvements. When asked about Parle Agro's position in the CSD market 10 years down the line, Chauhan was pretty optimistic and focused. "Our vision is to make Parle Agro the No 1 beverage company in India," she concludes.