Letra Graphix, and its focus on high-tech labels - The Noel D'Cunha Sunday Column
A look inside the operations of the print packaging service provider based in the city of Ahmedabad. Also, how the forward-thinking managing director of the company, Nirav Shah, invested to keep pace with the needs of the label industry and win accolades.

Read on....
19 Nov 2023 | By Noel D'Cunha
Recently, Letra Graphix has been awarded Ecovadis recognition for its outstanding sustainability efforts. In line with its commitment to delivering the best printing solutions, the company has invested in printing technology from Gallus, a subsidiary of Heidelberg. The Gallus Labelfire, the first of its kind in India, has introduced a new dimension to Letra's printing capabilities, with its digital printing capacities and a range of application options.
The Gallus Labelfire technology has expanded its product portfolio, making it a one-stop shop for all print needs. The company is able to offer its customers an even wider range of high-quality, customisable and sustainable printing solutions, cementing its position as a leading player in the print packaging industry.
Six months after installing the digital label printing press, Letra's managing director Nirav Shah, is gung ho. "The Gallus Labelfire press has proven to be incredibly versatile, allowing the company to achieve effects that were previously impossible and produce new applications that customers are willing to pay for. The press has also helped in attracting new clients. Also, Letra has won several awards, including two PrintWeek Awards and several Asian Packaging Excellence Awards in 2023. These high-profile awards demonstrate the company's innovative capabilities."
Humble beginnings with a gang of four
Established in 1997 under Nirav Shah's leadership, Letra's journey started from his home with four persons and a four-colour printing machine. In the next few years, Shah and his management team moved the label business into the 21st century.
Shah describes the management team as one which is filled with ethics, professionalism, integrity, transparency and participation at all levels. "The role of management revolves around the fulfilment of organisational goals through proper allocation and optimum utilisation of synergy of team members," he says.
Ahmedabad, the city once famous as a centre of textile, has moved on to become an important industrial city in India, in particular, industries such as pharmaceuticals, electronics, and automobiles. Shah is happy that the general woes that commercial printing has been facing over the past few years, has not affected the packaging industry, label manufacturing in particular. The company has plenty of work, and the decision to become a label manufacturer instead of being "a mere agent for the supply of labels has been a good move".

Letra plant in Gujarat
From agent to manufacturer
Setting up the Letra plant did not happen overnight. Letra started off as a jobber, taking orders from customers for supply of labels. The printers who printed the labels also procured the stock. But later, Letra started supplying stocks and executed the print work. "We were completely at the mercy of the printers, having no control over quality nor delivery," says Shah.
This is when one of his clients, a manufacturer of blood bags, suggested that he set up a Letra plant. In 1998, Letra brought in a Mark Andy 2200 flexo press. The four-colour press triggered the trail of success, and the four-colour press was extended into a six-colour press. By now, Letra was truly on course. In 2005, it installed a Gallus EM 280 press with IST UV units.
The servo-driven press was joined by another one, a twelve-colour Gallus EM 280. In 2011, Letra added another Gallus, the EM 340S, perhaps the first in India.
Letra caters to packaging requirements of personal care, pharmaceuticals, food, pesticides and automobile industries. It is known for its quality, prompt service and timely delivery.
According to Shah, the decision of the company to adopt high-end technology was a critical factor for its success. "The strategy to compete in the market on the basis of service and not just commodity products also helped the company," says Shah.
Today, Letra has a raft of three Gallus', all equipped with UV curing units, die-cutting units and chill units for printing on plastic films. Letra has a slew of slitting and label inspection machines from Prati, among other label-converting equipment. The ISO 9001:2015 certified company has testing laboratories, where labels are tested on various parameters like rub resistance, tear, and burst, adhering to international standards.
The company's new facility has a production capacity of 43,000 sqmtr/day. It can produce a range of labels – from filmic labels to combination printing using its fleet of presses and post-press machinery, allowing it to meet the toughest and most daring technical specifications in label manufacturing, such as security and multi-layer printing.
Letra's Labelfire story
The introduction of the first Gallus flexo press in 2005 wasn't just any other installation of a flexo press. It ushered in a long-standing partnership with Gallus, encompassing a set of innovative concepts that have helped Shah's company grow over the years.
In 2016, Gallus launched the Labelfire, a hybrid printing system. And since then, Shah has been fully occupied with carefully evaluating the next technology advancements and figuring out how to develop a hybrid digital and flexo solution that could effectively carry out new ideas. According to Shah, this was no easy task, and it required him to spend considerable time researching and experimenting.
Shah emphasised the importance of collaboration and working together to develop solutions that can benefit the entire industry, from print buyers to label converters. He explained that the Gallus press is a unique hybrid system combining their expertise in flexo, screens, coating, and foiling. At the heart of the Labelfire system lies a UV inkjet digital printing unit that boasts seven colours, including white. Additionally, the system is reinforced by five flexographic printing units that facilitate the application of varnish, metallic and special colours, and even cold foil adhesive. The system is equipped with a rotary die-cutting unit that enables finishing at full press speed.
Flexo printing units before and after the inkjet printing unit, provide flexible and cost-efficient production. Shah says, "This is accomplished through inline production, allowing for cost-effective varnish application, high-quality cold foil embossing, and customer-specific printing of spot colours or white."
According to Shah, the break-even point between flexographic and digital printing using the Gallus Labelfire is around 3,000 to 4,000 running meters per print job. While flexographic printing is faster for longer runs, a print job of 20,000 running meters with changing subjects can be produced more cost-effectively and quickly on the Labelfire.
Shah adds that Letra invested in the Gallus Labelfire due to its high print quality attributed to the inkjet printing unit with seven colours and 1200 dpi resolution. "This ensures that up to 96% of the Pantone Plus colour space is covered. The Gallus Labelfire is highly reproducible and can easily handle complex print jobs."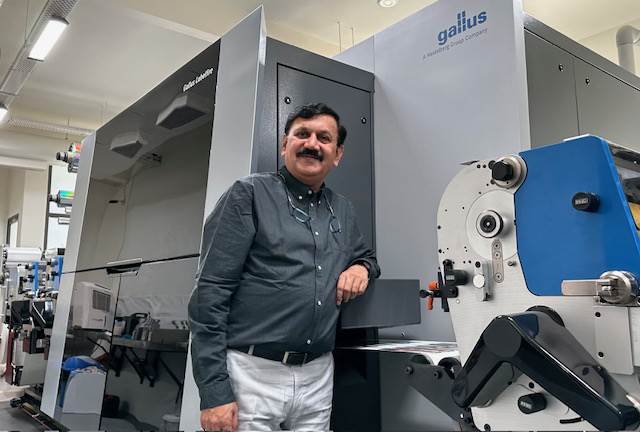 Nirav Shah with Gallus Labelfire
How Letra win awards
The idea for award-winning labels was born from the Letra team's deep understanding of its brand and a strong commitment to setting it apart in the label industry. "It became evident that we needed to create labels that were not only practical but also visually captivating and memorable to make an impression and stand out from the competition," says Shah.
To start the process, the Letra team comprehensively analyses its brand's identity and values. "We ask ourselves important questions like, "What does our brand stand for? What are our core values? What message do we want to convey to our customers?" This introspection helps us identify the essential elements we want our labels to reflect."
Next, it delves into the competitive landscape of the label industry, looking at what other brands were doing with their labels and packaging. This market research highlights the need for us to differentiate ourselves and create a unique visual identity.
Shah says, "We realised that making a lasting impression is important, and that our labels needed to be more than just informative. They had to be works of art. To achieve this, we invested in high-quality printing techniques, inks, and coatings. This ensured that our labels not only looked stunning but also had a luxurious feel."
A recalibration of sorts
Letra has recalibrated its brand values based on market research. The result: the company realised that the customers are committed to excellence. This one-point mantra has led Letra to create award-winning labels. Shah says, "At Letra, all the labels are subjected to rigorous testing and careful inspection at its testing lab to make sure they meet the quality requirements. Our penchant for meeting and exceeding global quality standards also enables us to participate in and win many Indian and international print awards. We endeavour to continually drive the quality of our offerings upwards with the support of Pinmark and Kodak Flexcel NX plates."
In 2023, Letra was named the PrintWeek Digital Printer of the Year, marking a significant shift in the perception of digital printing technology. No longer just a feature for variable data printing, digital printing has become a standalone technology that is able to handle short-run jobs, even in industries like label and packaging printing that have traditionally relied on flexo, offset, and gravure printing methods. "This award highlights the growing importance of digital printing as a viable option for businesses looking for high-quality, efficient, and cost-effective printing solutions."
It's not just printing. Digital printing should print on multiple substrates such as PP clear-on-clear, PP-white and PE-clear. Letra's sample produced on Gallus Labelfire did it and is a testimony to the rise of digital printing.
Letra won two PrintWeek Prisms this year for Packaging Converter of the Year (Pharma) and Digital Printer of the Year.
Digital Printer of the Year 2023
This category, which was once taken by commercial printing companies has been won by a label and packaging company. This is a testimony of the rise of digital printing in the segment and how brands are building loyalty with digital printing. Ahmedabad-based Letra Graphix produced four stunning labels on PP clear on clear, PP white, and PE clear substrates. All the labels were produced on the brand-new Gallus Labelfire hybrid press.

According to Letra, the digitally printed multi-colour Kaya label looks simple everything, including die-cut. The company digitally printed a special colour on foil to generate copper colour, which it stated, cannot be produced on a flexo machine.

The Vedi label was crafted in such a manner that it portrays as an ayurvedic medicine label. Special features included small fonts and high details in graphics, while the Nivea PE clear label was produced using a combination of printing using both digital and flexo – CMYK + white + silver and varnished using flexo. The label boasts both, gloss and matt varnish, a striking black and white vignette effect with tiny dots, and precise registration of gloss varnish. The stunning Nivea Soft label produced on PP clear used CMYK+OBG with white+white screen.

The runs of the labels ranged from 400 to 3,000 running metres.

According to Nirav Shah, the labels stand out due to their unique production processes, utilisation of special substrates, inks, and finishing techniques.

The judges remarked, "The labels combined aesthetics, functionality, and originality, and were incredibly successful in its expression."
---
Packaging Converter of the Year (Pharma)
According to Letra Graphix, the premise of sending submissions for Awards participation and winning them comes from a deep understanding and commitment to achieve excellence.

Be it the multilayered labels for pharma or leaflet labels, when one deals with pharma labels, aesthetics are crucial, but so is assessing the functionality of the labels.

Letra pushed the flexo press, Gallus EM-280 to produce all the labels, DuPont Cyrel plates; and PP film and Chroma paper to produce the four samples. The Pharmasia label was a multi-layered job with a top layer printed six-colour plus cold foil, screen and flexo varnish. The second layer had five-colour printing. The Avador label used a vibrant colour combination, and the multi-layer was used to fit in extra text. The 2YCOV-D Zydus label has different functionality features. It has scratch-off release ink, and invisible ink elements that are visible through UV light to avoid counterfeiting the medicine. And finally, the Jamp Pharma label, a self-adhesive label, had a left-side opening, which opens as a leaflet that is convenient to manage.

In pharma labels, the goal is to tackle display information, increase the attractiveness of over-the-counter products and protect against product counterfeiting. "The label submissions expand, elevate, and reinforce the company's abilities in material selection and technologies it has adopted in the production of labels," said a jury member.