Labelexpo to unveil the best in biz in Noida - The Noel D'Cunha Sunday Column
Labelexpo India, the boutique show at India Expo Mart will be hosted from 10 to 13 November 2022. PrintWeek highlights the Top 60 exhibitors, as well as what the show organiser Tarsus has to say about the show. The show will provide visitors with new launches, products, and services for the label community.

Read on....
06 Nov 2022 | By PrintWeek Team
Ace Technologies | Stand D25
The company will display its QL 300 CMYK +white roll-to-roll label printer. The machine is based on electrophotography and uses dry toner. The QL 300 prints high quality labels at 1,200x1,200-dpi.
It can help a label firm to have personalised labels for events and promotions. Since it's a digital printer there is no involvementof die cost, plate cost, and offers minimum runs, which makes it ideal for any short-run jobs. The best part of the machine is its small footprint of less than 1.5-m. The company installed five machines last year.
Academi a. | Stand N6
The company's new addition to its catalogue, Polymount, is doing some fantastic work in terms of bringing reusable solutions which are aimed at reducing waste. The first one is self-adhesive sleeves in three different densities. Just like the mounting tapes, these sleeves can be reused for years. This completely eliminates the variable of mounting tapes, reducing waste. Polymount also has a film cleaning machine which helps you reuse and recycle all types of printed films.

Acme Rolltech | Stand K1
Acme will launch its latest engraving technology, ACE (Advanced Channel Engravings). Samples representing this will be available at the company stall. Apart from this, the company will showcase its special rolls used for screen type raised effects ATAC and high density white AHDW. With ATAC, a user can get the same screen type effect on the flexo press with a single anilox ATAC without investing in costly screen units and recurrent cost of screen plates. AHDW is the other unique product which gives the highest opacity for white inks.
AICA ADTek | Stand E35
Hotmelt adhesive manufacturer AICA ADTek will promote the AICA Melt label adhesive brand. Visitors at AICA booth will see AICA Melt hotmelt pressure-sensitive adhesive products made of thermoplastic rubber formulated for tape and label applications. These do not completely set and remain permanently tacky. The adhesive formulations meet the final products' requirements, such as peel strength, heat resistance and cold resistance. The AICA Melt can be made in several block, pillows or drums. AICA ADTek (ADTek Consolidated) is an ISO 9001:2015 and ISO 14001:2015-certified company founded in 1994. The company's 170,000-sqft facility in Selangor, Malaysia, with a production capacity of more than 20,000-MT per year manufactures ethylene vinyl acetate (EVA), polyolefin (PO), amorphous poly-alpha-olefin (APAO), and pressure-sensitive adhesive (PSA) hot melt adhesives. The AICA ADTek products are used in a variety of applications such as DIY glue sticks, packaging, book binding, air filters, mattresses, construction, automotive, wood working and hygiene.
AKO Flexo| Stand K5
The Gujarat-based manufacturer which is setting up a new 20,000-sqft production unit will run live its Chinese counterpart's flexo presses. The new production unit is currently under construction and will facilitate exports from India. The company already has a manufacturing plant in China that will continue to operate for the local demand. The new India plant will be operational by March 2023. Its flexo presses come with inline units for rotogravure, rotary screen, and turret rewinder. The company is developing flexo and web offset combination press which will be launched next year.
Alliance Printech| Stand TBD
The company will showcase the Nova-A5, its multi-substrate press, and will demonstrate a variety of substrates, such as PVC shrink films and self-adhesive label jobs on the machine. The machine is equipped with high brand parts and equipment. It has advanced automation, and smaller footprint. In the last two years, the company has sold three eight-colour presses in Europe, Africa and the Gulf countries.
APL Machinery | Stand B3
The company has been busy developing new products in the last four years and has manufactured its own Make LED UV system, which is 90% made in India. The APL Make LED UV system is maintenance-free, saves on electricity, has no heat, fume, blowers and noise, and offers 30,000 hours of working life. APL promises to its customers that they will have an edge over other converters in terms of quality printing; on-time delivery and happy labour if they opt for the APL LED UV system.
Apex International | Stand B30
The anilox technology specialist, Apex International, will be promoting the GTT anilox technology and address the Flexokite knowledge centre. Apex delivers metering products to its clients across Asia Pacific and Middle East markets from its plant in Nashik. With five production facilities on four continents, including one in Nashik, the company has a growing portfolio of clients in over 80 countries. Mangesh Bhise, director of sales Apex Asia Pacific, said, "We are showcasing our proven GTT anilox technology and its benefits to printers along with our wide range of products for various markets. We would also be addressing Flexokite – a one stop flexo experience centre located in our factory premises which is one of our key strengths and demonstrates the capabilities to support the entire flexo ecosystem through key competences of each of our Flexokite partners for all markets."

Arrow Digital | Stand N16
For Arrow Digital, the star product at the show is the ArrowJet Hybrid Pro, as the company has been waiting to launch the machine and wanted a platform like Labelexpo. The ArrowJet Hybrid Pro, which utilises water-based pigment inks, is a single pass inkjet system, printing in 1600x1600-dpi, at speeds of up to 45-m/min and a width of 12.27-inches, with inline priming, digital printing and varnishing. The water-based pigment inks are Nestle compliant, which is not possible with other ink technologies like dye and solvent or UV cure. The colour consistency and vibrancy are closer to flexo and offset as compared to other label presses which gives more glossy effects. All these are backed by Arrow's 24x7x365 service support with trained professionals.
Avery Dennison | Stand F8
The company will showcase some of its distinct services, technologies and solutions. The company's theme is building a sustainable and resilient future, wherein it will showcase its range of sustainable and digital solutions, including RFID and NFC technologies, along with a range of solutions to help build premium shelf appeal and enhance security for a brand. At its stand Avery Dennison will focus on areas, such as building a better customer experience, product innovation, sustainable solutions, futuristic technologies to build on customer engagement and the company's 25 years of existence in India. The three key highlights visitors should look out for at the company stall are its unique bouquet of services introduced for enhancing customer experience, its initiatives towards sustainability and futuristic technologies.

Bhatia Graphica | Stand J3
Bhatia Graphica, a pre-press service provider based in Mumbai since 1997, offers pre-press and printing plates for the flexo, dry offset and letter-press industries using HD CTP technology. These plates are currently being used for printing aluminium cans, aluminium collapsible tubes, lamitubes, seamless tubes, plastic cups, liquor caps, labels and embossing. Attending the show for the first time, the company will showcase flexo printed samples, letterpress printed samples and dry offset printed samples and plates.
Bobst | Stand J35
At its stand, Bobst will showcase the samples printed on its Master series machines. The samples and solutions demonstrated at the booth, such as oneECG, have the potential to be transformative for the packaging industry. Ludovico Frati, from Bobst Firenze team, will also be present at the show to meet existing and prospective customers. The label printing market worldwide reached USD 36.98-billion in 2017 and kept growing at 4.1% to reach USD 45.22-billion in 2022. According to Bobst, the industry is still going through many changes, for example, sustainability moved from a good-to-have argument to an essential pillar in all business decisions and various solutions were offered around that such as oneECG printing features on multiple installations of Bobst inline narrow and mid-web presses that are present in five continents. Bobst has several new solutions to support its vision, all built on the four cornerstones of connectivity, digitalisation, automation, and sustainability, helping customers to deal with the packaging production transformation.
Baldwin Technology Company | Stand M10
At the show, Baldwin will present live demonstrations of its Guardian PQV 100% inspection system and Guardian OLP offline proofing and inspection system. The products help improve productivity and reduce waste by maintaining homogeneity of the end product for the consumer. Visitors can ensure their customers a defect-free product by usingthe Guardian Inspection products. The company has successfully installed the technology at label converters, including Shreedhar, Pragati (Indore), Zircon, Shriram Veritech, Centurion Forms and Kumar Labels.

BST Group | Stand M25
The company will showcase the Tubescan Digital Strobe (TSDS) 100% defect detection system, which, in terms of image resolution and the price performance ratio, has no equal. BST will also display our core products, such as its web guides and the industry leading web viewing camera – the Powerscope 5000. The BST products offer consistent image quality, even on reflective materials. The company has approximately 1,000 installations worldwide in the past three years. In India, it has over 35 systems running.
Cartes | Stand C9
Exhibiting along with its agent Weldon Celloplast, Cartes will demonstrate a line combining its Jet D-Screen (JDS), laser die-cutting and converting system for embellishing, finishing and die-cutting digitally printed labels. The Jet D-Screen for digital finishing enables variable data handling and creation of labels embellished with multi-layer effects, in-register varnishing, intricate and thick tactile embossing, security applications, ultra-high precision foil printing and cast gold with fine detail. The company's laser die-cutting system is complemented by automatic job changeover via barcode reading, automatic positioning of longitudinal cutting units and turret rewinder.

Cloudswood Technologies | Stand L1
The company, which had quite a tough past two years, will showcase hologram security labels, barcode labels, barcode ribbons, cleaning kits, coding foils, and TTO Ribbons. The company installed nine machines in the last two years, and is now hoping to expand to new territories.
Daya Printograph | Stand A6
Dayawill launch a reel-to-reel thermal lamination machine with an inline embossing feature. It is a high-speed machine designed for printed/non-printed labels, which can do thermal lamination from 20 to 80 microns of BOPP/PET holographic, plain or metalised films. The heating system is designed to suit high-speed and pressure is hydraulic controlled to give strong bonding. The machine is equipped with a web guide system, autotension controllers, pneumatic brakes for perfect unwind and rewind. Till date, the company has installed thousands of lamination machines for offset, commercial and packaging, digital, wide-web and narrow-web customers.
Domino Printech India | Stand H19
The company will showcase its Domino N610i digital hybrid label solution at the show.The N610i integration module, based on the proven Generation 6 technology and with nearly 1,000 installations worldwide, has been designed with a simple universal interface, enabling it to be easily integrated with your preferred flexo printing press. The N610i hybrid press combines digital with analogue printing and finishing capabilities, such as flexo printing, die-cutting, foiling, varnishing, and laminating, all within a single efficient process. During the show, UV Graphic Technologies will display and demonstrate their new hybrid press with built-in digital embellishment capability.

Dow | Stand E3
Manufacturer of release coatings and adhesive films for the pressure-sensitive industry, Dow, will launch the SL 184 SYL-OFF SL 184 coating the stand. A key focus for Dow's pressure-sensitive market involves delivering silicone-based solutions that meet customer needs by optimising performance, and improving efficiency across a variety of applications. The company will also promote SYL-OFF SL 184 high speed coating, SYL-OFF EM 7978 food release coating, SYL-OFF SL 351 hygiene release coating, DOWSIL 2014 adhesive solventless PSA, DOWSIL 7651 and 7652 adhesives for protective films and tapes at the show.

DNP | Stand N9
DNP will launch the new V-series of thermal transfer ink ribbons TTR and TTO, with resin as the main component for printing barcodes on a variety of labels and flexible packaging. This V-series stands for versatility, developed for optimal performance in diverse applications such as food and beverage, electronics, pharmaceutical, healthcare and automotive. The V-Series of TTR and TTO ribbons will be an excellent choice for anyone looking to deliver crisp, dark images on a wide range of label and flexible packaging substrates.
DuPont | Stand L20
DuPont will present its latest technologies and solutions alongside live demonstrations for platemaking to improve label printing/converting and create new business goals. In its booth, DuPont will focus on high-performing innovative technologies to address label converters'challenges to achieve their sustainability, productivity, and quality goals.The highlight will be the DuPont Cyrel FAST, which has been leading solventless, thermal flexo platemaking for the last 20+ years with more than 1,500 units installed around the world. The system offers superior productivity and performance while helping to reduce processing costs, time, and environmental impact compared to the existing solvent method. The system is an achievement ofmore than 20 years of continuous evolution and investment into this platform and has resulted in more than 1,500 installations globally.

Eltech Engineers | Stand K34

Eltech Engineers, the manufacturer and exporter of a wide range of corona treatment systems, plasma treatment systems, static eliminators and ionisers, will showcase its Label Flexo Corona Treaters used in narrow-web label flexo printing presses. The high-definition ridge type ceramic electrodes ensure efficient treatment of metalised as well as non-metalised substrates. Eltech's high-quality corona systems are accurate, efficient, and controllable to ensure that the converter always applies exactly the right level of treatment in a situation where too much is as bad as too little. A proven design, built and fully tested at its plant prior to dispatch to the customer's site, Eltech's corona system can be easily installed on all major label presses.

Esko | Stand L20
Esko will showcase the benefits of plate room automation and inline print inspection at Labelexpo. At its stall, visitors will discover how the latest Esko innovations deliver workflow improvements to boost both digital print productivity and operational efficiencies. The company will demonstrate how its portfolio of hardware and software solutions enable businesses to better digitise, automate and connect to accelerate the go-to-market process of packaged goods. At its stand, the CDI 4835 and XPS Crystal 4260, in combination with the new Flexo Engine module, will demonstrate how digitisation in flexo production also boosts efficiency while delivering the best quality plates.
Epson | Stand H39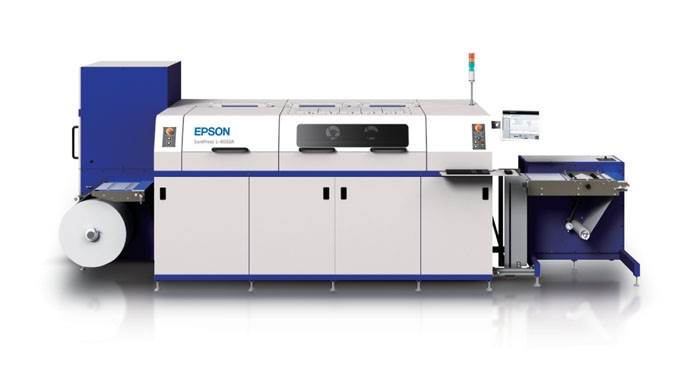 Epson, which is relaunching its SurePress range of presses in India, will utilise the Labelexpo platform to do so. Having taken a four-year break, Vasudevan, general manager, large format printers/industrial equipment, said, Epson was not directly present. "But we were getting enquiries for our label press. We have now relaunched these products in the Indian market, and we are confident that we will get a positive response from the market." He added, "Earlier we just had one model to offer and its productivity was not comparable with analog presses. Even the customers expectation was the printing speed to be at least 45-50-m/min. With the launch of the new product – the Epson SurePress L-6534VW, we should be able to meet customers' expectations on productivity."

Flexo Wash | Stand N7
The company, which offers innovative and high-quality cleaning solutions to ensure customers to have consistent print quality and high productivity with focus on safe working conditions and sustainability, will showcase its fully automatic FW Handy Mini 2 anilox roll cleaner with room for two aniloxes per wash. This is the entry model, which offers less liquid consumption with two-roller cleaning and attached filter to prolong the life of the liquid. The FW Handy Mini 2 will help customers to achieve consistently high print quality, minimise waste of ink and substrate; ensure an even higher output on the press; shorter set-up time; increase the lifetime of aniloxes and minimal press downtime.

Flueron Inks | Stand H12
Flueron has been busy developing new-age compliant products, which gives converters the latitude in colour gamut, lower ink consumption, higher line anilox printing, higher line screening use on plates and more importantly, the choice to run UV as well as LED with the same ink. Its monoKURE series of products are aligned to today's need of higher strength inks, with the choice to run UV-LED options. These are compatible with both UV or LED. This gives converters the choice to develop their own brand colours without being limited to the Pantone reference guides, thereby protecting the jobs they print and keeping the brand married to them.

GEW (EC) | Stand J31
As UV LED has really been brought to the forefront with increased energy costs, the company will be showcasing its new AeroLED air-cooled LED system. The AeroLEDlamphead is air-cooled, which removes the need for a water-cooled chiller. The RLT control system can run both the AeroLED and its E2C UV arc lamphead, so customers can have an interchangeable system from LED and arc, on the same press, which gives the flexibility when upgrading to UV LED for certain applications.
If a customer has an RLT control system with E2C, then they can easily upgrade to AeroLED by just purchasing the AeroLED cassette. Everything else stays the same on the system, so that means all UV systems that have been supplied since 2018 can be upgraded to LED, so a truly future-proof system, even if the customers did not know this at the time.

Gulf Packaging Industries | Stand N11
Gulf Packaging Industries of Saudi Arabia is one of the largest producers of BOPP films in the Middle East region. The company offers a portfolio of more than 100 film grades used in a wide range of applications, such as labels, flexible packaging and graphics arts. At the show, the company will showcase its BOPP films for labels, and will launch films for in-mould labels.

Holostik | Stand TBD
Holostik will launch several new products at Labelexpo 2022. The nano optical image OVDs (optically variable devices) are secure and technologically advanced security holograms. The master of these OVDs is shot at a resolution above 6,00,00-dpi. Optashield, based on custom holographic technology, displays two different colours at two different viewing angles.
The 3D labels (printed OVDs) are embedded with aesthetic elements, designs and security features. The half-scratch QR Code comes with a half scratch layer over the QR code, preventing replication and tampering of the QR code. Paper labels with holographic strips are secure and visually appealing paper labels with holographic strips transferred over it.
HP Indigo | Stand G18
HP Indigo and TechNova will run live demonstrations of its new printing solutions in the labels and packaging business. These include the HP Indigo 6K digital press, the HP Indigo Pack Ready and HP SmartStream Collage. HP will also showcase a range of applications from worldwide converters transforming and growing business with HP Indigo's Liquid Electrophotography (LEP)-based digital printing, demonstrating why brands worldwide and in all industries prefer HP Indigo label and packaging solutions.
HP is inviting the visitors to its booth to explore the ability to print anything at any length by leveraging its technologies, and see how its customers can automate and optimise their production floors with powerful press and workflows. "We believe in limitless possibilities with HP Indigo digital printing solutions and showcasing innovative labels and packaging applications from around the world and India during the show. "We are happy to showcase some of the very interesting projects from Indian as well as global brands featuring products of Indian start-ups and big global brands during the show which are truly made in India products. These unique projects were implemented by our esteemed HP Indigo users in India," said A Appadurai, country business manager for HP Indigo and PageWide Web Press at HP India.

IEEC | Stand N42
IEEC will promote its corona treatment systems to ensure that ink is anchored to substrates irrespective of the type of face material. The system is compact, operator friendly, and easy to maintain. The company displays its double-sided compact corona treatment system to enable front and back treatment of the substrates in a single pass. The company will also launch Ozonash to neutralise the toxic ozone gas to air using metal oxide catalyst. This unit can be retrofitted on the existing corona treatment systems.

Kiran Consultants | Stand F3
The company will showcase ERP solutions for flexo printed labels production. The solution comes with the latest technology, a robust database, the industry knowledge that has gone into the making of the product. It offers end-to-end coverage so that the converter does not have to go outside of the system and run other third-party applications to manage his operations. It manages multiple locations/plants with auto consolidated data pertaining to all business applications. The single application can be run for all operations, thereby harnessing data entry controls.
Konica Minolta India | Stand K8
Konica Minolta will showcase AccurioLabel 230, Accurio Pro workflow for digital label production process, along with digital die-cutting solutions. The AccurioLabel 230 brings further benefits for customers in terms of productivity, flexibility, and stability to meet growing market needs for shorter runs and more customisation. The Konica Minolta booth will also demonstrate the AccurioPro label impose production workflow, which is a convenient but simple makeready tool for digital label production. Post printing of the label, the company will showcase a live demonstration of a digital die-cutting solution, which is an all-in-one system that unwinds, laminates for durability, digitally die-cuts, removes waste, slit and rewind, offering customers everything to professionally cut and finish labels. Label converters will also be able to experience special label samples produced on the newly launched AccurioLabel 400.

Label Traxx| StandTBD
Label Traxx will showcase its version 9 software with a completely redesigned, modern user interface. It will contain new primary navigation tools and increased customisation options to enhance the user experience. Also, job costing and shopfloor data collection modules have been improved to support new roll tracking features, reliable remote access and a new operator user experience.
Label Traxx and Batched will also demonstrate the third general release of their automated planning and scheduling product. Along with other performance and usability improvements, this release contains a new set of features that blend artificial intelligence and machine learning with human engagement.

Lucky Graphics | Stand K30
Lucky Graphics will showcase Toyobo Cosmolight QZ Series water washable plates live at the show. The Cosmolight water-washable flexo plate can be washed in tap water with a small amount of mild detergent. The plate makes the working environment free from dangerous hydrocarbon and hazardous washout solvents. Plates are press-ready within an hour and press- downtime is dramatically reduced.

MLJ Industries | Stand B9
Self-adhesive labelstock and silicone liner manufacturer MLJ Industries will launch and showcase a host of release liners and label stock materials – clear on clear, battery, tyre, pharma, specialty labels for corrugation, wash off, PET clear, PET white label, PE clear, PE white and repositionable labels and PET liner. Visitors to the MLJ stand will get to see release liners such as glassine, paper, CCK, SCK, recycled PE liner yellow and white, MG kraft and PE. Among the labelstocks, MLJ will show semi-gloss, PP white, PP silver, PP clear, DT, silver MET paper and removable silver PP.

Maxcess | Stand G7
Maxcess will promote its new products RotoMetrics AccuAdjust Dual Adjust Anvil fully-automated anvil control and FIFE-500 Max web guiding system for guiding tags and labels accurately. The RotoMetrics AccuAdjust Dual Adjust Anvil features easy-to-use digital controllers on the front of the die stack, quick installation into a press and automation-ready motors that ship with the unit itself.
The new AccuAdjust features easy-to-access dual-adjustable controllers on the front of the die stack. It provides the customers with an adjustable anvil, claimed the company. In addition, each AccuAdjust unit comes plug-and-play ready for RotoMetric's upcoming RotoAdjust automation system for greater operator control, enhanced productivity, and Industry 4.0 analytics. The AccuAdjust features an easy-to-navigate five-inches colour touchscreen and advanced networking capabilities, the FIFE-500 Max, which reportedly delivers accuracy with less waste and downtime.
Miraclon | Stand H10
The Flexcel NX System remains the core product of the Miraclon portfolio. In line with its corporate purpose of making flexo the preferred print process of choice for the broadest possible range of package printing applications, its customers continue to benefit from a steady flow of innovations and enhancements that build on the core technology. Customers choose Flexcel for the production benefits and savings it brings to the printing process as they enjoy better efficiency, increased consistency, reduced press stops and ink usage and an overall waste reduction that positively impacts their financial bottom line.

Multitec Aids | L15/L5
The company will be displaying its S1 press running 12 microns PET film and another E1, which will be a full LED press. The S1 will be displayed with dual servo technology, multilayer capability and more. E1 will be an all-LED UV press printing PS label. There is a crossing over in the label and flexible packaging market. Flexible packaging, which was once done mostly on rotogravure presses, is now being done on narrow and mid-web flexo presses for short runs. Similarly, label converters are looking at entering the laminates and pouch market. Multitec Aids products cater to both ends of the spectrum, whether it is a label converter or a flexible packaging printer.
Monotech Systems | Stand C26
The company's Jetsci Global brand will showcase its various digital label printing solutions during Labelexpo 2022. There will be live demonstrations of its new Colornovo Hybrid, equipped with seven-colour digital UV inkjet printing technology, the new version of dSpark (digital varnish and cold foil) and digital label sheetfed production press. The company will also launch its new ColorAQUA Hybrid water-based digital label production press. The company's track and trace solution, Tracesci, will also be demonstrated with live samples.

Nippon Color| Stand M23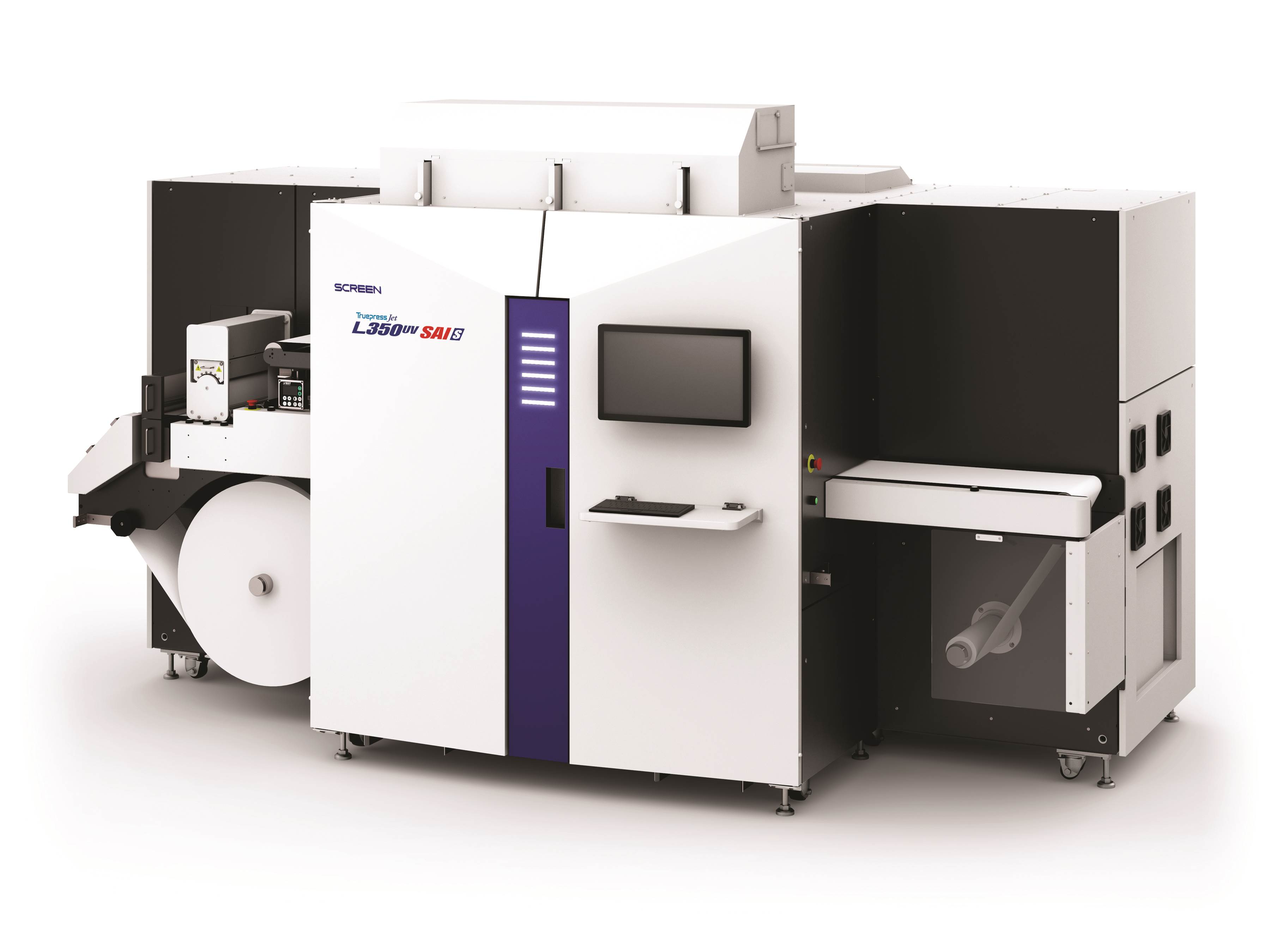 Coming to Labelexpo India for the first time, Nippon Color will be promoting HD platemaking technologies aimed at flexo plate trade shop owners and digital label printing and finishing solutions for label converters. The company has recently been authorised to sell Screen's UV inkjet digital label printing solutions. So, its star product would be Screen's Truepress Jet L350UV SAI series. The new SAI range offers improved colour reproduction with CMYK + O + B as well as superior scalability, enabling it to meet an even wider variety of market needs. The series is reliable and robust. Analysing data from over 150 installations of the L350UV+ series worldwide, customers have reported uptime in excess of 90%. Again, considering safety standards, low migration ink for SAI LM is fully compliant with the EuPIA Exclusion Policy for Printing Inks and Related Products, the positive list of the Swiss Ordinance and Nestle Guidance for packaging inks.

Novexx Solutions | Stand F5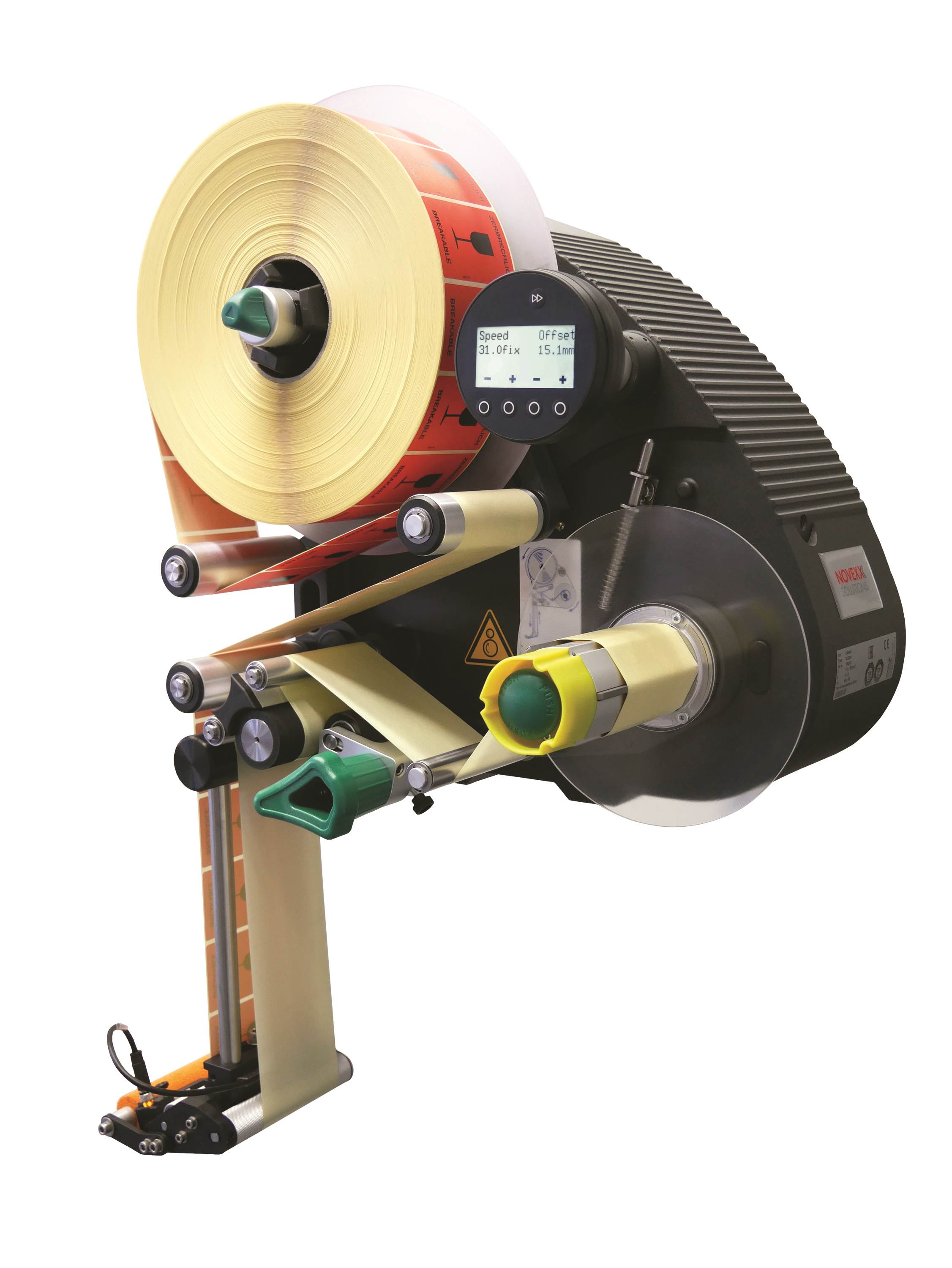 The company will showcase its XLS series label applicator at Labelexpo 2022. The multifunctional label applicator is designed in a manner that it can be mounted in any direction and can work 24x7 in any condition, which is not possible in traditional Indian applicators. It can be synced with any production line on its existing running system; often the existing product handling system is sufficient for the machine to run. The machine has a small and unique design, and it can run at high speed with exceptional accuracy.

Packline Machines | C8
Packline will present its fully automatic die-punching machine with continuous/print registered embossing. The company claims that its machines bring down costs and waste by up to 15%. Packline has more than 250 installations with more than 50 installations outside India. The machines can handle foil/paper, plastic//PET/PE laminated lids, labels cups, cones, plates, in-mould labels and induction seals of any complex profiles and sizes.

Printronics/Newgen Printronics India | P13
The company will showcase the Durst industrial UV inkjet digital press. It will also have a presentation gallery to present the entire solutions for labels and flexibles packaging segments. The Durst digital press offers high productivity up to 100 linear metres. It offers consistent print quality irrespective of machine aging. The robust digital press is built to work 24x7x365. It has a browser-based workflow having all-in-one to streamline the pre-press and print production process. The company has four Durst presses installed in India.
Polyart | Stand E11
PolyartGroup, a producer of specialty solutions on papers and films and synthetic paper, will debut its new extended portfolio at the show. Its extended line of papers and films ranges from specialty facestocks to tag material and in-mold label material for blow molding. The company will show for the first time two new sustainable substrates – r-Polyart, synthetic paper made of 30% post-consumer recycled material; and Fiberskin, a weather resistant paper, recyclable and biodegradable, printable by dry toner, for short term outdoor exposure. The company claimed that its Polyart IML film is the only HDPE based film for in-mold labels blow-molding applications. For tag applications the company will show its Satinex range of HDPE based, highly resistant and 100% recyclable material for outdoor labels.

Pulisi Technology | Stand P5
Pulisi will debut its AOBEAD digital press model DPIM330 for the first time after recent global launch in Korea and the USA, in addition to home country China. The multifunction UV inkjet label press with 600 dpi and 1200 dpi offers configuration of flexo+W+CMYK +flexo and inline inspection system.

Rakesh Paper Company | Stand TBD
Rakesh Paper is a 50-year-old paper trading house and has been instrumental in offering mill surplus pressure-sensitive labelstock at competitive prices, as cost reduction has been a top agenda for all converters. The company covers all spectrum of products, right from paper to films to specialty label stock converted to client specs. The company imports and trades PSA materials.
Rotometrics | Stand G7
At the show, Rotometrics will host a training session titled Precision rotary tooling through customised cutting solutions. Amol Naval of Rotometrics will conduct three training sessions each day. The sessions will showcase the power of precision for efficient conversion of substrates by rotary tooling and the method of improving the life of the tooling.
SG Edge | Stand N1
SG Edge will introduce a budget-friendly flexo printing machine with full servo auto registration from its principal, Hong Sheng. Each unit of the machine features servo control and is exclusively available from SG Edge.
Sai Enterprises | Stand M48
At the show, Sai Enterprises will showcase its domain knowhow, reproduction capabilities and print quality with consistency are the three highlights. According to Gopal Krishnan of Sai Enterprises, the success of the company today is because of the support of its clients and they are the one who have extracted the best out of the Sai team. Therefore, the company is concentrating on showcasing these three services. In the immediate future, the company is looking at sustainable possibilities to make flexo plates.
Sandilyam Automation | Stand E24
The code quality and verification products provider will be launching the latest in the series of 15xxx aimed at comprehensive analysis and reporting of all aspects of code design, encodation and print quality. The company will also showcase a range of code verifiers and generation software and focused on the area of standards verification. The range of verifiers cover the linear classic, speed verifiers and camera verifiers. Among these the 6525-S verifiers are used to verify the medium/ large linear barcodes like the SSCC/ S1-128. The 15500 verifiers are used in pharma packaging development/QC labs, in process checks in packing halls for GS1/ISO grade verification.
Shaharaji Associates | Stand TBD
Stamping foil provider Shaharaji Associates will showcase the ITW ShineMark range of cold foils under the name of its new firm Sharjun India, which is an affiliation between Shaharaji Associates and Arjuna Global Impex. Attending the show for the first time, the company will promote ITW cold foils.
Shree Lamipack | Stand A1
Shree Lamipack offers security label solutions with security printing, hologram strips, scratch off, and QR codes besides multi-colour labels. The company will be at the show to showcase its products to the world. There are plans to attend Labelexpo Europe 2023 as well, as the company is targeting some big customers to be their preferred vendor, and it hopes to achieve its target of Rs 100-crore plus revenue in the next year. Shree Lamipack says the security features it offers are difficult to copy and thus provide complete satisfaction to the customers. Recently, the company invested in a Bobst label printing machine and two high-speed coaters for making labelstock, both paper and film.
Standard Printers Providers | Stand B7
The India representative for Taiyo Kikai Japan, Standard Printers Providers will be exhibiting the company's UV rotary flexo narrow web label press capable of handling a wide range of substrates including paper, films, light-weight carton, and laminates with high productivity and ease of operation.
UV Graphic Technologies | Stand TBD

The latest from UV Graphic Technologies is the Activ UV-LED combo UV curing systems which offer a hot swap between conventional and LED UV in under 30 seconds. According to the company, these are the most powerful systems avail-able in the market. Beside this, all machines from. UV Graphic will be on display at Labelexpo 2022. According to Abhay Datta of UV Graphic, at the show, customers will see the fastest makeready presses printing high-quality flexible films and labels with under two metres of waste and the shortest possible makeready time.
Having sold over 100 presses in the past four years, the company will celebrate the spirit of Labelexpo not only with its latest printing and converting machines, but also with a full-fledged bar and lounge offering complimentary drinks and snacks to all customers.
Vetaphone | Stand TBD
The Danish surface treatment manufacturer, Vetaphone, will be supporting its agent Weldon Celloplast at the show. Take a look at the several corona units that will be running live at the Weldon stand in Hall 3. Among them are the two Vetaphone VE-A 520 models on its narrow web Ultraflexflexo line, and two VE-A 460 models on its Ultraflex hybrid line, where the digital element is powered by Domino. All Vetaphone corona treaters on display have the intelligent 2KW Vetaphone iCorona generators and are fitted with four ceramic electrodes in each unit. Vetaphone claims to have a market share exceeding 80% in the narrow web sector.
Vinsak | (Stand O5)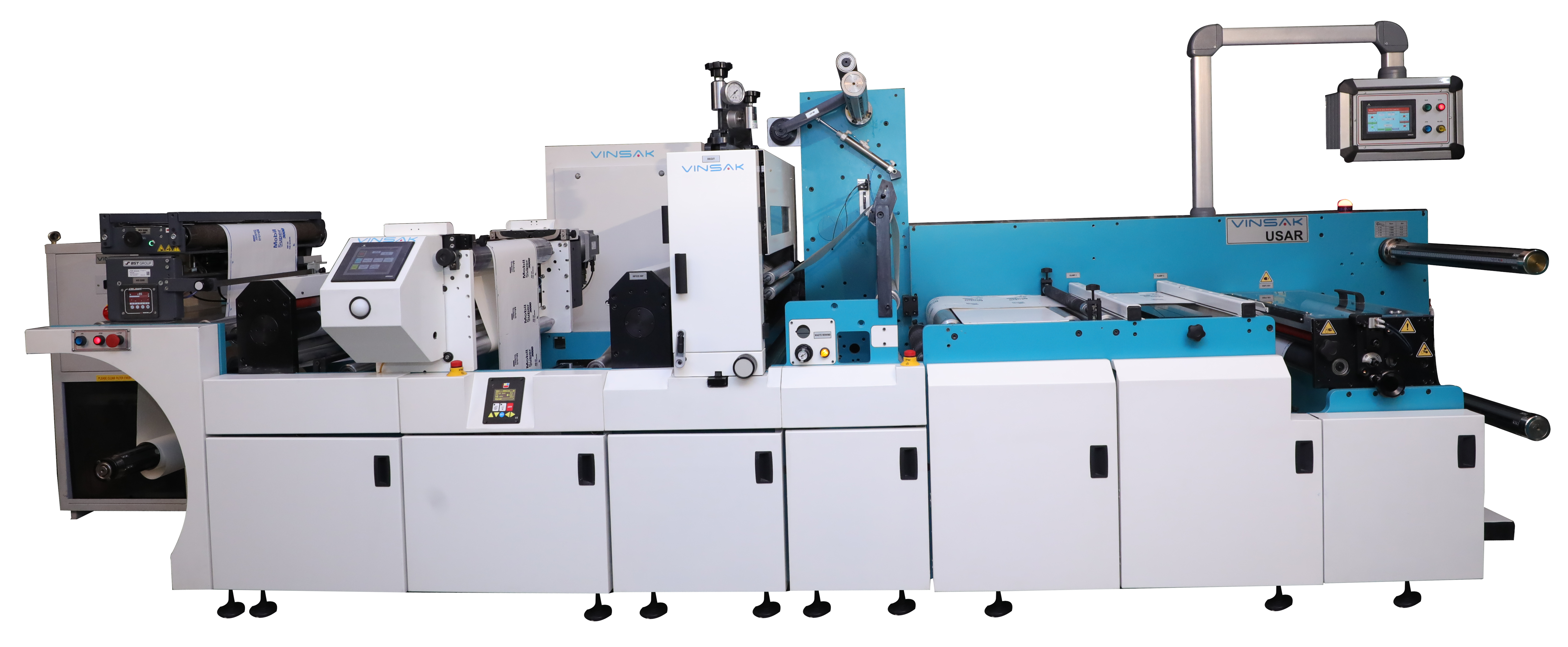 Besides highlighting its ranges of Lombardi flexo presses, including the newly launched I2, Iwasaki semi-rotary presses, including the newly launched IF 330 intermittent flexo press, and ABG Digicon series 3 finishing systems, Digilase laser-cutting systems and Vectra turret rewinders, Vinsak will showcase its own ranges of USAR-430 full rotary die-cut with flexo unit and VDP, USAR-330 with HB inkjet and cold foil; tabletop rewinder, roll lifter VRL-250. Among these, the star product will be the Vinsak HB (high-build system). The machine has the ability to coat up to 250 microns of varnish at speeds of upto 50-m/min, do metallised doming and cast and cure on the same system. It also offers special varnishes which are crack-resistant and thus suitable for shrink films and small labels. In the last two years, the company has sold 12 Vinsak HB embellishment systems.

Vintex | Stand M13
The rubber roller manufacturing company is set to launch its plate mounting and laser engraved sleeves at the show. Established in 2000 by LN Chhabra in Udyog Vihar, Gurgaon, Vintex gradually expanded to five production units in Gurgaon, Ahmedabad, Hyderabad and Kolkata. The company supplies offset and gravure consumables and has introduced flexo products as well. The company also manufactures other flexo products like elastomer plates, polymer plates and ink chamber seals, which will be showcased at the show.
---
Read more: In conversation with Pradeep Saroha of Labelexpo India