Komori presents automated presses for package printing
Japanese equipment manufacturer Komori introduced its latest machines for 2021, what it claims to be the most advanced and innovative, at Virtual.Dupa.
13 May 2021 | By Aultrin Vijay & PrintWeek Team
Speaking about the state of the printing sector in 2021, Akihiro Inde, general manager, marketing department at Komori said, "For the printing industry, efficiency, automated production and manufacturing that take into account environmental and hygiene aspects are very important."
"The companies that are the first to move forward with this will be the winners. Hence, they are all working towards the goal of becoming smart factories, preventing excess production, eliminating inventories, shortening delivery times and on-demand production," Inde stated, highlighting the current trend in the industry.
He added that while countries are making public investments, some countries and companies are aggressively making capital investments to achieve a V-shaped recovery. "Although there is a tendency for commercial printing to be sluggish and package printing to be strong, the situation is not entirely clear-cut," Inde said.
One of Komori's star products at the show was the Lithrone GX/G advance series of offset presses. "Lithrone GX/G advance series is developed to provide a world-class return on investment (ROI). Through improved feeder/delivery performance, improved high-speed printing quality performance based on the dampening system, and easy operation, it achieves high productivity," Inde explained.
During the show, Komori showcased the merits of its flagship machine – the six-color Lithrone GX40 Advance with coater. It demonstrated the power of these "breakthrough technological innovations" by running three jobs on 350 g/m2 stock.
The key advances shown were ultra-short makeready times enabled by Parallel Makeready and the creative possibilities to be had with Komori's Smart Color wide gamut process colour printing system, which adds orange, green and violet to CMYK colours to cover 80% of Pantone colours in a six-colour system and 85% in a seven-colour system.

Komori's Smart Color
It also demonstrated the eight-color Lithrone GX40RP advance, a dedicated four-over-four perfecting press designed by Komori. The demonstration showed Parallel Makeready simultaneously performing plate-changing by A-APC, blanket washing and pre-inking in parallel, enabling quick print start-up. Based on Autopilot, PQA-S V5 controlled and monitored print density and register adjustment in real time. Two jobs were run at the 18,000 sph maximum printing speed with no operator intervention at any point.
In addition, the eight-color Lithrone G37P advance, offering high-speed stability, high print quality and quick changeovers, showed its aptitude in short-runs. To support the operator, the machine was equipped with the PQA-S V5 system to deliver print quality inspection, colour control and automatic register adjustment. "It's a total solution for both publishing and commercial printing segments," Inde said.
In post-press solutions, Komori presented the CTX132 programmable hydraulic clamp cutting system, with its wide range of options, and the MBO K80 folder and CoBo-Stack automatic palletising robot.

Impremia NS40
In the digital segment, Komori showcased its new B1-size digital press – Impremia NS40. It utilises Komori's full range of offset technologies. It is suitable for short and medium runs of many different printed items in package printing.
"Komori Impremia NS40 40-inch Sheetfed Nanographic Printing System is an utterly unique solution that does not require any plate changing or colour changes," Inde stated. The demo featured a seven-color machine with onboard in-line coater and double pile delivery.
Additionally, the Apressia line-up of post-press finishing solutions highlighted the Apressia DC105, the first platen-type die-cutting machine focused on packaging solutions. It was shown with Komori's Apressia MB100E high-performance blanking system.
However, Komori's smart factory middleware – KP-Connect Pro – was one of the major highlights. "It is a revolutionary piece of middleware that promotes digital transformation of the printing industry," said Inde. "KP-Connect Pro is the keystone in Komori's concept of Connected Automation that realises a smart factory for printing companies. Additionally, press automation that links Komori machines can improve productivity by optimising each press' production schedule or by minimising the amount of hands-on involvement from operators."
Connected Automation, Komori's concept for creating the smart factory of the future, was the overall theme of the Komori presentation. "Connected Automation improves productivity through implementation in the Manufacturing Execution System (MES)-based KP-Connect Pro solution, the heart of the Connected Automation concept, as well as in the new Advance series of cutting-edge presses," he added.
According to Inde, KP-Connect Pro improves printing processes, increases productivity and ultimately optimises production output. By integrating not only all press data with both pre-press and post-press as well as the existing MIS system, KP-Connect Pro manages each process with its Scheduler function, enables visualisation for identifying any bottlenecks, and offers end-to-end automation.
Inde explained that the integration of KP-Connect Pro into a production workflow provides a streamlined process; fewer touch points and easier operation, thus eliminating errors and increasing throughput. KP-Connect Pro addresses the problems that printers around the world face – limited labour force and the requirement to increase production and thus profitability. "Simply put, KP-Connect Pro allows printers to do more with less," he added.
At the show, Komori organised a Virtual Exhibition Space providing product information and the ability to contact its staff from anywhere to get answers to questions, seek advice and discuss product demonstrations.

Apressia MB100E
"Komori proudly supports Virtual.Drupa as a Gold Partner, the highest ranking among printing machine manufacturers," Inde said. "Though both the organiser and Komori had to go through a trial-and-error process as this was the first virtual event, we believe that we were able to obtain new results such as new prospect acquisition and lead generation."
The programme will be available for viewing for the rest of the year. At the same time, Komori will make information available to the regions that were unable to view the video due to time differences and language issues.
Explaining how Indian printers could improve their production methods, Inde said, "Highly efficient machines will be desired in a market that has so far been dominated by used machines. Since 2018, our direct presence in India is bringing the necessary change as we are proactively helping our customers to improve productions by carefully analysing pressroom errors and with necessary training. This may be accompanied by changes in sizing, such as reducing the number of machines from three to two."
He explained that Komori's newly-improved product, Lithrone Advance G series, has been of much interest around the world as it offers customers automation capability.
"The package printing, not only the cost, but also the impact on the human body (hygiene and safety) is an issue that needs attention," Inde said. "In this sense, automation is also a necessary theme. In order to achieve this, it is important to improve the productivity of the entire factory by connecting the processes. In other words, centralised management with KP-Connect is a great advantage. KP-Connect also helps reduce downtime by directly connecting the customer and Komori for preventive maintenance and fault diagnosis."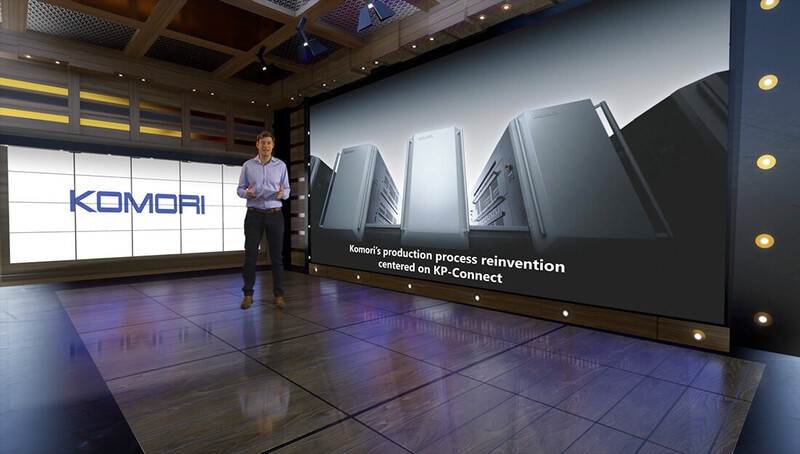 Discussing the impact of modern e-retail on printing companies, Inde said, "E-retail has certainly boosted the demand of packaging with careful due diligence of safety. We have started our own printing college for customers on our Komori Global Youtube channel about the pressroom challenges in the printing industry which will certainly help reduce error and improve production efficiency."
"The pandemic is an opportunity for printing companies to actively change their old methods and adopt the innovation. Komori is equipped to provide such printing solutions to Indian printers," he added
He said that packaging companies were driving innovation on Komori's offset presses to cater to the demand. "Among our list of products, the Advance series is perfectly capable of delivering these new innovations, also catering to the increased demand of short jobs, which today, is very important. As a printing company, it is important to change the way of thinking and build on their strengths and differentiate themselves from competitors," he explained.
Speaking about "the next big thing" in graphics and packaging segments, Inde said the direction is towards sustainable development goals and going plastic-free.
"In particular, Japanese paper manufacturers are actively promoting technologies to "paperise", which is renewable and environmentally friendly, and these technologies will evolve in the future. Printing will also be expected to respond to this trend," he concluded.