Jigar Satra and the Reliable way to play the game - The Noel D'Cunha Sunday Column
Bhachau village. In Gujarat's Kutch. That's where Jigar Satra's roots lie. "Rainfall was scanty and irregular," says Satra. It was the reason why his grandfather, Gangji Raghavji, the one male child among seven sisters, moved to Bombay. After setting foot in Bombay, Gangji took up work as a paper cutting operator at a paper shop in the Fort area. Soon, Satra's father, Kantilal, followed. What happened next?

Read on....
13 Feb 2022 | By Noel D'Cunha
The Kutchis are an extraordinary community. You will find members in each and every type of industry. In Mumbai city, their roots go back decades, sometimes generations— and one part of their brain cells and heartstrings are wired to their ancestral villages.
Jigar Satra shares this history. How hundreds of Kutchis trudged to Bombay during the 20th century, in search of work and livelihood. Those travelling from Gujarat were backed by their village communities, and encouraged family and friends to come to Mumbai. It included all types of people. From single women, to strugglers in the service sector, to first-time entrepreneurs plus fresh matriculates.
Satra shares how his father was "the eldest in the family, and had to come to Mumbai at the age of 15 years. He could not complete matric (standard 10) then." Satra's father worked for six years at a stationery store in the Fort area and then started his small photocopy business in a 50 sqft area.
The Satra family settled down in Mumbai. It was the start of a modest print journey; a journey that defined Satra's character and career. Today, that company is a reputed digital print service provider in Mumbai, and Satra is the director of the company.

(l-r) Kantilal and Gangji
Diving deep into print
In 1985, Satra's father, Kantilal (25), started Reliable Prints, then Reliable Xerox Company. The location: 278, Shahid Bhagat Singh Road, Fort, Mumbai. The size: 1,000 sqft. Team size: 15 employees. Work schedule: 14 hours a day, six days a week.
At Reliable, Kantilal along with his two younger brothers, Jayantilal and Hasmukh, used to work for 14 to 16 hours. He was always involved in every single aspect of the business and had good relations with his employees. "He was a workaholic and his rapport with his employees was very cordial. Most of them are still working with us from the day he started Reliable and they respect my father a lot. He was the one who used to interact with the clients. Giving them the best solution and advice. In the process, he came to know where to invest. Which machines were needed next."
The closely-knit Kutchi community has a decades-old network that are keen to help and support anyone looking for money to start a business. Thus it was with Kantilal. He found a guardian angel in the eighties. "When my father wanted to start Reliable, he was looking for funds to invest in a shop. Our community was very helpful. They lent money to our family to buy a shop and start Reliable," says Satra. It all began with a Swift mini-offset press and a photocopier machine at Reliable.

Inaugration day
Kantilal realised that Mumbai is a city of striking contrasts. On the one hand, the glittering glam-jobs and A-List print firms that cater to the elite agencies; and on the other hand, hundreds and thousands of informal settlements with their armies of informal labourers who form neat rows along the streets. Reliable was caught between the two worlds. This is the era when Mumbai was dreaming to be a global city. The downtown property prices were competing with Manhattan. 75% of India's stock exchange transactions and at least a third of Indian tax revenues was Mumbai's contribution to the nation.
In all this, the question Kantilal asked: what is the game that Reliable should be playing?
Keep finding a way every single day
The eighties in Mumbai was the best of times for print. The demand for print was robust, and margins were healthy. "No one wanted to get into the 30 paise photocopy business. Liberalisation gave a great boost to our business after 1991," says Satra.
The first print when Reliable started the photocopying business was a poster of Lord Ganesha. Reliable's customers included government organisations like Bombay Port Trust, BPCL, BMC, Mhada, PWD, freight forwarding and customs clearing companies and retail clients. The cost of an A4 photocopy was Rs 0.30 to Rs 0.40.
One print mantra that Kantilal followed was: never compromise on quality. "My father always aspires to give the best quality output to clients. Because of this reason, I have an eye for quality printed products," explains Satra.

Kantilal Satra
Over time, Reliable acquired a reputation for documentation work, photocopy and scanning of architectural drawings and quality photocopy of important documents. So, how did the system work? "All because of word of mouth publicity. My father used to advertise in MidDay. We took meticulous care of a client's original documents and worked on the files to give the best output. Because of this reason clients trusted us and recommended us to others to their business circle. Even today if students want to submit their portfolio to universities abroad, they will to Reliable." That is the Reliable standard.
One of Reliable's VIP customers was MF Hussain. Satra says, he has had the honour of meeting India's most illustrious artiste, a few times. "He even drew a sketch of me, which unfortunately I lost because I was very young at that time. He used to come to our office frequently for photocopy and colour printouts. Like him, many artists come to our office regularly to print canvas and other work."
The ground-up approach
As a youngster, Satra says, he used to frequent the Reliable press, and used to be amazed at how busy it was, with clients waiting to get their job done. "Those scenes have been embedded in my mind." After completing his tenth standard, Satra started going to the press regularly, working in each and every department. He even helped clean the press. "My dad always used to tell me you should start by cleaning your workplace."
Then one day, Kantilal suffered a life-threatening brain stroke and was advised bed rest for six months. Satra was 19 years old. Studies or business? He had to make a life altering decision. He entered the business, and from that day there was no looking back. "While working, I also completed my studies, and did my MBA in finance before joining full time in business."
The HP Indigo investment
Reliable, as a company was an organisation with a digital mindset. For Satra, digital print is a form of consultancy. "Understanding the clients' requirements is very important. We do not offer what clients want, we offer them a solution after understanding their requirements. We charge clients for the product and not for ink on paper or other substrates. Our costing includes our time plus our expertise and the raw material cost. Most of our clients do not even know we are printing on digital equipment," says Satra.
The company has a raft of digital kits, from Xerox to Konica Minolta. The rationale behind these installations, Satra says, is to give the client the perfect print output. "We offer our clients printing solutions. To offer them a complete solution – from business stationery to marketing collaterals to signage to personalised printed products – we need to have all kinds of digital equipment in-house.
In 2009, the company invested in an HP Indigo 5000 and added it to the array of digital kits it has. So how does Satra demarcate the jobs between an HP Indigo and a KM and a Xerox, and what is the pre-press workflow? Satra explains, "Our sheetfed labels are printed on KM and other digital prints are printed on Xerox. Clients looking to print on special substrates we print for them on HP Indigo. Most of our customers give us ready-to-print artworks. For others, we have a strong team led by Dharmesh Mehta, our COO who takes care of pre-press workflow and press operations completely."
The HP Indigo press, Satra says, is a bit expensive. He adds, what we have experienced is that there are still customers willing to pay for the Indigo quality. What about the break-even point for an HP Indigo press? Satra says it is very difficult to calculate the break-even point for the HP Indigo press. "According to me, the break-even point is when you reach 40 lakhs A3 sheets."
Reliable uses the HP Indigo press to print invitation cards, posters, greeting cards, brochures, catalogues and certificates on HP Indigo. Typical print runs are between 25 to 100 copies, with the percentage of repeat orders pegged at 25%.
Besides the digital print prowess, Reliable's other strength is its post-press department, which has maximum staff. "Without good post-press operations one cannot give the desired output," affirms Satra. Deliveries and logistics are handled by a separate team. "We are streamlining our operations to give a better customer experience."

Invitation card of the opening ceremony
The Covid-19 impact
Today, Reliable supplies to corporates and design agencies. Most of these businesses were shut during the lockdown. And so, the financial year 2020-21 was a disaster. "Our business shrunk to 50%. Covid hit our business badly. But, we immediately shifted our focus from commercial printing to gifting business and immediately invested in new equipment," says Satra.
To add to the woes, the pandemic months saw an increase in raw material cost. "Paper has been an absolute nightmare at the moment. It's almost impossible to manage." PrintWeek has reported fears that some SME print firms will not be able to cope with rising printing costs in Mumbai, with production costs having gone up by 40%. Satra says, "We have reduced our margins and given our customers the best possible cost. As for the customers, it is very difficult to spend more during these challenging times," says Satra.
Textile to boost the print business
Among Reliable's customers were clients from the textile industry for which it supplied print catalogues and brochures. For these clients, the accuracy of colours was very important. "To understand this market I attended a few exhibitions in India and abroad. We realised there's potential in the dye-sublimation application. In 2014, we invested Rs 1.5-crore in that segment to compete with the Surat market. It included a plant in Sewri, Mumbai, equipping it with three Epson dye-sublimation printers and three Monti Antonio heat presses.
When the commercial print business was struggling, Reliable rebooted itself and shifted the focus into dye-sublimation, direct-to-garment segment (DTG). The genesis of this transition was that the DTG Indian markets struggled to grow, as it was still evolving. In 2021, Reliable thought it was the right time to invest in the segment. The company invested in six Epson SC F9330/F9430 digital presses, two Mimaki TS300P-1800 for dye sublimation printing and Monti Antonio, Transmatic and Impress, heat transfer press for finishing.
Reliable's website showcases personalised t-shirts, bags, clothing and even placement of small logos in specific places productively, using a DTG printer. But there are limits in terms of vibrant colours and types of fabrics. Satra explains, "With DTG, we can currently only print on 100% cotton apparel. Placement can be done anywhere on the garment with the help of different platens. Technology is improving all the time to give accurate colours. A lot of profiling can be done with the help of RIP software."
While digital printing entered the textile arena very recently, with DTG still at 1% of the total textile printing market, Satra says, the acceptance level of digital printing in textile, particularly in the textile markets like Surat, Ludhiana, Tirupur during the last 24 months has been unimaginable. "In commercial printing both traditional and digital will coexist. However, in textile traditional businesses have a very huge impact, digital in textile has disrupted the market. People have changed their approach to business. No one wants to keep an inventory now. It is print-on-demand."

Kantilal with the newly installed machine
Dye-sublimation too has created a huge impact in Surat in the last decade. Consumer preferences and spending habits have been evolving for years, with attention shifting away from brick-and-mortar stores to online retailers. Also, the ongoing coronavirus pandemic has struck another major blow to the traders in Surat. "With the digital print, the textile trade has realised that there is no design limitation now, print whatever you want on-demand," says Satra.
Textile is a complicated substrate, and to print digitally on knitted and woven fabrics involves a process, though in the UK there is an efficient polymerisation process that takes place as printed textiles go through the printer's on-board dryer.
Satra explains the phenomena. "There are many types of inks and technologies used for printing on textile. With the latest pigment inks, one can directly print on various fabrics. But the technology is still improving. I have seen very few people in India using polymerisation technology. I am personally not happy with the quality and cost of the pigment inks. But it is evolving and the future looks bright for pigment inks."
According to Satra, Kornit Digital is one of the world's best suppliers of digital printing machines with pigment inks. "But costing is not feasible in India. I love the machines but cannot have an ROI in India at the moment, I have personally visited the Kornit Digitals factory in Israel as I am very passionate about digital printing on textiles. The scope is unlimited. A lot can be done with digital printing on textiles."
Today with ink sets having moved beyond CMYK to genuine fluorescent pink and fluorescent yellow ink, which is suitable for high fashion sportswear and apparel that requires vivid colour reproduction, the market has opened up. Also in addition to CMYK, there are Light Cyan and Light Magenta inks, which reduce graininess and harsh halftone to improve print quality. Satra says this is especially noticeable in the photographic appearance of blue skies and flesh tones.

Kantilal at a small shop before starting Reliable Xerox Company
Dreaming of print, digitally true
Digital print has been waiting to transform our industry. How do digital firms such as Reliable convey the mantra of "from pixel to output" better? Satra is of the opinion that digital printing gives you the freedom to experiment, sometimes the client doesn't know what they want until we print a sample for them. "They are amazed at the technology and the speed at which things can be printed. The best use of digital printing cannot be seen in India. Very few companies in India are deploying it the way it should be used."
Reliable's mantra is very clear. "Customers should walk out of our office happy and delighted so that they can spread their experience with others who in turn will walk in looking to solve their problem with us.". This is why, Satra and his team, are launching a personalised gifting products web-to-print portal (www.borntogift.com) in February.
Satra's mantra

Three things the digital print providers need to do to ensure a digital print growth strategy ...
One, learn to say – no. Two, do not think of yourself as a printer. Think you are managing a marketing company. And third, understand your costs well, do not undervalue your services.
Challenges and opportunities for commercial printers in Mumbai in the post-Covid world?
I can see only challenges for commercial printers. I feel, if one thinks differently and changes the way they are doing business currently, there is hope. Print firms have to do something new in order to survive. Tough decisions need to be taken.
How many print firms have shuttered down?
I always read and talk about print firms growing, so I have no clue who has shut down.
What do you tell people who tell you ... print is no longer at the centre of the universe?
I do not argue, I just tell them can you imagine the world without print? If they say yes I tell them, can you find your seat in an aeroplane without print, can you make your child gain knowledge without a book, can you drive a vehicle without print, can you get educated without print. The answer is – no. One cannot imagine the world without print.
Jigar Satra - At a glance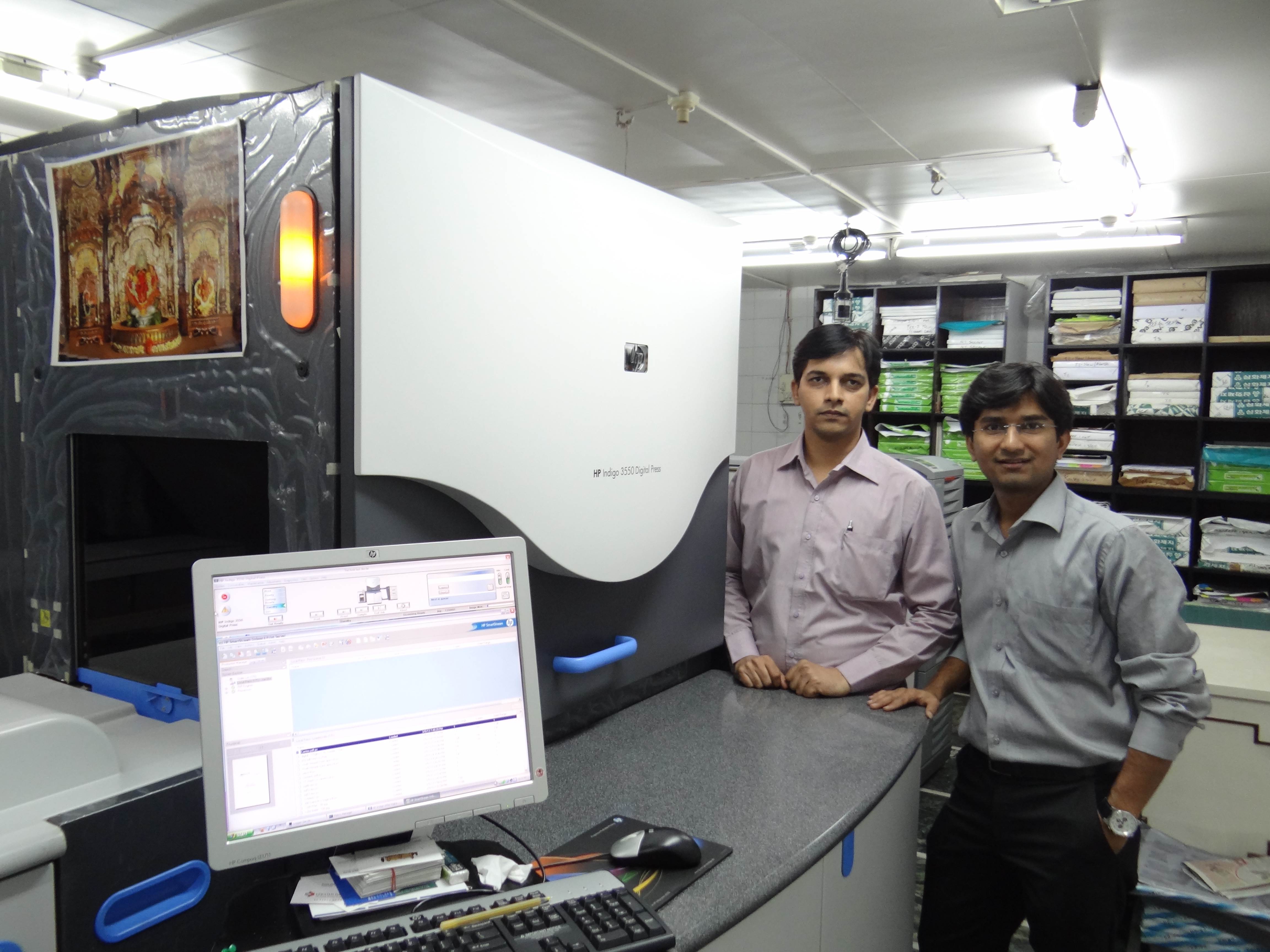 Jigar Satra (r) with Dharmesh Mehta
How do you unwind?
During weekends we go on treks and long drives with my family and friends.

One activity you love?
I love to talk to people. Make new friends.

Once the pandemic is over, where will you vacation?
I am not waiting for the pandemic to get over. I have planned to summit the 20,000 ft peak in Ladakh in June 2022.

A favourite snack that you love to order at Reliable?
Sandwiches.

Favourite book?
Mahabharata by C Rajagopalachari.

Your adda in Mumbai?
Outside Ayubs, Kala Ghoda.

One thing about Reliable no one knows?
The best offset printing and packaging companies in Mumbai rely on us for their digital printing requirements.

Direct printing on fabrics OR transfer papers?
Transfer paper.

One print job you love?
I love printing business cards of famous personalities. Have printed for Sachin Tendulkar, Anil Kumble, Mahesh Bhupathi, Rajkumar Hirani, Anurag Singh Thakur.

One print CEO you would like to invite to Reliable?
Robert Keane, CEO, Cimpress.

One phrase, you utter at least once a day?
I always say this to myself – Keep going.