Huhtamaki commits to carbon-neutral production
Rahul Nene spoke to Rahul Kumar about the company's long-term commitment during the 17th CII Sustainability Summit held in New Delhi. A special WhatPackaging? report
28 Oct 2022 | By Rahul Kumar & WhatPackaging? Team
Rahul Kumar (RK): So, how has the past six months been at Huhtamaki?
Rahul Nene (RN): They've been amazing. At Huhtamaki, we have a strong sustainability programme and are working on some ambitious targets. And, as a sustainability professional, working in the packaging sector brings a lot of value since packaging is an important aspect, when it comes to sustainability.
When it comes to plastic packaging, the regulation is changing in India, and I get to play a key role, both in terms of being a packaging manufacturer, and being a part of the industry bodies where we are working with the regulators to make our voices heard so that the right policies come into work for the value chain. I think it's been fantastic four months.

RK: What has been Huhtamaki's response to the EPR regulation on the ban of single-use plastic?
RN: We do not manufacture the items that are on the list of single-use plastic ban. So, the decision doesn't impact us much. We are into flexible packaging (multilayer plastic). In this sense, the ban does impact us. But it is a part of the overall regulation, and we will have to accept it.
When it comes to the EPR rules, I think it's an important regulation. As per the EPR rules, we have to take certain accountability. We have set up the mechanisms to work with the companies to ensure that an equivalent amount of waste is collected and recycled. We were one of the first few producers in India who have successfully registered under the EPR. It needs a lot of due diligence and data. It went smoothly for us as our processes are digitally enabled, transparent and efficient. So, everything is in place for us.
In the next step, we will have to support our customers and brand members to comply with the sustainability ambitions and targets. For example, brand owners have certain targets for using recycled plastics from 2025. For this, we need to work with our clients so that we can manufacture packaging with recycled plastic. This needs a lot of R&D. Most of our global customers have ambitions to achieve 100% recyclable packaging and we are working to help them meet those targets. Thus, we are the key partner in developing this packaging for them and have two responsibilities. One, ensuring our own liabilities to be 100% compliant, and two, helping our customers to comply with the rules and ambitions.
RK: Sustainability targets goals that you have been fulfilling in the past two years?
RN: In 2019, we have set ourselves high sustainability ambitions for 2030 through which we want to become world-class in all three areas of sustainability: environmental, social and governance. Our ambition is to be the first choice in sustainable packaging solutions.
Among our goals, we want to protect the planet through a systematic approach. Thus, we are actively working towards making our packaging solutions 100% recyclable, reusable or compostable.
Our ambition is to strive for 100% renewable electricity and carbon neutral production with science-based targets for ambitious greenhouse gas (GHG) emissions reduction targets and strong collaboration with our suppliers and business partners. So, all our production units globally will be carbon neutral by 2030 on scope 1 and scope 2 emissions.
Also, our climate targets have been approved by science-based target initiative. Science is saying that by 2050, global average temperature should not go up beyond 1.5 degrees. Our climate targets are in line with this trajectory.
We are working to ensure that all our non-hazardous waste gets recycled correctly and does not go to landfills. Internally, we're working on reducing our own hazardous waste by 2030. We want all our factories to have a water management plan in place.
So, we are working on multiple fronts.
Making our products renewable and recyclable is a massive challenge because we have to maintain functionality. It demands innovation and R&D efforts. We also have to work with own raw material suppliers as well.
RK: What is your sustainable message for millennials?
RN: The role that consumers really need to play when it comes to packaging is its disposal. The leftover package should be clean so that it can be segregated easily. The consumers can enable the entire circular economy in packaging. Right now, this is a challenge. The plastic is thrown everywhere, and it is not segregated.
The second suggestion I would give is to look at the scientific data to decide what is sustainable, because there are many who claim that just by replacing plastic, we will become sustainable. Plastics can be beneficial to the environment if used in the right way within the circular economy space.
Rahul Nene: There are several challenges when it comes to recycling plastic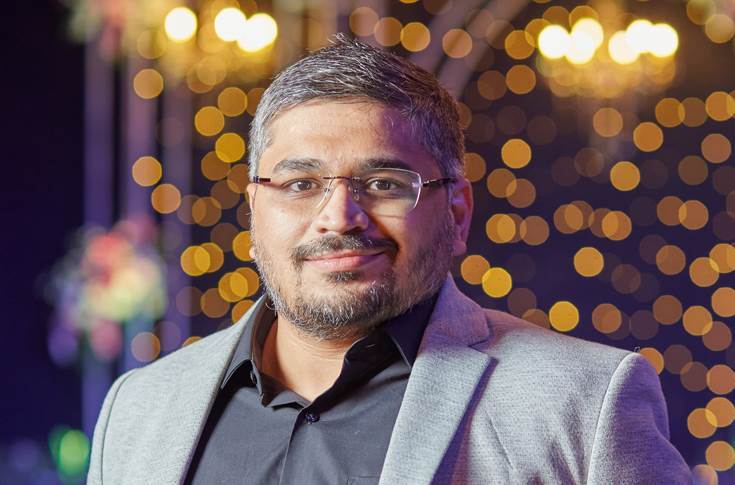 Nene: By 2030, Huhtamaki wants to make all its products 100% recyclable
Albert Einstein once said, if you have a problem, go deeper into nature and you will understand things better. And when it comes to circular economy, Rahul Nene of Huhtamaki India, takes inspiration from this quote. "Because, if you look at nature, you're talking about sustainability, you are talking about sustaining life on this planet, and if something has to sustain on this planet, it has to have circularity," Nene said during his speech at the 17th CII Sustainability Summit.
Regarding sustainability in the context of flexible packaging, Nene said more or less 70% of the products we use in our everyday life come under flexible packaging. However, the problem in India is that we don't have segregation, collection, cleaning and recycling structures in the current infrastructure, an infrastructure which is economically viable, and brings back the material back into the packaging value chain.
He said the attitude right now is that replacing plastic will bring about sustainability, and according to Nene, this is not the right approach. "Plastics have proven beneficial to sustainably package multiple applications. What is not present is how we can add circularity to it and maybe produce sustainable plastic," he said.
However, Nene agreed that there are several challenges when it comes to recycling plastic and adding circularity to it.
The first challenge is the material itself. There are different types of plastics, and it adds to the difficulty in recycling.
Second, the recycling infrastructure in our country is mechanical recycling which has the limitation of taking in spoilt packaging as input. Additionally, our plastic waste is so huge at this point that it's a challenge to bring it back to the value chain.
The third point is consumer awareness around segregation of waste. Nene said in the last five years, the awareness has increased a lot, but we still don't have sufficient mechanisms at source to ensure that the packaging is returned to the value chain.
The last issue is the logistics from consumer to the recycling plant, and from the recycling plant to the manufacturers. Nene said the logistics is not feasible economically.
Nene said due to these challenges, there are issues in terms of achieving circularity when it comes to packaging in India.
"As one of the key stakeholders in the solution, we are trying to ensure that the circular economy comes to action in the days to come. One of the biggest challenges we have is the multilayer plastic. So, most of our R&D efforts are going into designing mono-material packaging without compromising on quality, functionality, and customer satisfaction," he said. "By 2030, we want to make all our products 100% recyclable, reusable or compostable. That's the key focus for us."
Another aspect of the circular economy is closing the loop. So, when plastic is successfully recycled, there is a need to find a use for the recycled material. Nene said Huhtamaki India is working towards improving this situation. Huhtamaki has setup an MLP recycling plant which collects post-consumer multi-layered plastic waste and recycles it. Huhtamaki has also invested in a river cleanup project in the Mithi river of Mumbai which collects marine litter from the river and enables its recycling.