How Dev Print & Pack is handling the packaging boom - The Noel D'Cunha Sunday Column
Samir Patel started his print career with a screen printing unit in 2004. Patel says that print is the only business that one can start with an investment of as little as Rs 1,000 and scale it up to as big as one can get. "I did not have enough funds when I started out, but today we have invested more than Rs 35-crore in the two plants in Santej."

Read on...
06 Feb 2022 | By Noel D'Cunha
Dev Print & Pack (DPPL) has added a brand new Bobst Expertfold 110 A2 to its kit line-up as it continues its investment drive that has so far seen the Ahmedabad-based packaging specialist invest "close to nine figures" in the last three years.
The investment includes a new plant adjacent to its first plant in Santej, a Heidelberg CD 102 LX fitted with Alpna UV kit, a pre-owned Bobst SP 102 die-cutter, and a corrugation line with a servo-based laminator.
"20% of the print jobs we do does not require finishing, but the rest does. Anybody can do the 20% print jobs, but we have a reputation for the quality of our carton finishes, which is a good 80%. This investment, which also has the ability to produce 4- and 6-corner cartons, both for mono cartons as well as corrugation cartons, will enable us to build on the strength with increased capacity, quality and speed," says Samir Patel, the director of DPPL. "The new Bobst equipment will also be faster for makereadies and will enable us to optimise settings for repeat print runs."
Patel started the packaging business in 2016, 12 years after he set up Dev Offset, which specialised in printing commercial and wedding cards. It operates with the precinct of Ahmedabad city.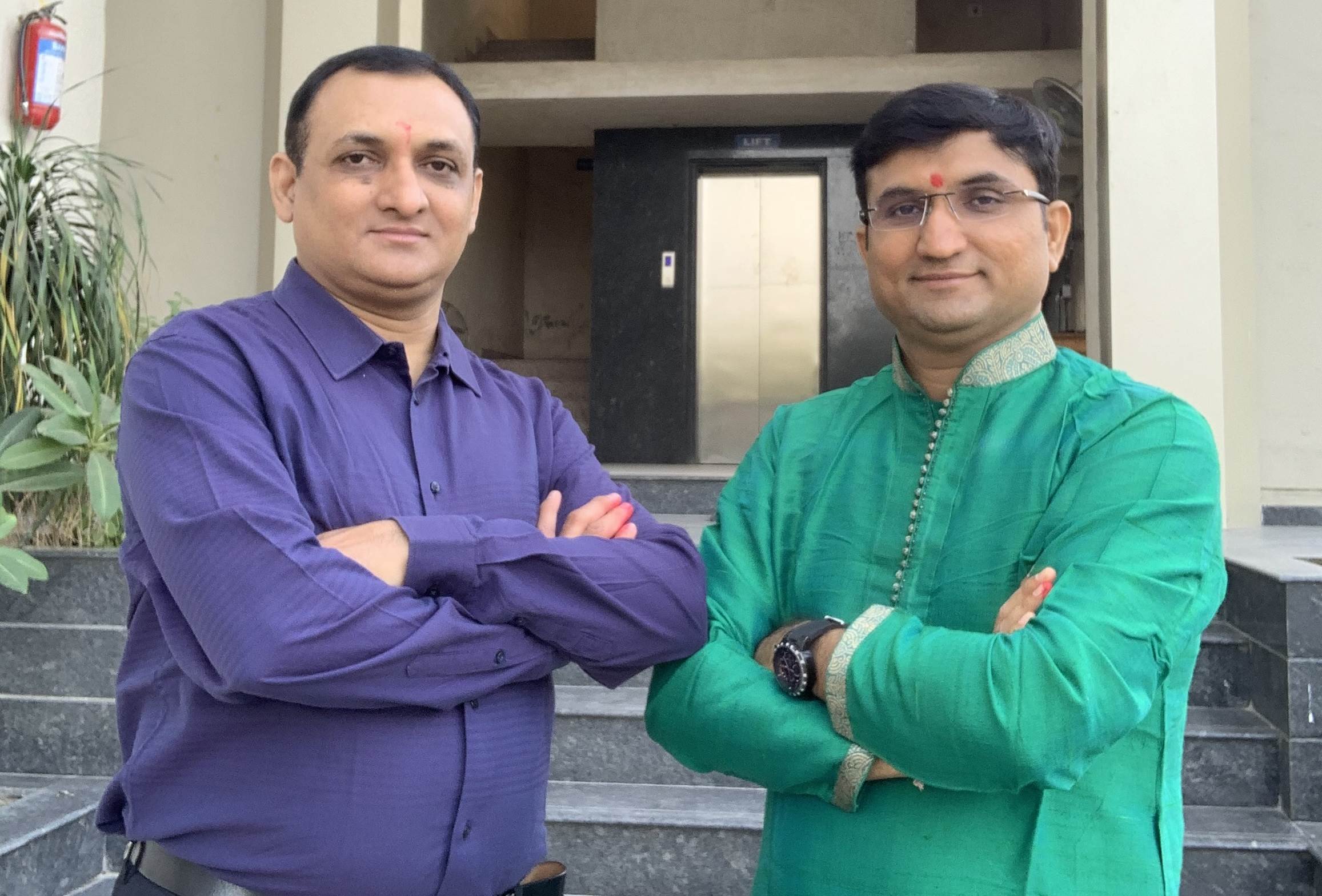 Patel (r) with his elder brother, Chirag at the second plant in Santej
The first packaging plant set up in 2016, operates from a 45,000 sqft premises which houses a Heidelberg CD 102 six-colour plus coater and is fitted with intradeck IST UV system, Bobst Novacut 106E die cutter and Bobst Visionfold 110A-2 folder gluer with HHS cold glue and hotmelt gluing as well as a laminating machine 106 GMF with a hot-knife from Shanghai Tiancen Machinery Manufacturing.
According to Patel, the company began with a conversion of around 60-70 tonnes per month in January 2017. In eight months that number went up to around 140-150 tonnes. "We have been growing at a good clip and are today converting around 450 tonnes of paper, paperboard and kraft paper."
The expansion
The second plant, a 20,000 sqft building, houses all the machinery made in the new investments. DPPL specialises in mono carton packaging for the pharma and FMCG segments, as well as e- and g-flute corrugation packaging. The second plant is used to produce corrugation packaging.

First plant at Santej (45,000 sqft)
A Smithers Pira report, The Future of Digital Print for Packaging to 2019, said that conversion of corrugated board was 90 million tonnes in 2013 and would increase by over 22 million tonnes by 2019. The majority of print will remain analogue flexo and offset. Patel invested in offset technology. "The last 24 months has been a productive period for DPPL. We have seen significant growth of 30% in the packaging business. That said, our commercial side of the business, particularly the wedding card job segment, took a hit. However, that loss has been offset by the growth in the packaging business. In April 2020, we invested in the pre-owned Heidelberg CD 102 LX fitted with Alpna UV kit, a Bobst SP 102 kit and a corrugation line too. It was a good Rs 7- to Rs 8-crore investment then, and perhaps the right one, considering the growth we have seen," says Patel.
The Rs 28-crore turnover DPPL employs around 125 people including office staff and excluding contract employees. The contract employees are hired as and when required. Besides, the press and finishing equipment, the company is equipped with a pre-press unit complete with Kodak Trendsetter CTP, Iecho sample-maker, and Konica Minolta AccurioPress 2060 digital press.
A desperate move to packaging
Patel is aware that the lack of print jobs in the commercial segment is driving those players to venture into packaging. But he is unperturbed.
Venturing into packaging needs certain changes, in infrastructure and in the mindset. Patel says, "For one, a new set-up will need a slew of equipment that is based on client and regulatory audit, and two, one has to be prepared to face a lot of rejections. So a need for mindset change."

Patel with Heidelberg CD 102 six-colour press
The impact of the pandemic has resulted in a major drop-off in commercial print jobs, and in some way, the move away from plastic, for people with smaller requirements want paper-based products. "When the market grows one thing is certain – supply will increase. However, the new players might take time to find big customers, but will definitely make business with small jobs. That might impact us in terms of competition. But I believe, this is where quality print and finishing, and the reputation to deliver in time will come into play. And we can do millions of cartons as well. That's where lies our edge."
Patel also believes that the competition from new players is temporary. "The commercial print market may be down right now, and we know it. But considering India's population and market, I am sure, it will bounce back."
Patel, who is assisted by his brother Chirag, started with a screen printing unit. He concluded on an optimistic note and a belief that print is the only business that one can start with an investment of as little as Rs 1,000 and scale it up to as big as one can get. "I did not have enough funds when I started out, but today we have invested more than Rs 35-crore in the two plants at Santej plants."
The Bobst Expertfold tech-specs

Patel with brand new Expertfold 110 A2
The Bobst Expertfold can produce cartons at speed of 450 m/min, and is equipped to run speciality 4- and 6-corner boxes and microflute corrugated cartons. Bobst Expertfold is a future-ready machine, capable of retrofitting Accucheck and Accubraille systems. The Accucheck is a print inspection system fitted inline in the folder-gluer. It can inspect and eject various print defects such as colour variations, Print to cut registration, missing texts, scratches, damages to boxes. The Accubraille is a rotary embossing braille system, which can produce up to 85,000 B/hr and a job changeover in 5-7 mins.