For Adeera Packaging, sky's the limit
Sushant Gaur, founder and CEO, Adeera Packaging tells Aultrin Vijay about the company's expansion plans and strategies to cope with paper bag packaging
07 Jan 2022 | By Aultrin Vijay
Adeera Packaging is one of the largest paper bags and pouches manufacturers and suppliers in India. Founded by Sushant Gaur in 2012 as Urja Packaging, the company was rebranded and registered as Adeera Packaging in 2019 after partnering with its biggest client Atulya Bhatia from Cartonwala. Today, including Gaur, it has three co-founders – Atulya Bhatia and Ashish Agarwal (both directors of Adeera Packaging).

The company produces and supplies premium quality paper bags, pouches, and carry bags for retail outlets, pharmacies, grocery outlets, and home delivery services at its 60,000 sqft of manufacturing facility. Additionally, it also manufactures linen packaging, tassel bags, paper packaging for medicinal gauze, flour, tea, tobacco and more.

The company, which started with a 120 MT manufacturing capacity in V-bottom paper bags, has now expanded significantly with an annual manufacturing output of 4,800 MT (1.5 million pouches and bags in a day) of a diverse range of paper packaging bags and materials. It caters to domestic clients across more than 30,000 pin codes in India with doorstep delivery, adhering to stringent purchase order timeline protocols.

According to Adeera, it has one of the largest capacities in India for manufacturing of V bottom paper bags and by March 2022, "Adeera will have one of the largest factories for paper SOS bags". Today, it manufactures more than 52 million paper bags per month, which converts to "replacing 20 plastic bags per second".

Currently, Adeera has five factories in India, all of which are multi-colour printing (up to four colours) and manufacturing units producing eco-friendly packaging material. The company is gearing up to further expand its manufacturing and distribution operations, by setting up more facilities and diversifying its client base across multiple domains. Gaur says, "We are exploring setting up a manufacturing unit in the USA and are also exploring taking over a plant in Africa."

In an interview with WhatPackaging?, Gaur tells Aultrin Vijay about the latest trends in packaging, paperboard price hikes, role of brands in responsible packaging, the way forward, and more. Excerpts from the interview:

Aultrin Vijay (AV): What changes has Adeera brought and likely to bring in view of its expansion plans?
Sushant Gaur (SG): Adeera is working to make the world environment-friendly by promoting bags made from recycled paper or agro-waste-based paper. Over 130 countries across the world have pledged to bring an end to single use plastic by 2030; unless there is enough manufacturing of sustainable replacements, this ban can never be successful.

AV: Adeera has bet big on sustainability. What are the key initiatives that Adeera has adopted over the years?
SG: We have committed to use paper from sustainable and traceable sources; our inks are all water-based and adhesives are food-grade-starch based. We use 100% plastic-free water and oil barrier coating, which is also heat sealable. In future, we would be working towards developing soya-based inks.
AV: Adeera delivers to more than 30,000 pincodes. What measures have Adeera taken to reduce the carbon footprint in its supply chain?
SG: Our deliveries are done on a relay model where the driver of the vehicle does not spend more than 4-5 hours at a stretch and not more than 12 hours in a day. This reduces road accidents and ensures the trucks are constantly moving. This reduces the delivery time by 40% on long routes and makes delivery timelines more predictable and reliable. Due to the guaranteed five-day supplies in most locations, our clients now no longer take delivery in their DC, but ask us to directly supply to their stores. This decreases the carbon footprint by eradicating the need for a large warehouse and removes the need for re-shipping.

AV: Brands are also betting big on sustainable packaging. How is Adeera helping its customers in this shift?
SG: Adeera was the first paper bag manufacturer to have a plastic-free, non-wax water barrier coating, which was also heat sealable. We spent a lot of resources to develop this and it is now a very successful product for us. We also make aluminium-lined paper bags, which replace the paper stand-up pouches that have a layer of PE coating. Our products use no plastic anywhere.

AV: Should brands be more focused on responsible packaging?
SG: Self-regulation is better than enforcement. Brands must realise that their customers care about what they are doing for the environment.

AV: Could you please enlighten us on how brands are moving towards sustainable packaging? What packaging solutions are mostly preferred?
SG: International brands are ahead on sustainable initiatives. They are not only looking to reduce their carbon footprint, but also going into the minutia of recycling by demanding a minimum of 40% post-consumer waste in the paper they use. Indian brands are catching up fast; Myntra was one of the first eCommerce players in the world to move to paper courier bags. Brands are demanding usage of PE-coating-free paper for cups, compostable plastic for garbage bags and a multitude of other initiatives are being done to be more environmentally responsible.
AV: Biodegradable packaging and inks have been gaining traction lately. How effective is it when compared to traditional packaging? Are these suitable for segments such as food and beverage where migration is a critical factor, or is there still more to be done?
SG: Biodegradable plastic is banned in India, only compostable plastic is allowed. Compostable plastic is an amazing product made from corn starch, however, the process to check the purity of compostable bags is very expensive and time consuming. Companies in India need to keep a check on what they are actually using. Water-based inks have become the norm in India. We should now start promoting soy-based inks, too.

There is a lot of research going on to indigenously make pulp-moulded bottles for liquids. I think such research should be promoted in any manner possible. GST rates are the same for plastic and paper products; I think the government should incentivise the usage of environmentally friendly products in any way possible.
AV: How's the business during the pandemic? How was it before?
SG: Paper packaging industry has seen a very big push during the pandemic with increasing demand for food, grocery and pharmaceuticals to be home-delivered. Overseas demand has also grown multi-fold leading to a shortage of good quality paper.

AV: Paper and paperboard prices have been increasing almost every day. How has this affected your business operations?
SG: Due to the global shortage of good quality, light grammage paper, most of our customers have acquiesced to our price increases. Everyone understands the issues faced by our industry – container shortage, shipping delays, paper raw material being unavailable and more.

AV: As a paper/paperboard customer, what challenges are you facing currently (when compared to the good old days)?
SG: Even though customers are supporting the price increases, sometimes the process for getting price revisions takes seven days. By then, the price goes up further. This is the first-time spot pricing has come to paper. Earlier, we used to maintain no stocks, our mills would provide us daily deliveries and in turn we would dispatch our FG the same day. Now, due to delays, shortages, our working capital requirements have shot up.

AV: India has relatively good quantities of paper production. Still, paper/paperboard prices are high. What could be the possible reasons?
SG: India gets bulk of its imported paper waste from the USA. Shipping rates from the USA were between USD 1,600 to USD 2,000 pre-pandemic and are currently at USD 15,000-18,000. A 40 ft container can have 25 tonnes of paper waste, which implies a cost increase of Rs 48/kg on imported raw material. Most paper mills, however, use domestic waste. With closure of factories during lockdown, the supply of local paper waste dried up and the prices of domestic paper waste shot up from Rs 14 to Rs 26 per kg and have not yet come down.

AV: Are the reasons valid or do you think paper manufacturers are making use of the situation to jack up prices?
SG: Most Indian mills make profits cyclically and the industry has a very high NPA rate. I don't think it's too bad for them to make good profits. I think the end customer needs to make prices sustainable for the mills because currently, there is a severe shortage of good quality paper. Unless large players have the motivation to grow their production lines, we will lose our global competitive advantage on recycled paper to some other country leading to loss of linked businesses.

There are less than 30 Indian mills with turnover of more than Rs 100 crores that are listed on the BSE. Only three mills in India have sales of more than Rs 1,000 crores. The largest mill in the world has sales worth Rs 1.11-lakh crores.

Although West Rock has manufactured other packaging goods, it has acquired those businesses through active M&A activities, which is a mark of an evolved sustainable market.
AV: What percentage of the price hike cost is passed on to customers? What are their problems associated with this?
SG: Most of our clients are giving us monthly price revisions; unfortunately, paper prices are going up faster than once a month. Since paper prices have gone up by 30%, our working capital requirements have risen accordingly, and traditional methods of financing do not allow for such increases mid-year.

AV: Business is not as usual during these troubled times. How has Adeera managed to cope? Could you give us some insights?
SG: Since we have gotten price hikes, business has mostly been regular. Our supportive HR policies during the first lockdown helped us retain all our labour during the second lockdown. Due to demand going up, we have done the CAPEX required to increase our capacity by 100% and we will be continuing our four-year record of 100% YoY growth this year as well.

AV: Various eCommerce giants have vowed to move away from plastic and opt for sustainable alternatives. How is Adeera fairing in this segment?
SG: We are in the process of setting up a 100-tonne-per-month output unit for eCommerce paper packaging in South India. We will be manufacturing re-sealable paper courier bags to our customers by doing proprietary modifications to the machines.

AV: How will online marketplaces boost the need for packaging?
SG: Most of the demand for 40+ BF paper is driven by online marketplaces. This is a very good step forward to develop better quality paper in India. Although the demand is such that there is a shortage of that paper now, in six months, many new production lines will start to make this paper. We will then be truly giving competition to virgin kraft paper while using sustainable paper.

AV: Adeera is expanding operations in India. Any exclusive information that you'd like to share with us?
SG: We are looking to expand by doing joint-ventures, contract manufacturing deals, and backward and forward integration with new and current players in the paper bag industry. We have global ambitions, which we wish to see to fruition in the next four years.

AV: Your outlook for 2022. And the years to come.
SG: We have a target of 250% inorganic growth in 2022-23, the seeds of which have been sown. Our target is to create a globally relevant company in paper bags by doing forward, backward and side-ways integration.
Rapid fire with Sushant Gaur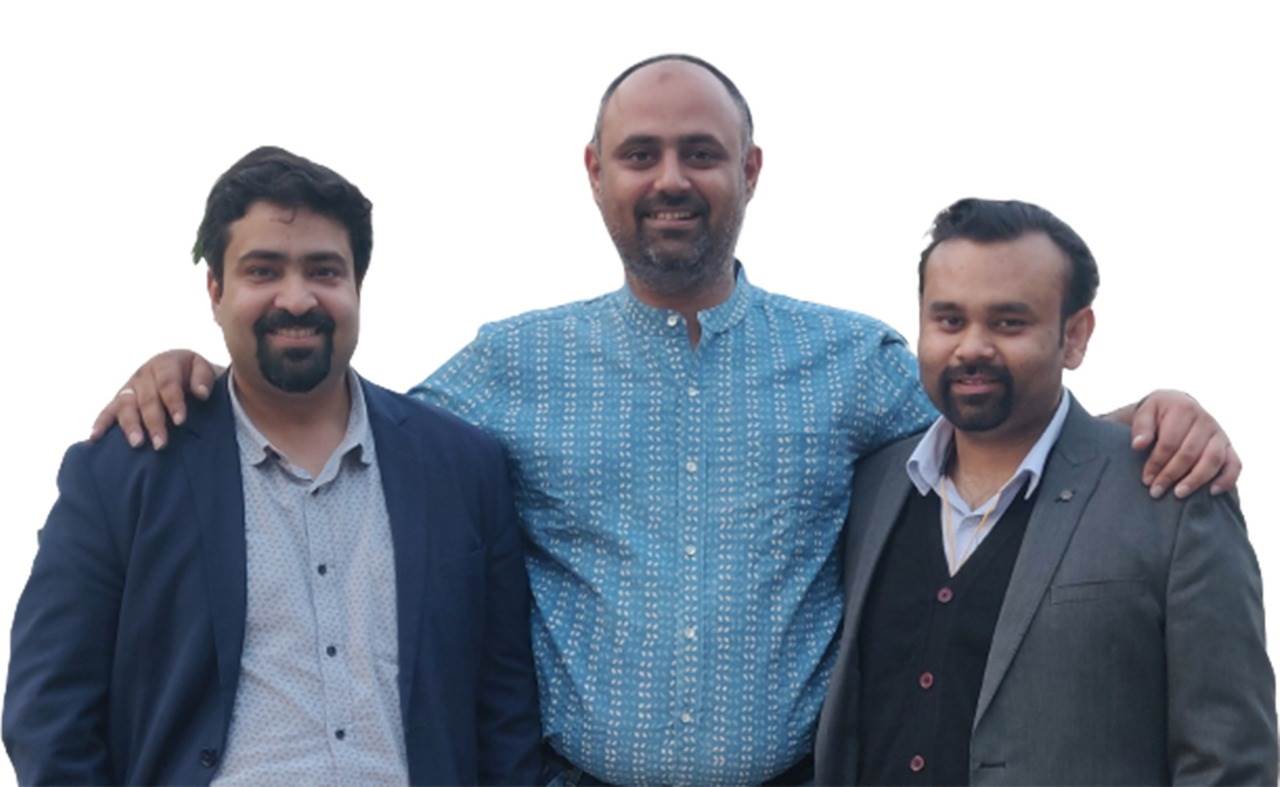 (l-r) Sushant Gaur with Atulya Bhatia and Ashish Agarwal
One packaging job that you're proud of…
A very large hospital required paper bags for internal-hospital usage. We got the purchase order, manufactured the material and air-shipped the bags within 48 hours. We are proud of that.

A packaging that inspired you the most…
In Kenya, atta is packed in paper bags; that motivates us to see paper bags being used for all FMCG goods.

One thing that attracts you the most when you see a pack…
The manufacturer's name.

Your favourite book/s…
Blue Ocean Strategy, Zero to One, and Art of War.

A place that gives you new ideas …
In front of my whiteboard.

Your favourite project at Adeera
Developing the technology required to make paper courier bags returnable using traditional machines.