Flexiprint - the flexo pearl in the Indian Ocean
For this Sri Lankan company's founder, Sathis Abeywickrama, going flexo was the 'khela hobe' moment in 1993, when he decided to take the plunge into the tea tags and envelope making business. He knew that flexo was the way to go. His son, Isuru continues to play by the same rulebook
12 Apr 2021 | By PrintWeek Team
Flexiprint was started by Sathis Abeywickrama in 1994. Its emergence was necessary for the market at that point of time. There were few companies producing tags and labels in Sri Lanka using gravure technology, giving customers very little choice with timely supplies, quality or even cost. A few of the tea manufacturers had even begun contemplating to import tags and envelopes which wasn't good for the local economy of Sri Lanka. "The chairman of a prominent tea company approached my father, who has been in the industry since the late 70s, to consider starting a new printing company. After some deliberation, he agreed, but with the condition that it will be a flexo plant, not gravure." says Isuru Abeywickrama, director, Flexiprint.

Sathis Abeywickrama is a pioneer for flexo in Sri Lanka. "My father started small, with a Propheteer flexo press. The tags and envelopes produced on flexo were quickly accepted by the customers. Once Flexiprint started winning awards like the Asian Flexographic Technical Association (AFTA) and the Cyrel Grand Prix-Asia Pacific, it started getting greater recognition. Bit by bit, we became market leaders," says Isuru.

The flexo way
Isuru says, his father saw growth in flexo due to higher cylinder costs and lead times of gravure printing. "In flexo, you had so many advantages, even though it was narrow-web. And the best thing was, with flexo, you could go water-based and have very quick platemaking time."

Flexo it was, and while adding new presses, Flexiprint also strengthened it pre-press facility. Initially, the pre-press was outsourced, but it did bring in a conventional platemaking system in-house. It was all solvent. The effluent was higher, was harmful to both the people and the environment.

The 95,000 sqft Flexiprint plant in Flinth Commercial Park in Ranmuthugala Estate, Kadawatha, Sri Lanka
Flexiprint introduced water-based inks to Sri Lanka, tying up with global major Sun Chemicals. The company also invested in in-house platemaking. "The customers started coming to us because of the quality and more importantly the time in which we could deliver. In those days, most of the gravure cylinders were imported, and it took time for them to come in. Our advantage was that we had an in-house platemaking facility which gave us competitive edge in the market," explains Isuru, adding, "we could also offer a competitive price point and give the same gravure print quality."

"My father always wanted to make sure that we leave the smallest environment footprint." says Isuru. In 2013, Flexiprint installed the DuPont Cyrel Fast 1000 TD thermal flexographic platemaking system along with a Screen imager. "It essentially removed the entire solvent output and that became a huge saving in terms of water, electricity and time. See, we were spending close to 4 to 5 hours on a single job plates, and with digital and Fast we could do plates for multiple jobs within an hour, so that improved our workflow and productivity by leaps and bounds."

Today, Flexiprint produces around 85 to 100 million tags a day as compared to 20 to 30 million it did with the old system 12 years ago. They have also diversified into label production, which is also growing fast. Isuru explains how much the pre-press helped when they moved in with the thermal system. "It continues to help us meeting more regulatory norms. We are an FSSC (Food Safety System Certification) certified company but also need to adhere to other regulatory requirements. With the DuPont thermal plate processing system, it is quite easy."

In 2018, Flexiprint moved to its new 95,000 sqft plant in Flinth Commercial Park in Ranmuthugala Estate, Kadawatha, to spread its wings. The new plant was inaugurated by the country's then Prime Minister Ranil Wickremesinghe, an affirmation of Flexiprint's contribution to the Sri Lankan tea industry.
PrintUSA
PrintUSA specialises in the paperboard carton business. It was started in 1989 by Sathis Abeywickrama, who later established Flexiprint. Presently it has 3 multi-colour Heidelberg offset presses, [six-colour SpeedMaster XL 75, four-colour SM 74, two-colour PrintMaster]. Both the companies cater to the same customer portfolio providing package service – a bouquet of tea tags, envelopes and cartons.

"Setting up the new plant was a smart and logical move for the company with the volume of tea tags and envelopes, and labels work that was too big to be managed in a 35,000 sqft space located at Dematagoda, Sri Lanka where the team could not expand, get new machinery or technology, so much so that it used to be difficult to even move our material." says Isuru.

The new plant houses a battery of eight Bobst flexo presses, two Martin Automatic MBS unwind/splicer and six LRD rewinders, a DuPont Cyrel Fast 1000 TD flexographic platemaking system, Screen imager, an ink kitchen among other equipment.

Automation the key
When Flexiprint moved to the new plant, the bar of ambition for the new facility was already set high. The company deals in long-runs with very few low MOQ orders. For example, there are some tea tags and envelopes orders with volumes in the region of 240 million. "We invested in technology to meet these requirements by adding the Martin Automatic systems on our presses. Both our tea tags, envelopes and the labels businesses have been growing rapidly thanks to the technologies we have chosen." says Isuru.
Human resource strength
"My father has always been a strong believer in human relationships and that has extended to his employees as well. Of the 285 permanent staff (total 320+ including temporary/contract work staff), close to 20% of our workforce has been with the business for over 15 years and my father knows each one of them personally. This has been one key reason for Flexiprint's success."

Covid-19 hit Sri Lanka too. There was lockdown, restrictions on movement and red zones.

"Printing had to survive because, whether we like it or not, it is a huge part of our industry. In times of stress, people drink more tea, whether they are in the office or at home. So, we had to keep on working. Believe it or not, during pandemic our order booking rose by 28%. To the credit of our government, we were given permission to carry on with our work, with all due precautions, including those for the employees." says Isuru.

Flexiprint did not layoff any employees during lockdown nor did people leave Flexiprint during that period. "So as soon as the lockdown was lifted everybody started coming back. We don't like to compare ourselves with others, but I would say we are in a much better position post-lockdown because the people are with us."
DuPont's Take
"Sathis Abeywickrema is an institution in Sri Lanka. Flexiprint is a reflection of this strong personality – a very respectful workplace, sacrosanct commitments, global outlook to invest in new technologies with environmental consciousness and Fast in adapting."

The company did not have to make any investment to meet the additional workload because it already had the capacity which it could utilise. But there's one special thing about its workforce. "One employee can take care of another employee's job in the same department. In times of crisis like this, if one person must stay home, the other who is present can take care of the work. He may not be as good but can get the job done. It's a reputation we have built over the last 20 years," Isuru says with great conviction.

What's next?
Flexiprint is looking to invest in short-run tea tags and envelopes. "We are looking at digital very closely."

In another capital investment, Flexiprint will be looking for a post-press kit for label – blanking machines for tags production, a requirement for some customers of the company.

The thing close to Isuru's heart is – waste management. "With Cyrel system, I noticed that the plates that we used lasted longer. So, we don't have as much waste to deal with per month as far as plates are concerned. We have the Matho system from Germany where all the waste cut-offs and off-cuts are automatically sucked through a pneumatic system and gets automatically bailed. No one else in Sri Lanka has it right now," says Isuru.

Besides, Flexiprint also engages in growing trees. Currently, it nurtures 3,800 timber trees in an estate down south in Colombo. "My father grows a forest canopy and he keeps on growing every year. We work with the Halcyon group that is into carbon trading. And it's advising us on geo-tagging the trees and calculating the carbon volume that we output as well as the oxygen volume and trades carbon points for us. That's an ongoing project that I'm really passionate about," concludes Isuru.?
FLEXIPRINT STAT FILE
Established in 1994
Founder and director: Sathis Abeywickrama. Son Isuru Abeywickrama joined the company in 2008
Location Flinth Commercial Park in Ranmuthugala Estate, Kadawatha in Sri Lanka
Speciality Tea tags, envelopes and labels
Equipment-
Converting: Eight Bobst flexo presses, two Martin Automatic MBS unwind/splicer and six LRD rewinders
Pre-press: DuPont Cyrel Fast 1000 TD flexographic platemaking system, Screen Flexo CTP
Employees 320+ (including 285 permanent staff)
Accolades for Flexiprint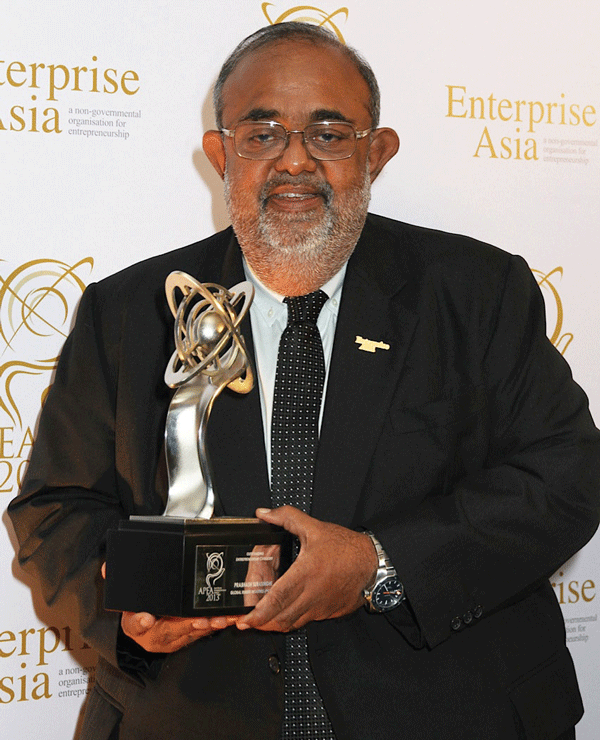 Flexiprint has won awards from the Asian Label Association and the Asian Flexographic Technical Association from 2010 to 2016, winning mostly gold and silver and a rare bronze.
It also has won the Presidential Export Awards from 2010 to 2013. And again in 2017 and 2018, after which it stopped sending its entry for the award.
Sathis Abeywickrama, the founder of Flexiprint, was presented the Lifetime Achievement Award for printing excellence in Sri Lanka. He is one of the only two persons who have received this award.
---
FLEXO IN THE FAST LANE: CASE STUDY POWERED BY DUPONT