20% rise in counterfeiting incidents in three years
As the State of Counterfeiting in India –2021 report highlights, despite brands becoming aware of the latest anti-counterfeiting solutions, a lot needs to be done to fight this menace. Dibyajyoti Sarma of WhatPackaging? investigates
17 Sep 2021 | By WhatPackaging? Team
As it appears, counterfeiters are becoming smarter and taking their work seriously. Today, counterfeit activities take place throughout the year, which means counterfeiting is no more a causal act for the perpetrators. For instance, even during the Covid-19 lockdown, more than 30 incidents were reported during March-April 2020 that involved making sub-standard PPE kits and related items. According to the Delhi Police data, 155 people were arrested in 147 cases under the Excise Act and 18,556 bottles of liquor were recovered in the first two weeks of April during the lockdown.

This is revealed in the report, The State of Counterfeiting in India – 2021, released by the Authentication Solution Providers' Association (ASPA), a self-regulated industry body of anti-counterfeiting and traceability solutions providers.

The report studies and highlights the trends of counterfeiting incidents reported in India for the period January 2018 to December 2020, providing special insight on 2020 incidents. According to the report, counterfeiting incidents have risen steadily and rapidly in the last few years. On an average the increase in counterfeiting incidents being reported in the last three years has been 20% (from January 2018 to December 2020). In 2020, these reported incidents have increased by 17% as compared to 2019. It is especially alarming for India, because, globally, it now stands at 3.3% of global trade (according to the OECD report).

The top five sectors, which have been affected the most are alcohol, tobacco, FMCG packaged goods, currency and pharmaceuticals. Incidents reported in these sectors constitute more than 84% of total counterfeit incidents reported. There was a sharp spike in crimes related to illicit liquor, smuggling of tobacco products and pharmaceutical products especially PPE kits and sanitisers during the Covid-19 lockdown.

Chander Shekhar Jeena, secretary, Authentication Solution Providers' Association
States including Uttar Pradesh, Rajasthan, Madhya Pradesh, Jharkhand, Haryana, Bihar, Punjab, West Bengal, Maharashtra and Odisha are among the top 10 states, which need urgent attention in respect to counterfeit incidents requiring more detailed analysis of the issue followed by stringent anti-counterfeiting policy mechanisms and implementations.

Tobacco products face the highest jump in 2020 over 2019 and 2018. According to a query response raised in the Lok Sabha, Indian authorities seized illegally imported cigarettes worth Rs 1,772-crore between April 2020 and February 2021. That compares with seizures worth Rs 187.6-crore in the previous financial year.

Counterfeiting activities are not limited to high-end luxury items. Common day-to-day items including cumin seeds, mustard cooking oil, ghee, hair oil, soaps, baby care and medicine are increasingly reported counterfeited by criminals.
The pattern of the crime
The pandemic has shown that criminals quickly adapt to the new trade environment and find ways to infiltrate legitimate supply chains with counterfeit and often dangerous products. Professional fraudsters are now using the latest manufacturing and printing technologies to duplicate finishes, print boxes, labels, codes, and packaging that mimics genuine products perfectly.
Fakes are almost undetectable to an average consumer. The increasing incidents of frauds such as diversion, counterfeiting and black marketing of medicines and other essential items are further adding more challenges for our healthcare professionals already exhausted due to shortage of manpower.

But why this rise in incidents? Speaking to PrintWeek, Chander Shekhar Jeena, secretary, ASPA explains, "There are various reasons, including no specific legislation to address counterfeiting issue, challenges in enforcement and execution, and non-adoption of technologies leading to identification and clarity on regulations.

Jeena says, while India has a robust legal framework for combating counterfeiting, a lot still needs to be done at various stakeholders' levels. "As counterfeiters are getting smarter, they can imitate the packaging to a great extent. Many times, in absence of anti-counterfeiting technologies, it becomes difficult for the law enforcement officials to identify the difference between genuine and fake, which results in weak FIR and loopholes in evidence. Further, it has been noticed that the adoption of authentication and traceability solutions is exceptionally low in our country in absence of clear regulations.
For example, in industries like pharma, tobacco and food, we are yet to implement global authentication and traceability practices and regulations. While the industry is providing serialisation solutions for export products, we are yet to implement these for the domestic
market," he says.
Anti-counterfeiting solutions
Jeena agrees that today more brands are becoming aware and are adopting anti-counterfeiting solutions to protect their brands and products, but he believes a lot more needs to be done.

He suggests: "Both physical and digital solutions are available for application, and it has been found that the best strategy is to adopt a combination of physical and digital solutions – phygital. Phygital is the way for the
future for protecting products and brands. Plus, without widespread awareness in consumers and a positive impact on consumer buying behaviour, the circle is incomplete. Technologies, solutions, and innovations exist to build a strong phygital anti-counterfeiting infrastructure and we need to engage consumers' participation in authentication."

He stresses that beside the brand activities, the fight against counterfeiting needs customers who consciously opt to buy packaged products, are habitually careful of doing simple checks to ensure that the product is not a fake and are prompt to report a fake when they come across it.

And what can packaging converters do in this? Jeena says the pandemic has reshaped the packaging industry. There are challenges for them to address issues such as sustainability, hygiene, digital engagement with the rise of eCommerce, rapidly changing consumer behaviour, more regional supply chain needs and speedier digitisation of the value chain.

"Adopting authentication and traceability solutions will support packaging convertors in these functions," he explains. "Every product category has its own requirements and challenges for packaging. Nanotechnology, authentication, anti-theft labels, big data, smart tags, mobile tools, apps, artificial intelligence, the internet of things – there is an incredibly diverse range of effective tools that can be employed but identifying specific threats at different stages of the supply chain is crucial in implementing the right smart solution for the task," he explains.
The making of the report
In the last few years, ASPA has built various tools and engagement programmes to achieve its aims. This report is amongst one of them. This report has been made by methodically monitoring and collating news from leading English and vernacular print and digital media across the country.

The database for this report is available at the Counterfeit News Repository (counterfeitrepository.com), which we launched in 2018. This portal is a single-stop source for all counterfeiting incidents reported in India. The information shared at the portal is all statistical and has been compiled from third-party sources.

Jeena says the purpose of the report is to provide insight to all stakeholders (including brand owners and government authorities) to deepen their understanding of counterfeiting activities and help policymakers to formulate stronger strategies and policies to fight this menace.
What is ASPA?
Established in 1998, ASPA is a non-profit organisation that works towards building a world-class environment that supports the advancement of authentication ecosystems in India against counterfeiting activity and illicit economy. ASPA works on four key areas — awareness; advocacy (industry partnership); research and innovation.
The member companies provide all kinds of physical and digital authentication technologies, solutions and systems present across the globe and committed to support Made in India product manufacturers in securing them. As an industry body of authentication solutions providers, it encourages its members to adopt best practices, standards, and advanced use of technology in providing cost-effective anti-counterfeiting solutions against counterfeiting.

Vulnerable products
Alcohol, tobacco, FMCG packaged goods, currency and pharmaceuticals constitute more than 84% of counterfeit cases. During the Covid-19 lockdown, there was a spike in crimes related to illicit liquor and pharmaceutical products, especially PPE kits and sanitisers. Fraudsters have some ingenious methods of producing and smuggling liquor. For example, many people started producing liquor from hand sanitisers. According to sources, over 250 people died in India because of hooch tragedies in 2019.
Counterfeiting vs smuggling
In 2020, analysing a total of 666 cases from the repository database, the report found that 82% of the cases were of counterfeiting, while 12% were smuggling and 6% fell in other categories including adulteration.
Alcohol and tobacco are the sectors that showed both counterfeiting and smuggling cases.
In the counterfeiting category, 25% cases found were related to alcohol, followed by currency (19%), pharmaceutical (16%), FMCG (16%), and tobacco (8%). In smuggling cases (specifically related to products) 92% of cases found were related to tobacco. Tobacco saw the highest jump in 2020 over 2019 and 2018.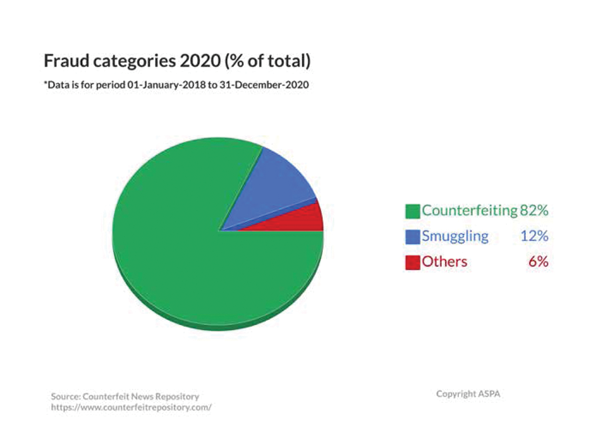 According to a query response raised in the Lok Sabha, Indian authorities seized illegally imported cigarettes worth Rs 1,772-crore between April 2020 and February 2021. That compares with seizures worth Rs 187.6-crore in the previous financial year.