"The eCommerce market in India is expected to reach USD 350-billion by 2030" - The Noel D'Cunha Sunday Column
In this conversation with PrintWeek, Bobst's CEO Jean-Pascal Bobst discusses packaging business prospects in India, his company's business prospects and what he thinks will drive quality and the packaging sector's growth.
19 Feb 2023 | By Noel D'Cunha
PrintWeek (PW): With 2022 ended, it's time to reflect on the year gone by?
Jean-Pascal Bobst (JPB): It's been an eventful but ultimately successful year. It has been the year that we saw the resilience of our group globally, the year of all challenges for the supply chain, purchasing, R&D and our production sites overall. On top, our vision of shaping the future of packaging is a new reality based on the pillars of connectivity, digitalisation, automation and sustainability; it has helped us and our customers succeed even in challenging circumstances. We have launched our IoT platform, Bobst Connect, to support the customer in getting more net output.

With that vision at the centre, we have developed some amazing new solutions in various segments of our activities in the last year. We continue to deliver the right machines and services, and we are now adding intelligence, software capabilities and cloud-based platforms to make packaging production better than ever.

PW: The years 2020 and 2021 have been volatile. How has it been for you, expansion or status quo?
JPB: It has been a very complex journey, yet it's amazing to see Bobst's resilience over cycles. Economic instability, local conflicts, global supply chain challenges, human resource shortages, and the energy crisis are all significant challenges that our industry and many others have faced. Our main priority during this time has been to help our customers and to maintain the highest levels of satisfaction and relationships with them. I think we have succeeded in that.

PW: What are the lessons learnt?
JPB: It has been much more than maintaining the status quo. We have progressed a lot in the last two years, and we have supported our customers and suppliers, who became crucial in this crisis. I think our industry is better equipped than ever to navigate through whatever the future holds, thanks to being more connected, sustainable, and so on. As a whole, we've seen our long-lasting relationships and vision come to life with very tangible benefits for Bobst and its customers.

PW: What does the concept of "customer development" mean to you? What is the coolest customer development case study you can share with us?
JPB: We have many great examples of working with customers to help them develop and evolve. One such example is the Revere Group, a US-based family-owned manufacturer of direct-contact food packaging. We sat down with them to find out about their priorities – consistent delivery of high quality, food-safe packaging, the ability to meet very short timelines for new or repeat products, and greater sustainability – and found ways we could help. At Bobst – we listen to our customers and tailor our solutions accordingly.

PW: Which Bobst technology has Revere adopted, and what are the advantages it gained?
JPB: Now, Revere runs two Bobst Master M5 presses for film products and labels and a new highly automated Bobst Master M6 machine. The team at Revere told us that the Bobst presses allow them to bring onboard clients that otherwise might not have joined them, primarily because they can now produce such high quality repeatedly and efficiently. The quicker set-up and lower waste allows the company to take further advantage of the growing demand for sustainable packaging solutions. It is extremely satisfying to hear feedback like this as it demonstrates our very tangible impact on our customers' businesses.

Some others are clients who are trendsetters, with whom we co-develop the next-generation solutions, from substrates to finished solutions.

PW: The K 2022 show in Dusseldorf and Labelexpo in India concluded on a high note. Three important exhibitions in Europe are lined up in 2023 and 2024, Labelexpo Europe in Brussels plus Interpack/Drupa in Dusseldorf. What should we expect from you at these shows?
JPB: In 2020, Bobst made the strategic decision to shift the way we engage with our customers – moving away from systematic machine demonstrations at industry tradeshows, which are associated with significant expenses and environmental impact – towards being present in trade shows with a technology lounge and special engagements at our many competence centres, where we can provide a more effective, convenient and personalised experience.

PW: So, Bobst will be more selective when it comes to participating in tradeshows?
JPB: Yes, and will depend on the regions and the industries we serve. The K show 2022 is an example of a tradeshow we attended without equipment while launching our very promising oneBarrier solutions – a family of sustainable recycle-ready flexible packaging solutions with excellent barrier qualities. The K show was our first major exhibition in Europe after the Covid lockdown period. It certainly did help us to understand the appetite for and the feasibility of this approach in the future.

Similarly, Labelexpo India was a great success, returning after four years and helping us to reconnect with our existing customers and start building relationships with new ones.

We are currently exploring options around the major 2023 exhibitions and Drupa in 2024. In 2023, we plan to attend Labelexpo Europe in Brussels, showcasing new solutions which enhance label production. These are so new and unique, we want every visitor to see them working.

PW: What are the industry standards for overall equipment efficiency (OEE) today?
JPB: Overall equipment efficiency is a good topic. At Bobst, we design machines and services to maximise the OEE. In fact, this is the core of our strategy. And to drive for increased OEE, you need to access a given machine's data, analyse it, define process enhancements, and deploy them.

PW: What type of return on investment should we expect from an OEE program?
JPB: We provide our customers with production insights to help identify and eliminate performance gaps. The accuracy of the OEE is based on fact-based data from each customer. It enables them to build a plan to address specific issues like downtime, target speed or quality losses. Each client is unique, and our OEE data and related continuous progress plans reflect it.

PW: India is a price-sensitive market, yet the trends are forever changing. As a mass producer of products, how does one stay relevant, and what product innovations can one offer for consumers to create trends or disrupt the marketplace?
JPB: Packaging covers such a range. At times it is 'mass-produced. For example, the food segment. But it can also be niche and very high quality for industries like cosmetics, pharma, tobacco and so on.

It is important to stay very focused on what one does or produces and create space by catering to those needing mass production and niche buyers. It is also important to remain innovative by adopting and investing in new technologies. For example, offering zero-fault packaging by investing in the right technology and providing automation and efficient processes is a meaningful way to remain competitive and cost-efficient. It is also vital to work closely with brand owners to understand their needs and trends and then bring in relevant innovations, whether in print, box structure, new packaging material combinations or sustainability solutions.

Today, large global players are creating smart factories wherein digitalisation and connectivity are the driving forces and where brand owners, packaging convertors and the final end-users across the value chain are connected through information and data sharing.

The key to a price-sensitive market is producing every meter efficiently. We have seen such market lifecycles around the world. Suppose the equipment can deliver with minimum wastage, reduced consumables, optimised energy and power, and higher throughput per equipment year on year for the machine's lifetime. In that case, this now becomes a game changer. Converters who do this are much more competitive when it comes to price per sqm, and that's how they can have the edge in EBIT or margins. One should think 360 degrees about the cost of ownership and decide, as we say– for the next generation.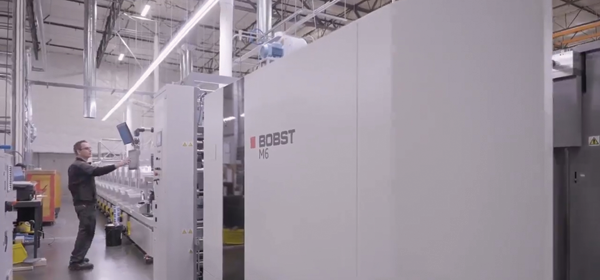 PW: The F&B packaging market in India is expected to grow from USD33.2 billion in 2020 at a CAGR (compound annual growth rate) of 9.3% until 2026. We did a basic calculation that the consumption of packaged foods in India rose by 200% during the previous ten years, from 4.3 kg to 8.6 kg per person per year. Additionally, the beverage industry accounts for around 23% of all PET applications in packaging. The point is consumption patterns are high in India. How does one manage a circular economy under such circumstances?
JPB: Every country or region is working on a path to meet the reduce, reuse and recycle criteria. India today is the largest when it comes to expansion in BOPET, BOPP and forms of PE. The last three years have seen an unprecedented investment in these products. We are also happy to see that many of these film producers are globally present and diligently working on solutions to be ready when the market is ready. We are proud to be part of these initiatives with our oneBarrier family of solutions, including PrimeCycle and FibreCycle.

We are also working very closely with brand owners as we have a broad spectrum of technologies covering most of the value chain. From the brand owners' perspective, they have all the solutions needed to develop, produce, and test their visions under one roof.

We have invested a considerable amount in our competence centres to deliver industrial-scale testing across our product offering, which is uncommon in the industry. It is our commitment to the market to work together as partners.

PW: How do you address greenwashing as part of your sustainability / circular economy communications?
JPB: Our commitment to sustainable packaging is there for everyone to see. We have invested significant amounts, and we are in an exciting and defining period for sustainable packaging.

This year, we had a major milestone at K 2022, when Bobst and its partners revealed oneBarrier, a family of new alternative and sustainable solutions.

It includes oneBarrier PrimeCycle – a polymer-based mono-material, which is recycle-ready while retaining excellent barrier qualities, making it a potentially groundbreaking development for sustainable packaging, and oneBarrier

FibreCycle, which is a full paper, mono-material, recycle-ready solution, developed in response to increasing demand in the industry for more paper-based packaging options.

It is not greenwashing. Bobst has a real commitment towards its responsibility for the global environment and social actions. Clear objectives are set for 2025 and further.

PW: The structural design of packaging, which embraces a pack's shape, texture, materials and product delivery capability, has mostly stayed the same. How should the industry approach structural packaging innovation? Through new product formats; new offerings like paneer and craft beer; eco-friendly, increased shelf life - MAP (modified atmospheric packaging)?
JPB: The industry is working towards improving packaging functionality and sustainability at the same time. This is not the easiest task, but our industry has overcome challenges repeatedly and evolved in the most inspiring ways.

In 2019, along with various partners, we launched a laminate that met the barrier and recyclability criteria. This same project was also set up in India. Our partner team successfully launched an all-PE laminate in two variants, less than 1 MVTR/OTR (Moisture vapour transmission rate/ oxygen transmission rate), and the second was a replacement of alu-foil based on less than 0.1 MVTR/OTR. This was a homogenous mono-family laminate with small
impurities like ink and adhesive. This film could be transformed into granules.

In 2022, at K show, along with our partners, we developed laminates as well as paper with the same barrier properties as above. This development was one of the most talked about at K show, and appreciated by our industry.

In September 2022, the Institute Cyclos – HTP awarded Bobst a certification of recyclability for the oneBarrier PrimeCycle AlOx high-barrier PE mono-material packaging substrate with a recyclability level of 98%. This is well above the target level of 90% set by the Circular Economy for Flexible Packaging (CEFLEX) initiative. I am also happy to inform that some of these developments are already available in India.

PW: The Government of India has set a vision of a USD 5-trillion economy. In your view, what are the opportunities for the print and packaging industry - and your organisation - in India?
JPB: It took the Indian economy eight years to double to USD 2-trillion in 2014 and another seven years to grow to just under USD 3-trillion currently. The vision of the current Prime Minister to make India a USD 5-trillion economy by 2025 seems a bit "too optimistic", especially due to the Covid pandemic, but we feel the goal could be achieved later for sure. This would translate into the growth of all forms of packaging. Even if India was to grow at the rate of 6%-7% year-on-year, the packaging industry would grow 12-14%, which is usually a thumb rule.

With the Make in India push and 'Local goes Global' vision, the government of India envisages USD 1-trillion in merchandise exports (where the packaging will play a key role) and USD 700-billion in services export by 2028.
The circular economy will also be central, including a reduction in single-use plastics and the increased use of recycled material. It will be one of the major challenges for India and all countries.

Going forward, the eCommerce market in India is expected to reach USD 350-billion by 2030 (the US is currently at USD 600-billion for comparison). This is where corrugated board, in particular, will play a key role as primary packaging for a wide range of goods, from fruits and vegetables to toys, food and FMCGs.

There is good intrinsic growth within India, which makes the country very healthy and insulated from global factors. On the other side, India is now seriously being considered as an offshore sourcing hub for products and thereby packaging. The government's 'Make in India' initiative is supporting the industry to invest in a manner to position itself as a global player. It is an opportunity for the industry, and at Bobst, we stand together with our customers in quality, innovation and efficiency.

PW: How prepared is Bobst to support the print and packaging factories in India?
JPB: India is certainly a key market and focus area for us. In 2003 we built a new factory in India to make it one of our global manufacturing units and also to serve the local market better. We develop our folder gluers for the worldwide market from this facility, including the part of the FFG machines for the corrugated board industry.

Bobst will continue to invest in India; by the end of 2023, we will add more than 4,000 sqm of production space, which is just the continuity of our journey. More products, more skills, and more activities will develop in India with digital printing as well as for Bobst activities overall.

We have invested a lot in R&D to be at the forefront of technology over the years. We have seen how our innovations such as Accubraille, Speedwave, Smart GPS, the FFG 820 series for corrugated, the Novafold folder gluers, new technologies in metallisers and so on, have been a great success with record installations.

Going forward, we will continue to innovate based on our four key pillars of sustainability, automation, digitalisation and connectivity.

PW: In India, too many business owners talk about their machines and investments; and a few focus on soft power. For example, culture, team-building, delegating, housekeeping, plus how to get optimum conversion costs and be much more efficient. Your view?
JPB: Indeed, the job does not begin and end with machines and factories. A lot must go into the organisation around the machine – such as the workflow design, the investment in training, quality tooling, safety parameters in the factory, and following best practices without adopting any shortcuts.
Efficiency is not just the result of investing in a machine. All the above aspects also play a crucial role, which leads to better productivity and minimised wastage and downtimes. Similarly, sustainability is not just about the equipment – and at Bobst, we look far beyond the machine to see how the entire process can be made more sustainable.
PW: How?
JPB: Bobst Connect will bring more workflow knowledge and data-enhancing productivity for our equipment, with a clear objective to reduce human intervention, answering somewhat to the shortage of skilled labour mid-term.

Meanwhile, having trained operators and maintenance staff in place is a big challenge for any industry. But we are facing a particular challenge in the packaging industry in emerging markets, as the right skills required to run these technologically advanced machines are becoming harder to find.

At Bobst India, we have started a training school for certifying operators and support staff for the die cutters and folder gluers and recently also conducted a few training programs for operating machines like FFGs in the corrugated board industry.

PW: What else?
JPB: In addition, compliance and governance issues will also become a major topic of discussion in the future if companies in India want to be preferred supplier to global multinationals. Manufacturing must meet international standards, and companies must be aware of this and be prepared to face new challenges.

PW: Your advice?
JPB: It is a cycle of growth for the customer. As we complete one milestone, the next will have different demands. We have travelled and visited many of our customers in India. Some customers have had setups, systems, equipment, and people equal, if not better, than any international company. Today, to be aligned with exports and demanding brand owners, one needs to upgrade. What got you here won't necessarily get you there. Similarly, people will need to invest in packaging standards such as ISO, BRCs and so on and improve people skills to fuel their growth story.
Product spotlight: Bobst Master Series
Built for full digitalisation of the production workflow, the Master M5 is a press for converters willing to automate its production line with systems and solutions that reduce downtime and waste. Configurable with print cylinders or sleeves, the machine is ready to be equipped with oneECG technology, delivering repeatable consistency run after run irrespective of the application run length and minimising ink consumption and stock.

It has a short set-up time and wastes. The digital automation on the machine ensures productivity and process repeatability making it very easy to run for less experienced operators and ensuring minimum and tool-free operator intervention.

The Master M5X is a fixed configuration press optimised in terms of efficiency and output quality with the added benefits of short delivery time and competitive cost.

The Master M6 is designed for the foremost flexibility to print labels, flexible packaging and folding carton. The monitoring systems it can be fitted with guarantee the health and safety of food packaging applications. The press is equipped with DigiFlexo automation and oneECG technology delivering non-stop production through a centralised, fully digitalised press operation.

It can handle all types of substrates used for the production of labels, flexible packaging or folding carton - reel-to-reel, reel-to-sheet and reel-to-converting delivery. It has multi-process, product enhancing, and inline finishing applications as well.