LMAI's brand owner's event on 29 June in Delhi
LMAI is set to host the third edition of its brand owner's event on 29 June 2019 at The Park, New Delhi.
26 Jun 2019 | By Noel D'Cunha
The event titled – Future-Next; Brand Owners' Perspective of Label – will see seven brand owners share their insights. The speakers and guests who will address the audience are: Pavankumar Chougule, associate director at Dr Reddys; Santanu Chowdhary, associate director at Sun Pharma; Naveen Stuart, packaging development manager at Reckitt Benckiser; Tamal Ghosh, DGM, Dabur; Soumyanath Mishra, global head- packaging and development at Mankind Research Centre; Somnath Chatterjee, GM-procurement at Pernod Ricard; and Barun Banerjee, head of packaging development at Nestle.
According to one research, it takes about 90 seconds for a consumer to form an opinion of a brand. And between 62% and 90% of the decisions are influenced by colour alone. A label is a platform which gets the colour on the product, and a label with the correct colour creates a good first impression.
Kuldeep Goel, president of LMAI, explained why the session is important, "Besides the colours which attract the consumer, labels are also important communication tools which provide vital information that the brands want to convey to its customers. This brand series which has been curated by Harveer Sahni, tries to understand what the brands are seeking, and how their inputs will help the labellers to deliver a perfect label."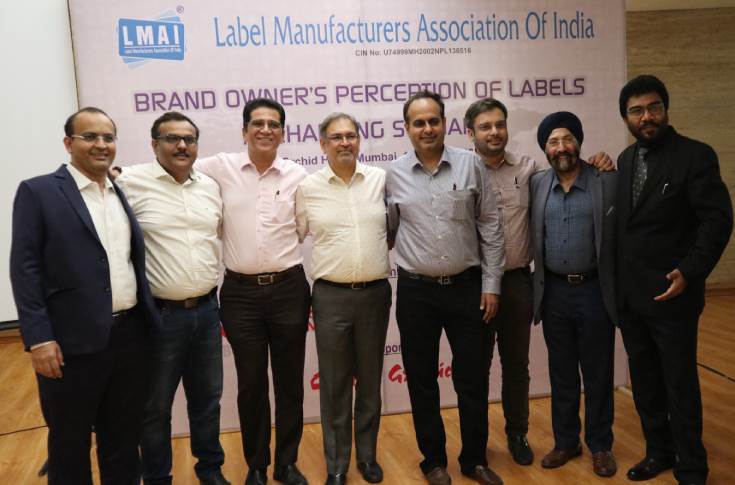 The LMAI team
Goel added, "The previous two brand owner's events were sold-out, but more importantly, these knowledge-sharing events – green initiatives to use of mnemonics in label design and manufacturing, need for interactive labels to reducing delivery time of labels – have been an eye opener. We expect to learn more during this event."
The event in Delhi will start at 6pm, and will be followed by cocktails and dinner.