Kamakhaya Packaging Company, a greenfield packaging plant
Ahmedabad-based Krishna Creations' new packaging arm Kamakhaya has invested in a greenfield plant adjutant to its plant in Devraj Industrial Park in Piplaj Pirana Road. Spearheaded by Ranjana Todi, wife of Sanket Todi, CEO of Krishna Creations, the 43-year-old woman entrepreneur said that her husband will be assisting her in managing the new packaging plant.
03 May 2023 | By Noel D'Cunha
Initiated in 2020, Todi said that her husband and she had been considering the option of a Greenfield packaging plant since 2019 and made the decision to build it after positive talks with customers.

"Krishna Creations specialises in producing garment labels, printed inlays, leaflets, catalogues and foiled tags largely catering to the textile industry. We had been planning to enter the mono carton and e-flute packaging segments, as we had felt that these two segments are the future," said Todi.

Building infrastructure
Despite Covid-19 related crisis, Todi continued with the plan for the new plant and decided to bring in post-press machinery and corrugation packaging equipment first. "We got machines from Eterna folder-gluer, blanking machine, window patching machine from Suba Solutions; HRB machines, lamination machines, die-cutter machine, automatic foil stamping machine from Ample Graphics; and Sakurai from Kunal Enterprise. And finally it was the turn to bring in an offset press," said Todi.

Kamakhaya was started from scratch. Todi found a 20,000 sqft plot for the plant and constructed the buildings with an area of 30,000 sqft, after which it brought in the post-press and corrugation machinery. "We had set a budget for the project, which was increasing day-by-day and when the time came for us to decide on the press, budget became a constraint," said Todi, who wanted the best despite the constraint.

Among the press options Todi looked for were Heidelberg and KBA. "Heidelberg was close to our heart because Krishna Creations' first brand new press was a Heidelberg XL75 five-colour plus coater press an automated feed and delivery configuration with auto blanket washup device and CIP3," explained Todi, adding "We wanted to bring in a similar press with same kind of automation, but cost became a major hurdle."
Just then, Komori India's representative in Ahmedabad, Pankaj Traders gave Todi a proposal it could not turn down. "We were offered additional features at a cost which sat nicely in our budget. Plus, Komori was making inroads in the Ahmedabad market with its own service engineers in the city to service its customers. We also received good reference about the press which was being offered."

Kamakhaya immediately ordered the Komori Lithrone GL 640 six-colour 28x40-inch press with a coater. "My dream was a press with a wall screen console. Heidelberg too offered it but not in the format I was looking for," said Todi. "This was our big leap forward. The Komori team led by Avataar Singh presented the best business case for their machine."

A good beginning
It's been five months since the GL 640 was installed, and Todi is happy with the performance of the press, which offers a maximum speed of 16,500 sheets per hour. Equipped with the KHS-AI system, the PDC-SX spectral print density control, and the PQA-S print quality assessment system, the GL 640 delivers high-quality stable prints, said Todi. "Our customers in the food and cosmetics segments are very happy with the packaging we supply. We have also started supply to customers in the electronics segments and the feedback is super."

The packaging business has been good, and the market buoyant. "There was a bit of a concern when there was a shortage of paper and hike in paper prices. But with the prices now stabilising, more enquiries have started coming in," informed Todi.

Kamakhaya prints multiple jobs ranging from 1,000 sheets to 50,000. In an eight-hour shift, two shifts per day, Kamakhaya produces around eight to ten jobs per shift. "With the auto plate loading, the benderless fully automatic plate changing system (full-APC), the turnaround time is negligible. And with the bells-and-whistles features on the press, the operators do not really have to bother about the final print results," said Todi.

Kamakhaya converts around 200 tonnes of paper and paperboard per month.

Kamakhaya's pre-press requirements are sourced from Krishna Creations, which is equipped with a Heidelberg Suprasetter platesetter and the Prinect Production Manager is called Proman. Prinect Proman is an assortment of all Prinect software from pre-press to post-press with integration of the entire press. It is a print shop workflow.

"It's a common pre-press unit. Krishna Creations has all the expertise required, a design team, the digital platemaking kit as well as the interfaces to run the plates on the two presses we have," explained Todi.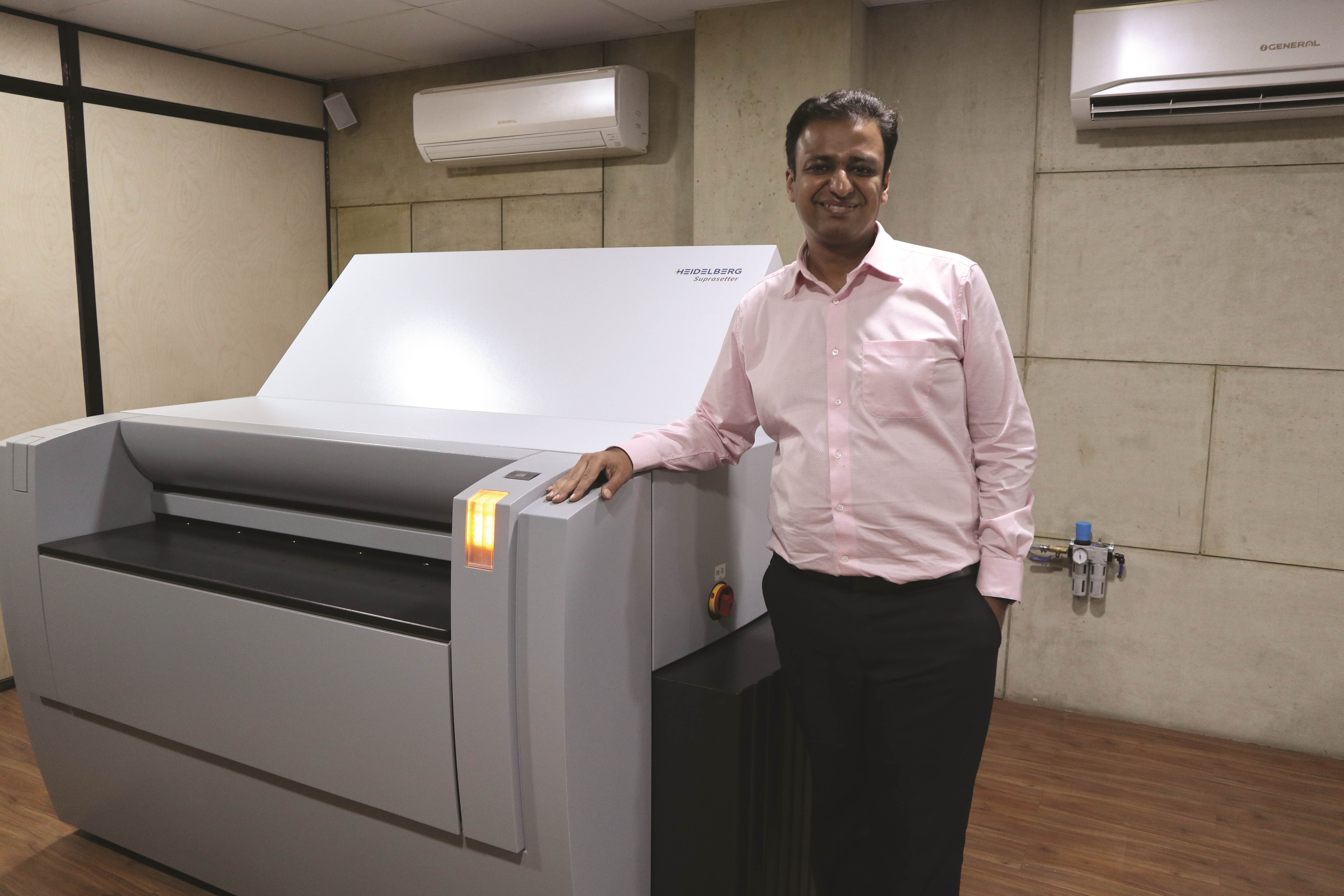 About Krishna Creations
Established in 2004, Krishna Creations had a humble beginning producing barcode labels. Expanding its gamut, slowly and steadily, it started catering to the textile industry with garment labels, printed inlays, leaflets, catalogues, foiled tags etc. Even though the company saw year-on-year growth, it outsourced printing to offset printers in Ahmedabad until 2013, when the company purchased a pre-owned Heidelberg four-colour press.

In 2017, Krishna Creation installed a brand new Heidelberg XL75 five-colour plus coater press with an automated feed and delivery configuration with auto blanket washup device and CIP3. The new machine helped the company to produce special Pantone colour jobs seamlessly.

Explaining his proposition to buy a brand new machine instead of a pre-owned one then, Sanket Todi had said, "A brand new machine allows you to dream with open eyes. All the machine parts, rollers are new. There's all the necessary automation. So you have a hassle-free machine to rely on for the next 15-20 years."

While buying a Komori press for Kamakhaya, Todi relied on the same principles.