HP reports Q2 revenue and profit growth
HP has released its Q2 results, revealing revenue and profit growth. The result declared on 27 May 2021 recorded total sales of USD 15.9bn for the three-month period to 30 April 2021, up by 27.3% year-on-year and by 1.5% on the previous quarter.
04 Jun 2021 | By Noel D'Cunha
Revenue in the firm's printing division (including office, consumer and graphics) climbed by 28% from USD 4.16bn in Q2 last year – a period affected by the initial impact of the coronavirus pandemic – to USD 5.32bn. Sales were also up by 6% on the previous quarter.
Both consumer hardware and supplies, the largest part of the division by revenue, increased by 17% year-on-year.
The company's Q2 net earnings jumped from USD 764m, or 53 cents per share, a year ago, to USD 1.23bn, or 98 cents per share. Profits in the printing segment were up by 73.5% year-on-year, from USD 548m to USD 951m.
The company's overall profits too were up with the USD 1.34bn recorded in Q2 up by 61.7% on the Q2 2020 figure of USD 826m.
HP's Enrique Lores president and chief executive in a webcast that followed the publication of results spoke of the relevance of HP technology in an increasingly hybrid world, the resilience of HP's business model and the operational excellence of its team. Lores also shed light on the concerns of supply constraints, particularly the component shortages.
He said, "Currently there is not enough supply to keep up with the robust demand, and the resurgence of Covid in South East Asia is creating additional pressures on our supply chain. We expect supply constraints to continue at least through the end of 2021. Although the environment will likely remain dynamic, we are taking actions to navigate through the challenges, enabling us to deliver strong results and increase our outlook for the second half."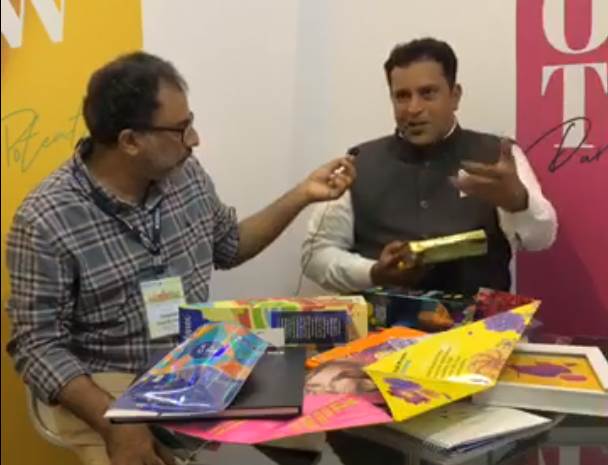 Appadurai (R) in a FB Live session hosted by Ramu Ramanathan during Pamex 2020
According to PrintWeek estimates, in India, HP Indigo has sold close to 12 presses, with at least four of the presses installed in the packaging segment, since April 2020. PrintWeek has already reported the HP Indigo installations at Digistik and Trigon Digital., while we are aware of one HP Indigo going to Sri Lanka.
Speaking to PrintWeek during Pamex 2020, which was held a couple of months before the Covid-19 was declared as a pandemic, A Appadurai, country manager for HP Indigo in India had proudly shared HP Indigo's entry into the packaging space. "Yes, we are really proud about it, getting into all the three spaces — labels, flexible and cartons. We are engaging with a completely new set of entrepreneurs, like Xpress Labels in Kochi, who are setting up label business with the Indigo WS 6900 press."
Appadurai had also spoken about how HP spends quite a lot on brand awareness. "Yes, 80% of marketing spend is on brand awareness and 80% of our time is spent with brands. It's simple. We make brands aware of the HP Indigo press' prowess. So when they make a panel of print service provider, they know whom to include. That changes the game for us, and our customers," he had said.
---
(With inputs from PrintWeek, UK)