The journey of PrintWeek India in 25 covers
There are two important aspects of creating magazine covers. The first is to attract a reader's attention and the second is to offer a bird's eye view of the theme and the content of the issue in question. In months after months, PrintWeek India has strived to adhere to these two key ideas, and over the years we have, if we may say so ourselves, created some memorable covers.

In the run-up to our Ninth Anniversary Issue, this picture gallery celebrates some of our stand-out cover
05 May 2017 | By PrintWeek India
Volume IX, Issue 2, 10 June 2016: Indians sign deals during the second half of Drupa 2016
Volume I, Issue 2, 20 June 2008: The panel of experts made sense from a user perspective of a bewildering range of products and processes launched at Drupa 2008
Volume I, Issue 8, 19 December 2008: As the year ended, the panel of experts shared their thoughts on the men, machines and technology trends that might just shape the future of print
Volume I, Issue 5, 19 September 2008: As the 'Printed in India' legend spreads across the globe, we look at the rise of high-quality Indian books and find it's about more than just technology
Volume II, Issue 13, 23 April 2010: PrintWeek India's preview about what the Indian visitor should expect from the heavy metal must-sees along with digital and pre-press solutions that was on display in Birmingham between 18-25 May 2010
Volume VIII, Issue 3, 10 July 2015: Decades of economic stagnation was making way for incremental investments and reforms as the red bastion of Indian communism embraces laissez faire stance. Print in Kolkata reaped the riches of this shift in state policies
Volume I, Issue 12, 24 April 2009: Peri-urban growth is propelling a traditional city which is going global - with investments into infrastructure, technology and personnel. What are the dynamics of the rapid changes and the strategies?
Volume I, Issue 10, 27 February 2009: Slumdog Millionaire enjoys a makeover at the Replika Press
Volume IX, Issue 4, 10 August 2016: Low cost, recyclable toilet invented by Jayna Packaging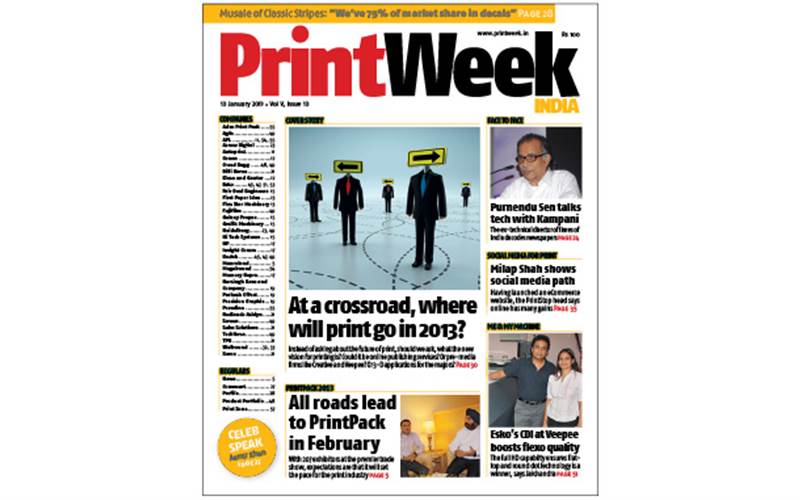 Volume V, Issue 10, 10 January 2013: Instead of asking about the future of print, should we ask, what the new vision for printing is? Could it be online publishing services? Or pre-media firms like Creative and Veepee? Or 3-D applications for the majors?
Volume IX, Issue 1, 10 May 2016: Burda Druck India 18-crore books in 35,000 mt of paper, a textbook factory in Greater Noida
Volume IX, Issue 7, 10 November 2016: Parksons Packaging is the PrintWeek India Printing Company of the Year 2016
Volume III, 25 February 2011 Issue 11: As the number of machine purchase increases, the number of print firms seeking assistance was on the rise. PrintWeek India pointed out how to do your homework and collect key information before signing a deal
Volume IX, 10 February 2017 Issue 10: PrintPack India 2017 lived up to top billing of best print show in India
Vol VI, Issue 11, 10 March 2014: Sanat Shah of Manugraph and Pranav Parikh of TechNova discuss the why and how of leadership and what it took to beat the demon of anti-India prejudices to create a brand and a legacy
Volume III, Issue 12, 25 March 2011: The Shroff brothers know that the chosen genre of their music will have a marginal status in India. But that does not deter them from playing it as seriously as they run the three Nutech print plants in Delhi / NCR
Vol VIII, Issue 11, 10 March 2016: The statement 'Print is Dead' has been carelessly floating around in our universe for many years now. It obviously manages to get a lot of atten¬tion because, well, it sounds sensational, sexy, and provocative. It is far from the truth though. In fact, thanks to this statement, print has had to rise from its so called ashes many times like a phoenix
Volume VII, Issue 4, 10 August 2014: Over the last 50 years, Amul has used print media to parody the good, the bad and the stupid in our society. During the FIFA World Cup 2014, Amul chronicled the important events through their ads
Volume V, Issue 8, 7 December 2012: The sales of refurbished equipment in India reigns amid a slowdown. The numbers don't match the high of 2010 and 2011, but complaints of "dumping into India" is set aside due to lower ROI burden
Vol VII, Issue 7, 10 November 2014: With the release of Rang Rasiya, painter and iconographer Raja Ravi Varma has been thrust into the limelight. Reproductions of his art still graces millions of households all across India. A tribute
Volume V, Issue 3, 13 July 2012: Print pundits are hoping that Drupa 2012 will pump money into the print economy. But will the 15,000 Indian visitors invest? An analysis of the huge range of special technologies, kits and technical services
Volume IV, Issue 2, 17 June 2011: Fespa Digital 2011 saw an impressive 18,278 visits over the newly extended four day exhibition – an obvious sign that the digital industry is creating traction and 2011 will be a year of growth, as business adopts
Volume IV, Issue 12, 23 March 2012: The Ahmedabad-based Marvel Graphic Studio remind us of the joys of print art. In a set of print serigraphs, the PrintWeek India Award 2012 winner has brought to life the works of the masters of Indian modern art
Volume VIII, Issue 9, 10 January 2016: The Indian print industry loosened its purse in 2015. The sheetfed offset survey indicates that there are solid reasons to investment in capital equipment. And Drupa 2016 in May maybe the time to shop
Volume III, Issue 2, 18 June 2010: Fespa 2010 occupies five halls at Messe Munich of which three are dedicated to digital, with one each to fabric and screen printing. Other than the show, visitors can vet awards, presentations and workshops