Redefining print boundaries during the Jury Week
Now that the shortlist for the PrintWeek India Awards 2016 has been declared, it's time to reveal the secret how it all came together. 28 jury members from the world of print buying and brand building came together to judge 1,100 plus print samples across 26 categories.

In this picture gallery, let us look at glimpses of Jury Week.
14 Oct 2016 | By PrintWeek India
India's top 1000 jobs were judged during PrintWeek India's Jury Week. About 132 print Indian firms with samples and 30 VIP jury members were present to judge during the week
Day one of the Jury Week began with Book Printer (Academic and Trade), Book Printer (Specialty), PUR Book Maker, Magazine Printer and Newspaper Printer categories
Advertisement materials comes through newspapers or ahead of a major festival. Inserts are important sources of revenue for a newspaper, yet they are not a built-in aspect of newspaper publications
The bountiful world of books. The Rs 35,000 crore book industry has produced some gems
(l-r) Mukund Moghe of Tata Services, Shireesh Sabnis of Publicis and Rajnish Shirsat, R&S Enterprises evaluating Book Printer (Academic and Trade) category
(l-r) Geetanjali Bhattacharji of Spatial Access and Naju Hirani of Marg Foundation discussing a book cover with Amruta Nemivant of Max Mueller Bhavan
Ajay Bapat of Emcure Pharma taking a close look at a label
A eye for detail - (r) Soma Roy of Marico
Packaging entries included all types of printing packaging of cartons, flexible packaging and other containers. Mayuri Nikumbh, design director-communication design at Elephant Design (in photo)
Print can compete with anything and everything; if the packaging design is kool
A sample which caught the jury members attention
Amit Saurkar of Heinz India taking a close look at the label entries
(l-r) Saiprasad Karalkar of Wow Design, Soma Roy of Marico and Amit Saurkar of Heinz India examine a print sample
We all love receiving beautifully gift wrapped boxes as much as the gift itself
The Jury members were looking for both the print and the design element in the print samples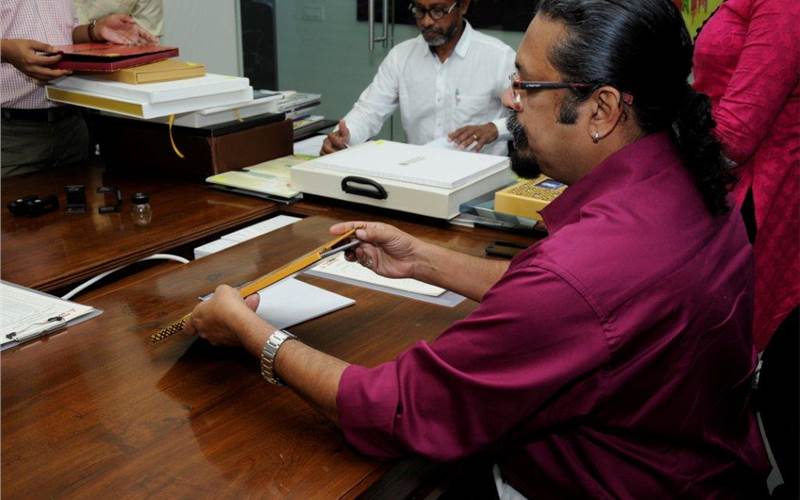 Hemant Randive of FCB Ulka Advertising looking at the detail of binding
Samples on display for the Wide-Format Printer of the Year. (l) Rushikesh Aravkar, technical editor at PrintWeek India with Ashwini Deshpande of Elephant Design
(l) Praful Akali of Medulla Communications discusses the printing quality with K V Sridhar (POPS)
Printing is an art form. If you had any doubts, look at the samples we received for the PrintWeek India Awards 2016. What is it if not art that could turn a mundane wide-format poster into something that you cannot take your eyes off?
Karan Arora of Karan Arora Who looked for perfection in each sample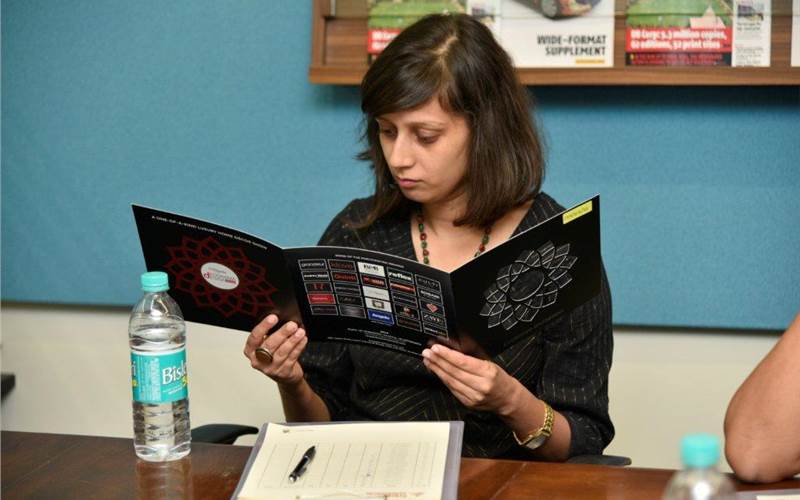 Innovation is the implementation of something new. Payal Khandelwal of TFM Studio takes a look at the sample
(l-r) Deepti Kshirsagar of Wow Design and Rachna Mistry of Spatial Access discuss a detail of Innovative Printer of the Year sample
We are proud to report that every other print firm had at least one innovative printed product this year. Manas Athanikar of Reliance takes a look at one of the sample
The team behind-the-scene at the PrintWeek India Jury Week 2016