Print has declined but packaging remains standing - The Noel D'Cunha Sunday Column
Datta Deshpande, CEO of Pratham Technologies has achieved a remarkable manufacturing and business success. The IPAMA Lifetime Achievement Award 2022 winner interacts with PrintWeek
10 Jul 2022 | By Noel D'Cunha
Noel D'cunha (ND): Congratulations on the lifetime achievement award.
Datta Deshpande (DD): At the outset, thanks for the wishes for this award. As a person who lives in the future, I never realised that we have already spent more than three decades in this industry. It's a nice feeling that people around you are looking at your life as an example of some achievement.

ND: What is your message to the industry?
DD: I devote this award to my wife Kavita, my partner Sanjay, and many more colleagues working in Pratham for over a decade or two. To equipment manufacturers, I appeal that always think global, and you will never be short of business.

ND: Rs 43 cr in 2021. How have the results been for Pratham since?
DD: Pratham saw this growth for two reasons. One is the introduction of high-value outserts systems and accessories - and the other is the result of our exports in the developed countries like the USA, Canada, UK, and Spain.

ND: Is it safe to say we're back on a high after two tough years?
DD: In the last two years, 50% of our total sales have been orders from overseas (export). Our major struggle was the steep rise in international transport rates and the unavailability of containers. The Indian pharma industry also struggled a lot in the last year for the same reason. Though things are showing some good signs, I still predict two to three more years to bring everything to the average level.

ND: What is the update from the Pune factories? Any additions or greenfield extensions? Please share.
DD: We have shifted our factory set-up to Kelawde, near Pune on the Bengaluru highway. The new facility is a 22,000 sq/ft industrial shed and 8,000 sq/ft office space with parking and other amenities surrounding the factory.

ND: Pratham had a good outing at PrintPack. How is the order book going ahead?
DD: We were wondering if PrintPack will get the usual response due to Covid-19 plus the hot climate of New Delhi during May. However, almost every customer visited our booth. We concluded with Rs 4-crore orders at the show. We are looking forward to more in the coming months of this year.
ND: On 1 September 2021, you marked 34 years of Pratham's existence by inaugurating a new plant in Pune. What is the update?
DD: We shifted to the new plant in January 2021. Since 2018, we have seen an increase in overseas visitors. Our earlier set-up was too small for the outserts folders' manufacturing. The new set-up has global quality environment standards, proper assembly processes, storage space for the thousands of parts, air-conditioned testing set-up, air-conditioned quality control lab, ample space for packing, right air-conditioned office for sales, design, admin, and operations people.
We have seen a significant impact on our product quality, production capacity, and efficiency of our people in the new set-up. We have provided a bus facility for all the employees for their logistic arrangements. In short, we have achieved our vision of world-class infrastructure for our world-class products.

ND: That's interesting. How can our industry re-engineer manufacturing practices so that we can operate at earlier or even better efficiency levels?
DD: We have emphasised the principles of – The Theory of Constraints – popularly known as TOC. The thing is, trying to optimise all processes at a time doesn't improve your efficiency. But suppose we work with a focus to optimise the weaker processes in the manufacturing chain and repeat the same sequence, again and again. In that case, we can expect better results in terms of efficiency. I think our industry should re-engineer its manufacturing practices using TOC for better efficiency.

ND: They say packaging is recession-free. And even though demand is high, the raw material prices and fuel cost is high too. Any pointers on the type of management quality, factory governance, product portfolio, and e-mobility required going forward?
DD: We have strategically decided to stick to the domain of pharmaceutical packaging. This field has lesser chances of recession. And we have experienced this during our business tenure.

ND: What are the challenges?
DD: This industry expects high-quality standards for the products, processes, audits, and hygienic standards. Entry into this industry is onerous, but you can have no survival issues if you enter into business with them. Cash flow management is crucial.

ND: Print is not growing anymore. We know that. But it is still huge. It's still a billion-dollar business. You have a huge stake in this sector with Pratham's folding machines. How should our industry plot its next business move?
DD: True. Print has declined in many sectors. For example, commercial, newspapers, mailing, and security printing. Packaging is the only sector that remains standing and proud, but I am sure people will try to reduce it and come out with different alternatives.

ND: What are the new verticals of the future?
DD: For Pratham, we have decided to grow in three different verticals: pharmaceutical packaging machines, vision inspection systems based on smart cameras and automation in packaging lines such as robotic pick and place.

ND: Do you think the manufacturers are offering the right products, not only in terms of attractive features but also innovations? Please throw some light on automation in Pratham's manufacturing.
DD: We are trying to introduce a lot of automation in our products, especially in the outserts systems where there is a huge amount of dependency on the skilled operators. Our machines are equipped with smart tracking systems, online fault detection, automatic crease settings, product recall system, remote monitoring of machine performance, and automatic tray packing for outserts. All these features are highly appreciated by the customers in the USA, UK, and Canada.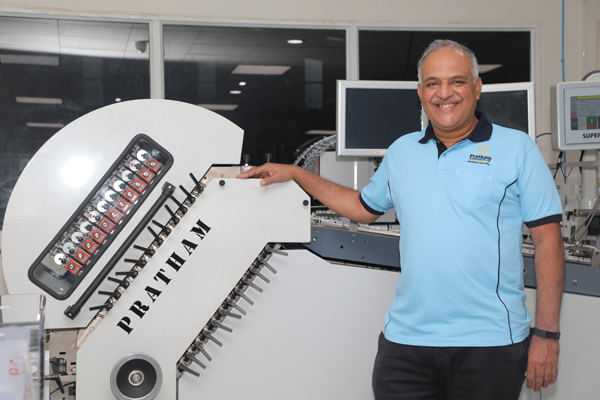 Deshpande: Pandemic has helped the pharma segment to grow
ND: How do innovative digital tools contribute to this aspect? For example, how can it benefit carton inspection on the shopfloor?
DD: Innovative digital tools are becoming increasingly popular in pre-print, print and post-print areas. People want error-free tracking of product quality independent of human skills. We have proof checking software, which was made as a joint venture with Image Provision from Pune.
100% inspection of cartons is complex, and we are not dealing in this product as our software partners from Germany Vision Experts sold their entire stake to Isra Vision AG, and we got very little response from them for tech support.

ND: Mr Deshpande, the question for you is: has the pandemic era taught us a lesson (in a cruel way). Do we need to reshape our factory, shopfloor, pre-press department, and marketing services ?
DD: Yes, we must do it. At least we should be ready to face any such kind of calamities in future. I found that physical presence gives you more confidence in interactions, but such calamities should not affect us in the future.

ND: What are some of the working practices that Pratham has developed over the past two years, including faster and more agile work and higher creative quality, which can be embedded into the industry's DNA?
DD: In the pre-pandemic era, we could afford to absorb manufacturing inefficiencies like rework, repair, scrap, etc. However, we can't afford it now. So we have reinforced our quality department with a well-equipped QC room, upgraded assembly using power tools, and upgraded our people's skills for more multi-skilled operations. Also, we have introduced more automated features in our machines to avoid dependency on the operators' skills. All these things will remain with us forever now.

ND: Pratham manufactures kits that cater to the Indian pharma industry. What types of conversations are you picking up from the pharma players? How can packaging converters for pharma in India address these?
DD: Right from the beginning, we have been into a very niche area of leaflet folders. Pharma inserts and outserts folding are very specialised lines, and few German machines were available having their monopolistic products.
For the first time, Pratham introduced economical solutions for these types of specialised folding. It has reduced the prices of the machines to an affordable level for the printers. And on top of it, the machines are performing better than the German counterparts. Not only in India, but the world appreciated that we have given them the products which they can afford.

ND: Green and sustainability are the two mantras touted to be the key for long-run success. What has Pratham achieved in these two departments?
DD: We produce solar energy and give it to the MSEB grid through net metering. We encourage people to use the bus service rather than using their vehicles. Besides this, we haven't done any other projects, especially for green and sustainable nature.

ND: A tricky question. A sheetfed major collated performance data from thousands of presses worldwide. Can Pratham share similar data - about what transpired on the shop floors across India in real terms?
DD: We are in the field of pharma packaging. This market is growing by 16% YOY all over the world. Instead of a drop in market size, we see this as a growing market. Pandemic has helped the pharma segment to grow. Pratham will see that we will ride on this horse rather than the traditional commercial, book, and mailing print sector.

ND: It began in 1992 when you launched a small table-top four-fold folder in India. At that time, the pharma printing industry was much unorganised. In hindsight: one word of advice for a young Datta bhau?
DD: Believe in yourself.