"Packaging, samples or labels, cut it well" - The Noel D'Cunha Sunday Column
Despite the Covid-19 pandemic, Valloy, the digital finishing solutions specialist, has performed well. Juan Kim, CEO of the South Korean company, in this conversation with PrintWeek, says, he plans a new era of growth for his brand with smart, smaller and flexible equipment
02 Apr 2023 | By PrintWeek Team
PrintWeek (PW): Covid-19 has had a significant impact in the last three years. How has Valloy's performance been in these difficult times?
Juan Kim (JK): Valloy's sales growth in 2020 was 140% and 190% in 2021. 2022 was a bit of a hard season because of the Russian war and currency rate crisis, but we showed 124% growth in 2022 too.

PW: What are the lessons learnt?
JK: 2019 was the hardest year for us but we survived. We have been preparing intelligent digital label cutters and it meets the market demand, because it is getting harder and harder to find experienced technical manpower in label converting companies.

PW: What does the concept of "customer development" mean to you?
JK: We run a start-to-end CRM system from lead finding to supporting and upselling to existing customers. To find the right potential target customers, it is the best to let them find us. We need to keep the industry leader's position for this purpose by showing trust and intensive field knowledge by using reference sites.

PW:What is the coolest customer development case study you can share with us?
JK: Well, there's a good example with Cricut, the makers of smart cutting machines that work with an easy-to-use app to help you design and personalise almost anything — custom cards, unique apparel, everyday items, and so much more. The company changed the manner of using a cutting plotter.

They designed the package and software looking fancy and user-friendly and bundling different tools and substrates, to give a variety of experience to users. By designing hardware and software to run the machines as IOT devices, we can develop some knowledge-based ideas to add more values, like supporting colour matching services online or providing a platform to share user designs over the user network.
About Valloy
Valloy is a Seoul-based South Korean venture company established in July 2004. The company specialises in development and marketing for digital software, imaging devices, printing and finishing devices, inks and substrates and next dimensional displays in signage printing, textile printing, interior decoration and label and packaging market. Industrial markets like printed electronics or bio-cell printing are another opportunity for digital production by inkjet technology.

PW: The K 2022 show in Dusseldorf and Labelexpo in India concluded on a high note. Three important exhibitions in Europe are lined up in 2023 and 2024, Labelexpo Europe in Brussels plus Interpack/Drupa in Dusseldorf. What should we expect from you at these shows?
JK: Valloy will participate in Labelexpo 2023 and Drupa 2024 to keep our brand power strong and empower our country distribution channels. We will show our new developments like Duoblade WS, which is a more affordable version of full automatic intelligent digital die cutter and Duoblade FX, which is man-less sheetfed digital craft machine supporting full cut, half cut and creasing together.

PW: Today, what are the industry standards for overall equipment efficiency (OEE)? What type of return on investment should we expect from an OEE program?
JK: We need to consider minimisation of quality loss, speed loss and time loss to have optimal OEE. We can improve quality and speed by upgrading hardware, because it is hardware performance.

But operation time is a different factor. We expect to run a machine at its 100% capacity but nowadays it is getting more difficult. Trend of shorter run orders makes us run the machine in batches and big investment on expensive machines will give you a pressure of regular bills for manpower, space rent, lease interest and so on. Instead of focusing on running big machines fully, we need to think about running multiple smaller but more flexible machines.

PW: India is a price-sensitive market, yet the trends are forever changing. As a mass producer of products, how does one stay relevant, and what innovations in products can one offer for consumers to create trends or disrupt the marketplace?
JK: Well, India is a huge market next to China. Trends are changing but people do not change easily. For example, label converters need to charge more for short run orders but customers do not accept it. We need to find and offer values of what digital machines can provide, like variable data or long length labels. It is also an idea to offer digital devices to end customers, not label converters. The key is how to make a total solution for ultimate simplicity and easiness with professional results.
Product spotlight: DuoBlade WX
At Valloy, we focus on digital label printing and finishing. While label converters may print quickly using a digital press, there is a bottleneck at finishing because you still need to order dies for cutting. Most converters have not moved to digital finishing because of speed. We solve this by offering a finishing machine with four cutting heads so you can cut four rows simultaneously. Moreover, our latest development in DuoBlade WX allows automatic job changeover using barcodes which are read by the CCD cameras. The selection of number of heads as well as distance between the heads is changed automatically depending on the job. We are thrilled to receive great market response for this all-in-one finisher WX which includes unwinding, laminating, cutting, matrix removal, and rewinding or sheeting.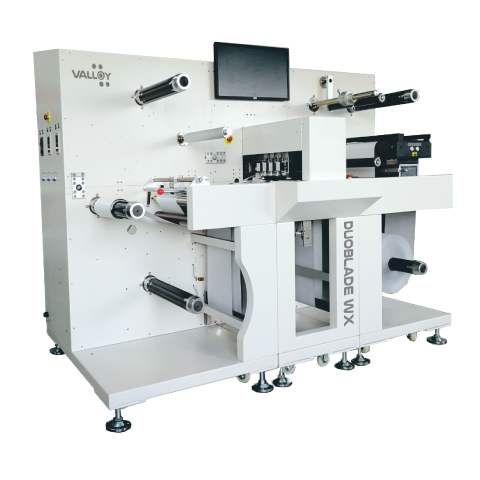 PW: Do you see remanufacturing as a comparable option? One post-press equipment manufacturer has successfully repurposed binderies in the Indian market. What's your view – advantages versus disadvantages?
JK: It is a good approach to provide higher added-value on existing devices. We also do remanufacturing of a simple Chinese digital die-cutter to convert it into an intelligent fully automatic digital craft machine, by changing boards and adding new tools, cameras, and sensors. This remanufacturing development can save cost and time but the new technology is dependent on old original technology, so a trustful relationship with old device manufacturers is important.

PW: The F&B packaging market in India is expected to grow from USD 33.2 billion in 2020 at a CAGR of 9.3% until 2026. We did a basic calculation that the consumption of packaged foods in India rose by 200% during the previous ten years, from 4.3 kg to 8.6 kg per person per year. Additionally, the beverage industry accounts for around 23% of all PET applications in packaging. The point is, consumption patterns are high in India. How does one manage a circular economy under such circumstances?
JK: It is a complicated issue. Basically printed PET cannot be recycled, mainly because chemicals can contaminate cleaning solutions. So we use sleeves for easy peeling and recycle unprinted PET bottles. Some beverage brands use embossed bottles to show their logo in an unprinted way. The latest research for artificial structured colour is quite interesting, because it makes colours without colourants. However we do not see 100% satisfactory answers so far.

Valloy is focusing on its new sustainable substrate – Limepaper, which is made of 30% plastic and 70% stone. We can find various applications like plant jars, cell phone cases, backlit film, name cards, books, catalogues, and labels.

PW: How do you address greenwashing as part of your sustainability / circular economy communications?
JK: Campaigning for brand power enhancement or investor attraction, many companies are bringing a concept of circular economics and sustainability. It is a good sign to educate the market first. The rest is a role of the government, to make the right regulations and conditions to get green marks or similar certificates, by analysing actual results of their activities.

PW: The structural design of packaging, which embraces a pack's shape, texture, materials and product delivery capability, has mostly stayed the same. How should the industry approach structural packaging innovation? Through new product formats; new offerings like paneer and craft beer; eco-friendly, increased shelf life - MAP (modified atmospheric packaging)?
JK: We can find many innovative package structure designs by using less material while providing the same or better strength. Well-designed package structure can even provide fun to customers with positive impressions. These kinds of trials are attempted mostly in paper box design. But we also need to find a similar way of approach for packages which need perfect sealing like liquid or food.
About Juan Kim, CEO of Valloy
Kim majored in chemical engineering from Seoul National University (SNU) in South and got a master's degree. His first job was as technical sales staff for artificial intelligent optimisation software in the petrochemical industry. His impression at this time to learn about soft power to get maximum efficiency in existing facilities is also helping to design and sell the current digital devices now. After establishing Valloy in 2004, Jim is developing digitally visualising technologies and solutions including inkjet printers, label printers, special inks, special substrates, and digital finishers, among others.
PW: The Government of India has set a vision of a USD five-trillion economy. In your view, what are the opportunities for the print and packaging industry - and your organisation - in India?
JK: Digital packaging is a trend. Even labour cost is relatively lower in India, but we cannot say experienced engineers for the traditional printing and finishing industry can be alive forever and young people would not learn about legacy technologies. So digital printers and finishers will be dominating the Indian market too. In the initial stage, high capacity expensive machines will be chosen by leading converting companies but people will find smaller and flexible solutions as time goes on.

PW: As and when the present USD 3.1 trillion economy grows to a USD 5-trillion economy, the Indian printing industry, particularly the packaging industry, will see substantial growth. One number says, the packaging consumption in India has increased 200% in the past decade, rising from 4.3 kg per person per annum (pppa) to 8.6 kg pppa as on FY20. How prepared are you to support the print and packaging factories in India?
JK: We aim to provide middle-level solutions to small and medium size factories with company, flexible and intelligent solutions including digital label printers and cutters. We're putting the latest technologies into our devices to provide ease and fun for young engineers.

PW: In India, too many business owners talk about their machines and investments. Few focus on soft power. For example, culture, team-building, delegating, housekeeping, plus how to get optimum conversion costs and be much more efficient. Your view?
JK: We can help by providing compact size digital devices to improve the factory's working environment with less odour, less dust and less noise. When young people gather in the factory with new digital equipment, company culture will also change naturally.
At a glance: Juan Kim

Fav most app?
Kakao

Besides your phone and wallet, what are a couple of must-have items you always carry?
Ring and eCigarette

Window or aisle seat?
Aisle

Snack or meal?
Meal

Cocktail or diet drink?
Cocktail

SUV or luxury?
SUV

What's the current author you are bingeing on?
Takehiko Inoue

One celeb who you met who has impressed you?
No one

First thing you notice in a biz meeting?
Voice

One question you always ask when you are hiring?
Sensitivity and communication.

What's the one thing you wish you knew at age 21?
How to lose gracefully.

What's the best piece of advice you've received?
You are doing well.