PrintPack 2022: Bobst signs two more deals on day three
Jaipur-based Miracle Group and Meerut-based Aggarwal Pack Products have placed orders for the Bobst kit on display at the show. Miracle Group will install the Novacut 106E 3.0 version while Aggarwal Pack Product is set to install the Bobst Novafold 110 A2 folder-gluer.
29 May 2022 | By Noel D'Cunha
Speaking to PrintWeek, Lokesh Agrawal, director-sales and marketing, Miracle Group, said, "We are converting around 25-lakh sheets per month, and the existing die-cutting machine, aren't able to meet the requirement, though one of them is the Bobst and the rest Chinese-make. While the Bobst machine, our first buy, was in 2016, we followed it up with three Chinese machines, which could not go beyond producing 16- to 17-lakh sheets on them. As a result, there was a bottleneck created. We want to remove that bottleneck with this new installation."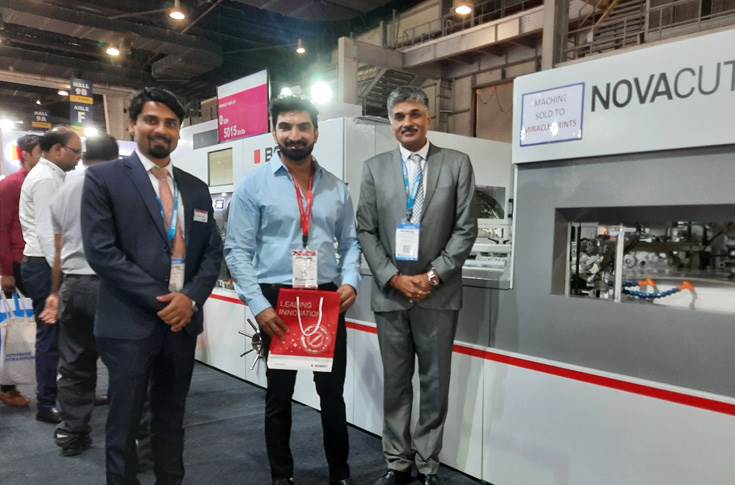 Lokesh Agrawal (c) with the Bobst team
Besides, Lokesh informed that his Group will be expanding its operations, adding another printing line to the existing two machines. "We had to add capacity in the converting section too."
Why Bobst die-cutter, after having invested in Chinese machines? Lokesh said, "First is the speed, and the second is the maintenance. Since the installation of the machine, we don't remember having any downtime. Our weekly maintenance is all we do.
The reasons for Aggarwal Pack Product's investment in the Novafold 110 A2 folder-gluer weren't different. "It's all about efficiency and savings," said Vinay Aggarwal of Aggarwal Pack Products, speaking to PrintWeek at the Bobst stand.
The company had, in March 2021, installed a brand new Bobst Novacut 106 E 3.0 automatic flatbed die-cutting machine. The facility is equipped with TechNova CTP, Heidelberg printing press, and Polar paper-cutting machines, among others, besides the Bobst die-cutters.
Aggarwal (second from left) and his son with the Bobst team
The Bobst Novafold 110 A2 can produce a wide variety of box styles across a range of substrates, at speeds of up to 350-m/min. "We will be producing four- and six-corner boxes, though it can also produce double-wall as well as tubelight and conical type boxes in an open blank size of 1100-mm. But what this machine will bring to the table is the saving of paperboard. Presently we tuck the paper within the box. With the box folded and glued, we will be saving around 20% of the paperboard, which in itself is a big saving considering the present paper prices crisis," said Aggarwal.