Paper trader body questions IPMA import-export data
The Federation of Paper Traders Association (FPTA), a formidable body of 37 associations and more than 6,000 paper traders across the country, have written a letter to the Directorate General of Foreign Trade (DGFT) on 30 May. The 26-page document expresses concern about "the increased exports of paper and paperboard which has caused a material shortage in the domestic market." Also caused prices to soar. The FPTA says, "There has been wrong propaganda by Indian Paper Manufacturers Association (IPMA) in the print and social media."
05 Jun 2023 | By Rahul Kumar
FPTA, in its representation to the DGFT, has stated that IPMA's "propaganda and misleading information to the government of India and the citizens of India." The representation points to the fact that IPMA has changed the goalpost by "changing the parameters from quantity to value." It adds, "Prior to this, IPMA never spoke in terms of value."
According to the data issued by the Directorate General of Commercial Intelligence & Statistics (DGCI&S) in May 2023, the Indian imports of paper and paperboard have seen a leap of 47%, from Rs 7,839-crore in FY 2021-22 to Rs 11,513-crore in FY 2022-23.
In its release, IPMA stated that the imports of paper and paperboard into India have increased in the last three years, in spite of domestic production capacity.
Contrariwise, FPTA states that the data for paper and board imports as compared by IPMA for 2021-22 and a surge in 2022-23 are "partially correct and project a different story". The imports are compared to the Covid years. FPTA feels the data must be compared to the pre-Covid times.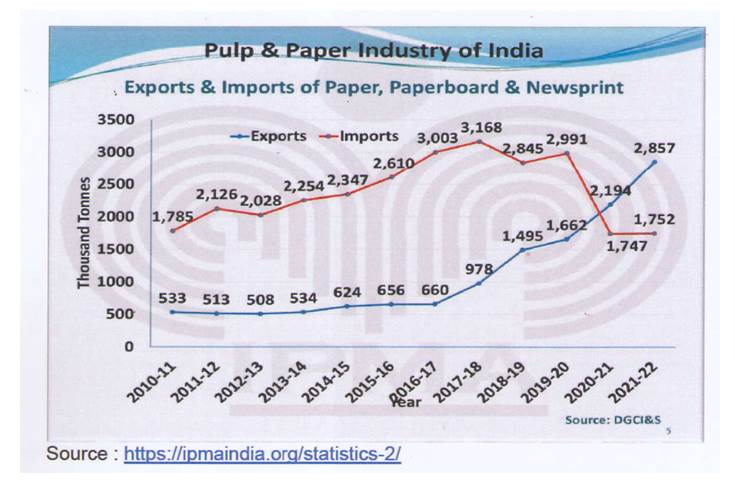 The FPTA representation says paper manufacturers have exported a huge quantity of various products. The above chart clearly shows that exports in FY 2020-21 and 21-22 were to the tune of 2,194,000 and 2,857,000 tonnes as compared to imports of 1,747,000 and 1,752,000 tonnes. Due to material exports in the last financial year, there was a shortage of material. And so, the rates per tonne doubled from 2021-22 to 2022-23. Plus availability was a concern.
FPTA provided a breakup of imports and exports for FY 2021-22 category-wise. The net figure for imports of paper and paperboards is 1,146,000 tonnes, of which 606,000 tonnes is newsprint, which is regulated by separate norms of the government of India and does not form part of the open trade.
The FPTA shared the statistics of the Ministry of Commerce & Industry, Government of India. The export data of paper and paperboard in FY 21-22 was to the tune of 3.53 million tonnes as against imports of 2.18 million tonnes.
However, in FY 2022-23 the exports of paper and paper including newsprint were to the tune of 2.46 million tonnes as against imports of paper and paperboard including newsprint to the tune of 2.52 million tonnes. Imports of newsprint being 0.62 million tonnes the net figure of imports for paper and paperboards comes to 1.90 million tonnes, much below the exports of 2.46 million tonnes. The FPTA representation said, "One needs to compare apples with apples only and not oranges."
The FPTA said, "The IPMA is trying to change the narrative to suit its own agenda. With a share of a mere 1.66% of the total manufacturers, IPMA lacks the moral authority to be a spokesperson of the domestic paper industry."