Picture Gallery: India celebrates print at Cannes
Sometimes we forget that print and OOH medium is about story telling. In today's picture gallery, we feature some of the finest instances of creativity that have emerged from the drawing boards of agencies in India. These are India's contenders at the Cannes Lion, which is slated to be held from 18-25 June 2016. It is a timely reminder that print is a powerful medium for getting your message across.
A glimpse of some of the top contenders and a look at how print advertising has been
24 Jun 2016 | By Priya Raju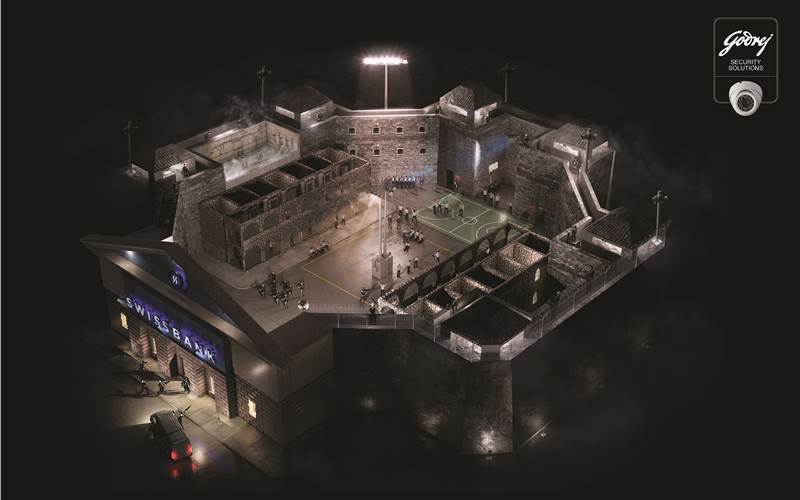 Picture Gallery: India celebrates print at Cannes
The Indian Red Cross Society - Blood Banking by J. Walter Thompson | Blood banks rely on donations. And those do¬nations were never enough to meet demand. The Indian Red Cross Society's agency decid¬ed to change the game. They asked people to 'save' blood instead, with 'Savings Accounts' for blood. A Blood Banking App also allows account holders to track all aspects of their accounts. They could transfer deposits to their loved ones, withdraw when needed, and so on. In the first month, 152,000 accounts were opened. If a million account holders make their three deposits a year, India will have wiped out its blood deficit. That's the target.
CRY – Thumbprint by BBH | Thousands of children in India lacking access to education, will grow up to be adults that leave their thumbprint, instead of a signature. It becomes their identity. CRY America's aim was to collect donations to give thousands of underprivileged children in India the chance to go to school. Thereby, giving them a chance at a better life. The thumbprint was made the symbol of the problems arising from their lack of access to education. The thumbprint was depicted as a maze, a valley and a forest, with a child shown escaping each.
Dabur Gripe Water – Children Stomach Relief by Ogilvy & Mather | Tasked with persuading young mothers to choose Dabur Gripe Water over the leading brand, the agency rode ads with popular children's rhymes.
The Dancing Letters by Mccann Worldgroup | India This project is billed as one that could bridge the gap between children suffering from the learning disability dyslexia, which affects 1 in 10 children, and the others. A book of the 'dancing letters' helps affected children comprehend the distinction between similar-looking letters and numbers, and also helps parents and caregivers appreciate their hurdles in comprehen¬sion. Craft for good.
Vultures – WWF by Mccann Worldgroup India
Dulux by Taproot Dentsu | A simple idea to showcase 3D texture-based paints. Swatches of colour were showcased as 3D blocks, with a texture that resembles real things of the colour they are based on.
Adidas print campaign by DDB Mudra | If you have to own a sport in India, it's cricket. This piece reflects the passion for the game, both by the brand and by the country, in a very rooted way.
Apollo Tyres by J. Walter Thompson | This print campaign showcased punctured occasions, with visuals of deflating elements in the frame. Much like what would happen if one doesn't use the brand's radial tyres.
Pixarom by FCB Ulka | The intent was to highlight to a niche audience of art directors and photographers the image retouching capabilities of the Malaysian post-production studio.
Ariel - Share The Load campaign by BBDO
Clear Lenses by FCB Ulka | Glasses so clear, you don't see them. For Bausch and Lomb.
Birla Sun Life by Taproot Dentsu | 'When you're not covered, they pay the price' says the copy. The illustrations explain – without getting morose – what happens to the dependent family when the breadwinner doesn't get an adequate cover for himself.
Meswak – Anticavity by Mccann Worldgroup India
IOAA by Taproot Dentsu | This campaign for the Indian Outdoor Advertising Associa¬tion (IOAA) was born of the observation that at any point, there are several billboards lying idle, with nothing but contact details for potential advertisers. Taproot tapped into this. Prashant Godbole captured on camera the power of shared experiences to underline that 'Everything works better when it's out¬door'. These were displayed on the unused billboard inventory to underline the power of the medium.
Joyville Homes by FCB Ulka | The campaign highlights amenities at Joyville Howrah, with top-views of the property. Joyville Homes, an affordable housing com¬pany, carries a 'Live To Grow' tagline that this campaign aligns with.
Johnson & Johnson - ADHD Symptom Stamps by Medulla Healthcare Communications | For Concerta from Johnson & Johnson, Medulla wanted to accelerate the diagnosis and treatment of ADHD, a condition that stays undiagnosed even though 1 in 10 Indian children suf¬fer from it. The agency decided to ride on fairytale characters, identifying symptoms of ADHD in them: like the hare which lost the race because he lacked focus and the hyperactive Pinocchio. 'Symptom Stamps' refers to the rubber stamp the agency imprinted on fairytale books wherever a character exhibited ADHD symptoms. Mini-libraries were created with such stamped fairytale books and placed at waiting rooms of paediatricians, who in turn referred kids with symptoms to specialists.
The humble greatness of Gandhi by Ogilvy & Mather | Mani Bhavan was Gandhi's Mumbai home from 1917 to 1933, a building of historic significance where he lived and planned his campaigns of non-violent resistance for independence. Awareness of the museum and memorial was low, especially among youngsters. The print and poster campaigns to build awareness were inspired by sketchbooks of millenni¬als after they visited the museum.
Snap Counsellors by TBWA\INDIA | This campaign married the unique attribute of a medium (Snapchat) with a real need among youth. On Snapchat, messages get deleted in 10 seconds, giving victims a discreet platform where they can talk to a counsellor. 'Snap Counsellors' was billed as the world's first teen abuse helpline on Snapchat. It was created with LoveDoctor.in and Chayn India. It has since spawned similar helplines in other countries.
Fountain of Sight OOH campaign by J. Walter Thompson | This installation was made using walking sticks of people who have secured eye donation, because there are still many waiting in darkness.
Echoes of Empty Vessels by J. Walter Thompson
Zentel - Slums (Housing Colonies) for Worms by Medulla Healthcare Communications | While every other Indian suffers from worm infestation, most choose to ignore it. This was the challenge facing Zentel from GSK. To draw attention, Medulla decided to make people visualise worms in human intestines. A 10-foot installation of a 'slum colony' was created in the shape of an intestine involving 20 artists over three months. Miniature houses of 1 to 5 cm made up the slum, replete with the typical antennae, windows, et al. These were then converted into posters and print.