Print History: Jatindra Kumar Nayak - Print Culture in Odisha
Jatindra Kumar Nayak has played a prominent role in a variety of literary and educational institutions in the state of Odisha and his translations, essays and lectures have been instrumental in presenting Odia literature to the larger world. For the last four decades, he has been exploring the print culture of Odisha. In this free-wheeling conversation with Murali Ranganathan, Nayak talks about how he has engaged with print
16 Apr 2021 | By Murali Ranganathan
How did your engagement with print get stimulated?
My father, Kashinath Nayak, was a writer of textbooks and books for children and managed the printing press owned by the Primary Teachers' Federation at Puri. I was fascinated by the work of compositors and printers at this press. My father also used to take me along to the offices of some of his publishers in Cuttack during Dussehra. As a student at Ravenshaw College, Cuttack in the 1970s, I was actively involved in the publication of Sanskriti, an Odia magazine and an English magazine titled The Ultra. I spent long hours in printing presses, sometimes staying there late into the night, correcting proofs. To me, there was something magical about a manuscript getting transformed into the printed book.

At what point of time in your career did you realize that you had evolved into a book/print historian from a professor of English literature?
I do not consider myself a print historian in the sense that my friends A R Venkatachalapathy, Swapan Chakravorty, Abhijit Gupta and Rimi Chatterjee are. At Oxford, I attended lectures on the book as a physical object. However, it was much later that I felt drawn towards the study of print culture and history. Until then, as a student and teacher of literature, my interest was largely confined to reading, interpreting and comparing texts. In doing this, however, I always felt drawn to studying literature in its historical context.

While writing a review of Desha Kala Patra, a historical Odia novel by J P Das published in 1994, I discovered how an active engagement with print culture enabled an emerging Odia middle class to forge and assert their identity in the second half of the nineteenth century.

In 2001, I was invited to make a presentation at a conference on print culture at Jadavpur University. I chose to speak on the advent of print culture in Odisha and started looking for relevant material. Sridhar Mohapatra's Odia Prakashan o Prasaranara Itihas contained a wealth of valuable information on the rich print culture of Odisha. It is to be noted that Mohapatra himself was the proprietor of one of the most famous publishing houses of the state, Grantha Mandir.

I also went through a few early Odia novels and autobiographies to find out the ways in which the advent of print in Odisha was experienced and imagined. I became aware of the fact that the exposure to print generated fear and fascination in almost equal measure. However, this fear was gradually overcome and print culture struck deep roots in Odisha, especially after the 1866 famine. Listening to other erudite print historians present in the seminar led to a deepening of my interest in print history.

Could you provide a brief overview of your publications related to print history?
I cannot claim to have written extensively on print history; however, since 2001 a concern with print history has informed much of my academic work. In one of my papers, I looked at references to the printed book in early Odia fiction and tried to show how it is possible to read characters in terms of what they read. In another piece on the Odia almanac, I examined how these were printed and marketed.

The almanacs carried advertisements of other printed books which indicated a shift away from the prevalent palm-leaf manuscript culture. My essays explore various aspects of Odisha's print history: the emergence of Utkal Sahitya, the most influential Odia literary periodical; detective fiction in Odisha; encyclopedias in Odia; reception of Shakespeare in Odisha; and the autobiography of Krushna Chandra Kar, a well-known proofreader.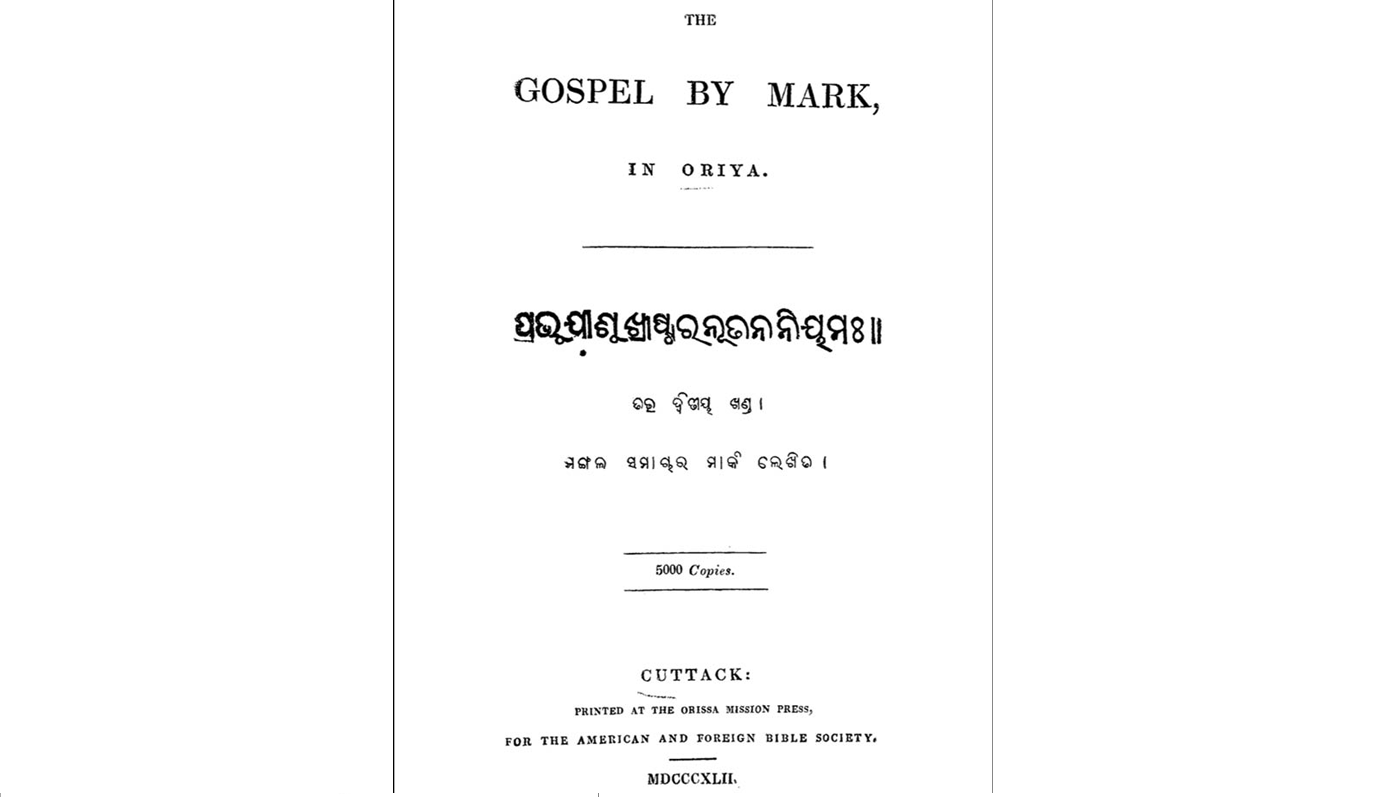 Prabhu Jishu Christara Nutan Niyam, 1842 (Courtesy: Srujanika)
Can you provide a historical overview of the development of printing in Odisha?
Like in many other parts of India, printed texts were introduced in Odisha by Christian missionaries. The first Odia book to be printed was the Odia translation of a portion of New Testament. It was brought out by the Serampore Mission Press in 1807. Subsequently, a small number of Odia textbooks were published by the same press. A printing press was established in Odisha for the first time in 1837 by missionaries, Charles Lacey and Amos Sutton.

Cuttack Printing Company, a press founded in 1865 by the locals of Odisha who had received western education, marks a turning point in the history of printing and publishing in the region. Books began to be promoted as saleable commodities in an impersonal marketplace. As a result, literature quickly moved out of royal courts, temples and monasteries, and the culture of disseminating literature through palm-leaf manuscripts gradually eroded. With the emergence of publishing as a profitable enterprise and a print public growing in importance, rivalries among authors and publishers came increasingly to the surface.

Controversies over issues such as obscenity, the relative merits of modern and pre-colonial authors, selection of text books came to dominate the cultural landscape in the late nineteenth century. At the same time, print culture came to shape and consolidate a language-based identity which eventually led to the formation of Odisha as a separate province in 1936. The publication of a substantial number of periodicals contributed significantly to this movement.

What is the kind of print/book history related to Odisha that has been undertaken or published in Odia in the past few decades?
The study of print/book history is yet to strike deep roots in Odisha. However, a few scholars have started exploring the field. Mention may be made of Pathani Patnaik's Odia Prakashanara Itihasa (2013), Sachidanand Mohanty's Periodical Press and Colonial Modernity: Odisha, 1866-1936(2016) and Manjushri Dhall's History of the Printing Press in Orissa, 1837-1947 (2013). In a recent essay on Odia devotional songs addressed to Lord Jagannath included in Bonding with the Lord (2020), Animesh Mohapatra shows how with the advent of printed books/booklets songs came to be read rather than sung and in the process the context of their reception changed.

Have any historical bibliographies of Odia books and periodicals and newspapers been compiled?
In 1981, Orissa: A Comprehensive and Classified Bibliography edited by Hermann Kulke, Manmath Nath Das, Karuna Sagar Behera and Gaganendra Nath Das was published by Vidyapuri, Cuttack. Recently, Centre of Excellence for Translation and Life Writing, Rama Devi Women's University, Bhubaneswar has brought out a comprehensive bibliography of autobiographies written in Odia. The Centre is currently engaged in compiling a bibliography of biographies in Odia.

With reference to Odisha, what are the challenges new researchers face while approaching print/book history?
The study of print history/culture has not yet found a place in the curricula of colleges and universities in Odisha. Students and faculty in literature departments continue to confine their attention to texts, authors and critics/readers, and rarely, if ever, take into account the role of publishers, booksellers and illustrators. Since no effort was made to archive material pertaining to printing, publishing, distributing and illustrating books, a lot of valuable resources have been lost. Unfortunately, the rich experience of pioneers in the field of publishing in Odisha and their relationship with authors were not documented. However, whatever survives needs to be accessed and studied.

Do you feel the need for the introduction of print history courses in the curriculum for history/literature/media/design students? How should they be designed?
There is enormous scope for the academic study of print history in Odisha given the long and rich history of printing and publishing in the state. Students, scholars and teachers should be encouraged to document this history and study its social, cultural and economic aspects. Departments like Odia, English, Sanskrit, History, Library Science and Media Studies should carry out collaborative projects to explore this neglected but vitally important area of knowledge.

You are also an accomplished and award-winning translator. Can you talk about the books you have translated and why you chose them?
Translation from Odia into English and vice versa constituted an important component of the high-school curriculum in 1960s and 70s when I was a student. As a postgraduate student of English literature, I took translation as my special paper for I believed it was the duty of a student of English literature to promote Odia literature through translation. However, I took to translating Fakir Mohan Senapati's autobiography at Oxford in order to overcome homesickness. Later, I translated classics of Odia fiction such as Fakir Mohan Senapati's Chha Mana Atha Gunth (Six Acres and a Third) and Mamu (The Maternal Uncle), Chandrasekhar Rath's Yantrarudha (Astride the Wheel) and J P Das's Desha Kala Patra (A Time Elsewhere).
Do your translation and print/book history activities complement each other?
It so happened that the many of texts I immensely enjoyed reading and wanted to translate were centrally concerned with ways print culture transformed Odisha. Chha Mana Atha Gunth playfully mentions the bitter literary controversy over the question of obscenity in precolonial literary texts in which two literary journals Indradhanu and Bijuli vigorously participated. Similarly, a legal case over a supposedly obscene printed text is referred to in Mamu. I have already mentioned how Desha Kala Patra dramatizes the transformation of Odisha through print culture in the late nineteenth century.

Of late, I have started translating critical and scholarly essays in Odia. With Animesh Mohapatra, I have edited the Odia volume in Routledge's series titled Critical Discourses in South Asia (forthcoming, 2021). In its introduction, we have discussed the transition from scribal production of texts to the rise of printed books, emergence of a print public and their role in shaping a new sensibility, revision of the established canon and contestations over tradition and modernity.

You are actively involved with numerous educational and cultural organizations in Odisha. Does this dovetail into your print history research?
Yes, to a certain extent. At Sikshasandhan, a Bhubaneswar-based education resource centre, we have been collecting books on local history printed and published by little-known publishers, rare and out-of-print school textbooks, and autobiographies and biographies. In 2014, I helped organize a two-day seminar on publishing, editing and book history (perhaps the first of its kind in Odisha) at the Department of English, Utkal University. Scholars like Dinanath Pathy, Swapan Chakravorty, Amit Chaudhuri and Kanchana Mukhopadhyaya spoke on various aspects of the theme. I also played a small role in introducing a course on Publishing and Editing at Rama Devi Women's University.

How has the vocation of print/book history changed over the decades? How do you see it evolving over the next few years, especially in the Indian context?
In India, print history is gaining greater popularity as a field of study and a few universities are now offering special papers on the subject. Over the years, scholars have made significant contributions to the field in the form of monographs, edited volumes and papers. There are signs that people are becoming aware of the need for a more serious academic study of print history in Odisha. There is an urgent need for retrieving, documenting and studying the experiences of publishers, book sellers, printers, proofreaders, illustrators, binders, press workers and so on.

Who are the print/book historians whose work has impressed and influenced you most? With respect to global print history in general and South Asia in particular?
B S Kesavan's pioneering work, History of Printing and Publishing in India, Priya Joshi's In Another Country, A R Venkatachalapathy's The Province of the Book, Rimi B. Chatterjee's Empires of the Mind, Isabel Hofmeyr's Gandhi's Printing Press: Experiments in Slow Reading, Graham Shaw's essays, the volumes on 'Book History of India' edited by Swapan Chakravorty and Abhijit Gupta immediately come to my mind. I have also profited from reading the works of scholars like Elizabeth Eisenstein, Marshall McLuhan, Alberto Manguel, Roger Chartier, Keith Houston and Jean-Luc Nancy.

Has print history become an easier vocation to practice in the age of the Internet?
Yes, to a considerable extent. Internet has made it possible to easily access material important from the point of view of print history. In this context, odiabibhaba.in, a recent initiative undertaken by an organization named Srujanika deserves particular mention. They have digitized and uploaded a large number of rare newspapers, journals, books, booklets and magazines. I have immensely benefited from the documents they have uploaded and I am sure many others have done so too.

Are you working on any print history projects currently?
There is a street named Balu Bazar in Cuttack which is lined with bookstores and publishing houses, old and new. My first book, titled The Historical Novel in Oriya (1980), was published by Cuttack Students' Store, one of the major publishers in Odisha. Other notable publishers include Grantha Mandir, Vidyapuri, Friends' Publishers, Orissa Book Store, Dharmagrantha Store and Radharaman Pustakalaya. They were prominent in the 1980s and continue to dominate the publishing scene even today. I may mention here that most of the books published by them were written in Odia.

Established writers still prefer to be published by these organisations. At present, I am collecting material on these publishing houses in Cuttack, some of which are more than a hundred years old. I would like to document the emergence, growth and vibrant networks of this print neighbourhood.

Balu Bazar, Cuttack, the epicentre of the Odia publishing industry
Jatindra K Nayak, retired professor of English, Utkal University, Bhubhaneswar, Odisha

1956: Born in Gobindpur near Bhubhaneswar
1975: BA (English Honours) from Ravenshaw College
1977: Awarded the gold medal by Utkal University for topping in MA (English Honours)
1978: Lecturer in Postgraduate Department of English, Sambalpur University
1980: Co-authored The Historical Novel in Oriya (published by Cuttack Students' Store)
1988: MLitt (English Literature) from Oxford University
1996: Reader in Postgraduate Department of English, Utkal University
1997: KATHA Translation Award
1998: Co-translated Story of My Life, landmark autobiography by Fakir Mohan Senapati
2004: Hutch-Crossword Indian Fiction Translation Award for Astride the Wheel, translation of Chandra Sekhar Rath's novel, Yantrarudha
2005: Co-translated Fakir Mohan Senapati's novel, Chha Mana Atha Guntha as Six Acres and a Third
2007: PhD, Utkal University
2009: Publication of A Time Elsewhere, translation of the classic Odia novel Desha Kala Patra by J P Das
From 2013: Editor-in-chief, margAsia: Journal of the Centre for Asian Studies
2016: Retired as Professor from Utkal University
From 2018: Member, English Advisory Board, Sahitya Akademi
From 2019: Visiting Professor at Centre of Excellence in Language, Literature and Culture, Utkal University
2020-23: Chancellor's Nominee to the Academic Council, Rama Devi University