India will be the next production site for BHS
BHS Corrugated established its direct presence in India in 2011. For the last 12 years, it has shown its long-term commitment to the country and its customers. Now, the company is coming up with a factory which will be completed next year, Bijendra Sharma, managing director of BHS Corrugated India tells Rahul Kumar
09 May 2023 | By Rahul Kumar
Rahul Kumar (RK): Please tell us about the new plant.
Bijendra Sharma (BS): BHS Corrugated India is a 100% subsidiary of BHS Germany. We have eight manufacturing plants across the globe, and this is a proud moment for us to establish a plant in India. We came to India in 2011 and in the last 12 years, we have shown our long-term commitment to the country and our customers. We are coming up with a five-acre factory which will be completed by next year.

The purpose of this new investment is to manufacture all corrugated rolls, pressure rolls, applicator rolls, doctor rolls in India. If a customer wants to send his corrugation rolls for regrind, either it will go to China or Malaysia. Sending the rolls out of the country is a tedious and time-consuming process. It required time and engagement.

We are going to provide the facility in India and in Indian currency. It means customers can get real benefits. That's the whole idea. We will be adding a large warehouse for spares. An automated warehouse for spares will cater to 70-80% of their requirements from India. So, this is the second purpose. The third purpose is we have a good team of IT professionals. We're working on product development, product design and application design for our headquarters. So, we are supporting these applications globally.

We want to take it forward and that is for the corrugation business. We have many ambitious upcoming research and developments — our vision Box Plant 2025, the internet of things and artificial intelligence.
India is a growing market and consumption is increasing. Our direct presence in India is helping our customers in their growth journey.

RK: What are the requirements of the market for single facer? And how will it help Indian corrugators and BHS India?
BS: There are approximately 450 to 500 automatic corrugators in India and most of them are procured from China or Taiwan. Now, if you see an equal regression line, the single facer is the heart of the corrugation because the single facer decides the keyboard parameters. So, we thought about this single facer machine called single-facer – India (SF-I). This machine is for customers who do not have a BHS machine so that they can upgrade their existing corrugator with a BHS. The beauty of this product is that it can be easily accommodated into the current system without any issues. This machine is not new to the Indian market; we are selling it along with complete BHS corrugators for the last many years. Globally, more than 500 similar single facers are running and 40 of them are running in India. Thus, it is a tried and tested product for the Indian market. We are just promoting it in the market in a new way.

The pandemic era showed that importing a machine was difficult. Formalities of import and currency fluctuation are big pain points. From your order till delivery, currency fluctuated a lot. Logistics cost is another pain point. During Covid, we have seen freight costs go up from USD 2,000 to USD 15,000 per container. If the freight cost is more than your product cost, it doesn't make sense.
Bijendra Sharma, managing director, BHS India
The SF-I would be available to customers in Indian rupees while imports and currency formalities will be taken care of by BHS.
We have an exclusive offer with SF-I called NICE. No capital investment is required for the complete cassette including a corrugating roll. The customer can pay us as per the production, based on linear metre. So, it is going to reduce the capital expenditure of the customer significantly.

Initially, we will import from our Shanghai production site and once our India factory is ready by mid of next year, we will start assembling in Pune.

SF-I is compatible with all the existing automatic corrugation machines from any manufacturer. BHS India's 50 + member team will take care of each and everything, specially 20 + in direct customer service. We believe in what our prime minister says, atamnirbhar Bharat. We also believe in the same philosophy — atamnirbhar BHS India.

So, the theme of the event was vocal for local. We are committed to offering all solutions and services to our customers locally here in India.

RK: What are the basic parameters for a corrugator who wants to opt for SF-I?
BS: Any corrugator can opt for SF-I. It is available in 1.8- and 2.2-m. There is no limitation on the conversion side. The single facer is the core of the corrugation business and we have seen that there are many coordinators who are doing 60-70% single-facer of their total production. Thus, if they opt for SF-I, it means 60-70% of their quality productions have been taken care of. It consumes less electricity, 30-40% less compared to other options available; its soft touch control (SFT) feature, which is our patented technology allows us to apply glue properly on the flute and thus 20-30% can be saved on glue consumption and better board quality.

Another key feature, is the line pressure control (LPC) offers an effective way of handling pressure. We ensure that proper board quality is produced and a lot of savings for corrugators. Thus, a single machine serves many purposes with multiple benefits to the customers — saving on input costs, saving power, saving glue consumption, and less wastage. The SF-I can run at the speed of 150-m/min. It is a robust machine; the frame weight of the machine is approx. 23 tonnes.

Our machine is easy to operate. It has got a nice control console on that single feature available. Everything is just a touch away. It has a good human-machine interface (HMI).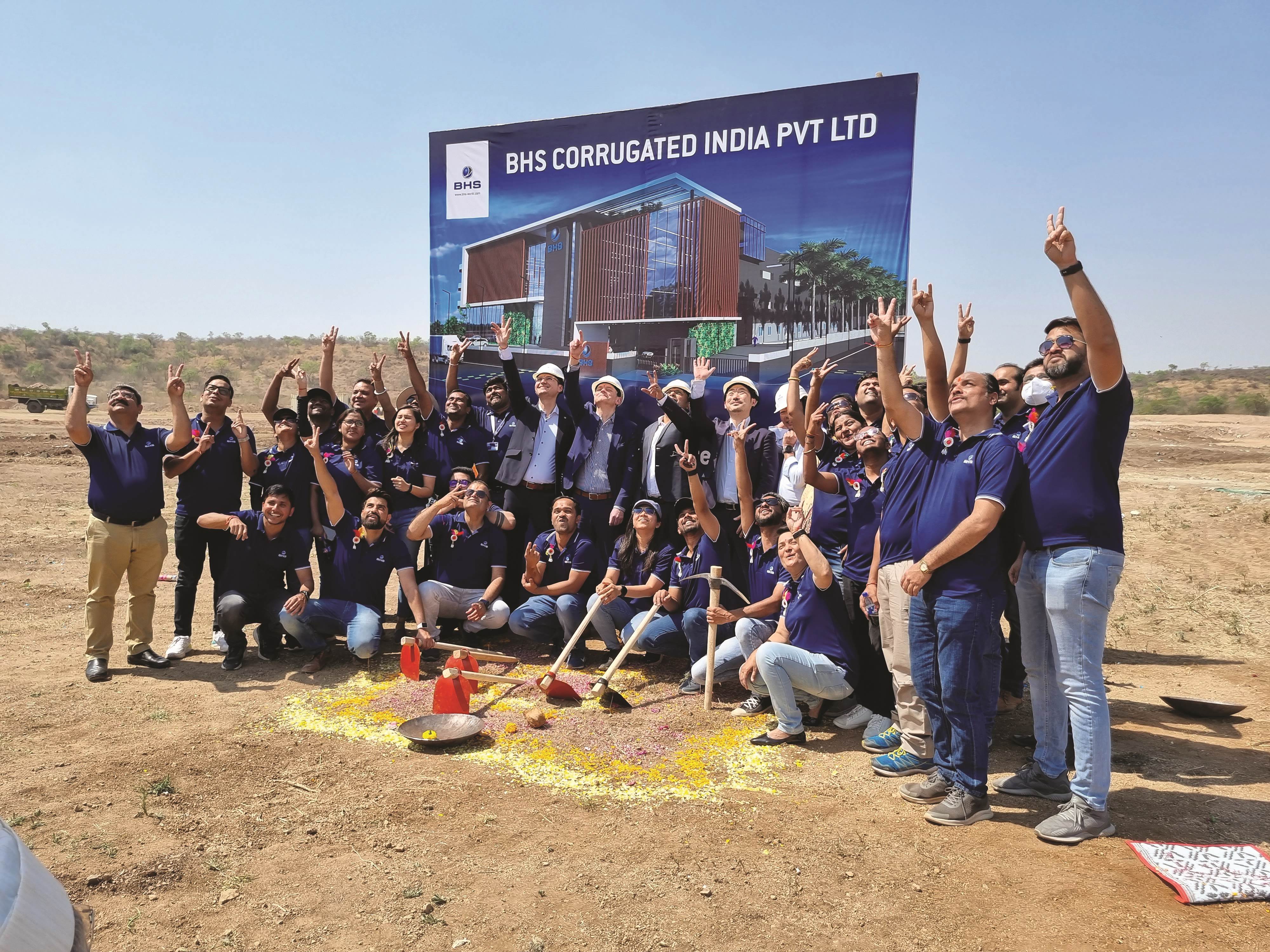 RK: Do the operators require any particular or special training to run SF-I?
BS: No, not at all. Our process team takes care of it. Upon the completion of installation, our engineers provide classroom and on-hands training to the operators. We always explain the dos and don'ts and everything to the customer.

RK: How will it transform the industry?
BS: A corrugator can't shut down the plant to change the machine. So, upgradation always takes place in steps. Replacing the complete corrugator takes around 8-10 weeks and no corrugator can afford this stoppage. We have already upgraded many non-BHS corrugators with our single machines like double-facer, single-facer, slitter scorer, and glue unit. With our locally available expertise, we have made the changes step by step. We always work with our customers to understand their requirements better.

RK: What is a bigger dream or a spectrum in terms of the evaluation of the Indian corrugation industry, your offerings and solutions?
BS: We have a global vision called Box Plant 2025. We are working on it. For example, we have introduced a digital inkjet printer in the European market.

The digital printer can run at the same speed as the corrugator. It will directly print on kraft, not on board so the damage to boards can be reduced and the production can be sped up. We have invested almost a decade to develop this technology. It is not only the digital printer but rather managing the whole box plant. So, the forklift will be replaced with robotic forklifts and these will be connected to a system. A corrugator can know where the paper is, where to go with the finished goods and other updates.

The idea is to produce quality boxes consistently with less manpower and least manual intervention and zero mistakes. Right automation is the key.

RK: How do you see the future of corrugation in India?
BS: Corrugation is a growing industry in India. As per ICCMA, it would be approximately 18,000-million sqm by 2030. Currently it is approximately 11,000-million sqm.