Drupa delayed, but HP will march on - The Noel D'Cunha Sunday Column
Drupa has been postponed to April 2021, but HP had already unveiled its plan for the show at a pre-Drupa webcast, which replaced a media briefing in Israel that was curtailed by the global Covid-19 outbreak.

A Appadurai, country manager for HP in India, says, if the print world's biggest show would have taken place, HP would be running more than 30 machines in live environments in Hall 17.

In this Sunday Column, Appadurai discusses all things HP
22 Mar 2020 | By Noel D'Cunha
Among a slew of products launched, there's the B2 commercial printing solution, HP Indigo 100K digital press for duplex paper and HP Indigo V12 digital presses for labels. In the backdrop of launches at Drupa 2016 and how those machines performed, particularly, the HP Indigo 12000 digital press, do you think the new fleet of commercial, labels and packaging is where the future will be in printing and packaging?
I'm a believer. For me, the Future is now. You may have already seen how the HP Indigo customers are leading the way in India in the commercial, labels, packaging and photo space. The products that we have announced in the new portfolio are certainly revolutionary and disruptive and we will create the future again.
It's all R&D or customer feedbacks too?
It's a combination of both. The products have been developed with massive R&D spends and the most valuable experience of listening to our customers around the globe. Listening to over 1,500 customers of the Series 4 platform for multiple years gives us the advantage that money cannot buy. It is priceless and this is how meaningful and disruptive innovations come from.
What's been the strategy behind these new product developments?
The new portfolio that we have unveiled has been built on three core principles, one, a quantum leap in application capabilities; two, driving productivity to much greater levels; and third, automating the workflow and collaborating with partners through industry-leading PrintOS.
There's the new B2 HP Indigo 15K digital press, which is based on the successful HP Indigo 10000 platform, which has sold more than a thousand units since it was launched at Drupa 2012. Will the HP Indigo 12000 digital press be phased out?
HP Indigo has always believed in profit maximisation for its existing customers as a result we try and make a large part of the new introductions backwards-compatible. A lot of new capabilities will be available for upgrade for our existing 12000 customers at the field level. Our presses are built to last for a long time.
Why do you think the HP Indigo 15K digital press will be as successful as the 10000 and 12000?
The 15K digital press with its new capabilities like HD imaging, HD FM screen, AI-based predictive press care, auto alert agent, increased media capabilities and the next level of automation is going to make the customers say "yes" to more jobs and this is the key for winning in the print industry of today.
Alon Bar-Shany said HP went back to the drawing board for the high-productivity 100K, returning the engine to offer a 30% speed and 50% productivity boost while maintaining the same image quality. The 100K is expected to produce 100,000 B2 impressions per shift and generate 12 million duplex sheets a year. Is HP Indigo sending a warning to the litho press manufacturers?
We've always believed in creating value through meaningful innovations for every space that we operate in. The 100K has been designed with offset players and large online digital players with medium- to high-volume of short runs who always focussed on productivity.
The 100K is a breakthrough innovation generating the highest B2 digital sheets throughput in the market with true non-stop production. It significantly reduces the turnaround times of the jobs with increased automation.
It is our belief that the typical Indian offset printers have around 20% painful, non-profit-making jobs in their daily life. The 100K HP Indigo press will convert these jobs profitable, instantly, and also release that 20% of the capacity and cost associated with it.
Bar-Shany also described the stripped-back HP Indigo 7eco, as his first Indigo concept, though it doesn't feature the One-shot technology or thicker substrate capabilities and is basically a four-colour base configuration, expandable to five for special colours, and not the seven-colour press. The 7eco was introduced in India during Pamex. How has it fared in India?
Excellent. Our customers are excited to upgrade to the most productive Indigo presses in the A3 Space. On top of it, there's the sustainability benefits and savings that it brings. The 7Eco being 2.4 times more productive, brings huge savings on time and space for a large install base of Series 2 presses that we have in India. It is becoming a super entry-level press for the offset commercial printers who want the best of quality and attractive Investments. We are installing a couple of presses in a short time.
The HP Indigo V12 Digital Press uses the same core Liquid Electrophotography (LEP) technology, but it's an entirely new design. What are the features that you believe will match the analogue's productivity?
With all humility and humbleness, I would say our HP Indigo WS 6900 and HP Indigo 8000 presses that we sell today have higher productivity compared to the conventional flexo presses in short and medium runs.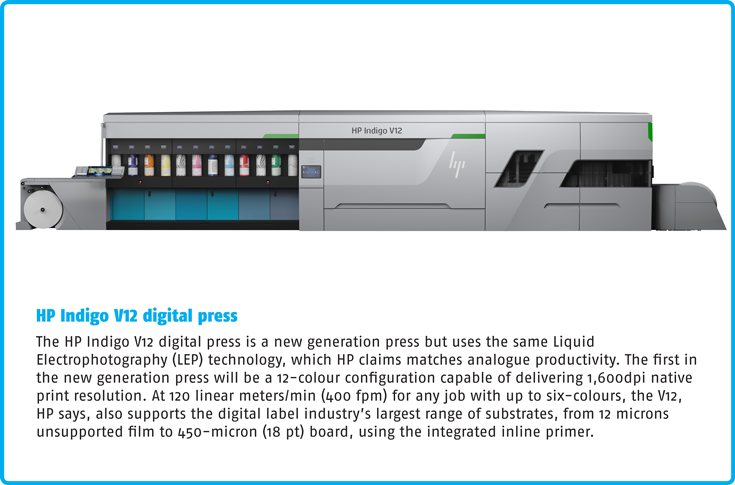 I don't think productivity just about speed in absolute metres. It's about the total number of jobs that we can deliver in a shift. With almost no changeover time, surpassing the quality of flexo, matching 97% of the Pantone colour gamut and capabilities of both surface and reverse printing, I think the 6900 digital press is much more productive than a conventional flexo press.
With that as background, the revolutionary HP Indigo V12 which deploys six print engines with LEP X technology takes the absolute speed to 120 metres per minute. If you factor in all the above-said advantages of HP Indigo presses and calculate productivity, I would say, it is a few "times" more productive than conventional flexo presses.
For you, 2020 began with the installation of the HP Indigo WS 6900 press at Xpress Labels in Kochi. How's 2020 been till now?
Amazing. Xpresslabels installation is a great example of print businesses collaborating and creating a future and not waiting for it.
This was followed by two more quick installations of HP Indigo WS6900 presses, one with a veteran digital label convertor who is transforming the start-up companies packaging needs and other at, one of largest label convertor of India investing the second HP Indigo Press.
You overall comment on the fleet of new launches for commercial, label and packaging segments?
Revolutionary, meaningful and customer-centric innovations in presses, services and solutions using cutting-edge technologies, to create the future again.
A good part of the innovations is field upgradable/backward compatible to existing HP Indigo Customer protecting their investments.
PrintOSX, a cloud-based operating system, delivers a suite of apps that drive productivity and inspire innovation. It will create the print factory of the future, one where the future generation will want to not only buy from, but also work at.
Artificial intelligence and predictive press care will change the way printing companies work in the future.